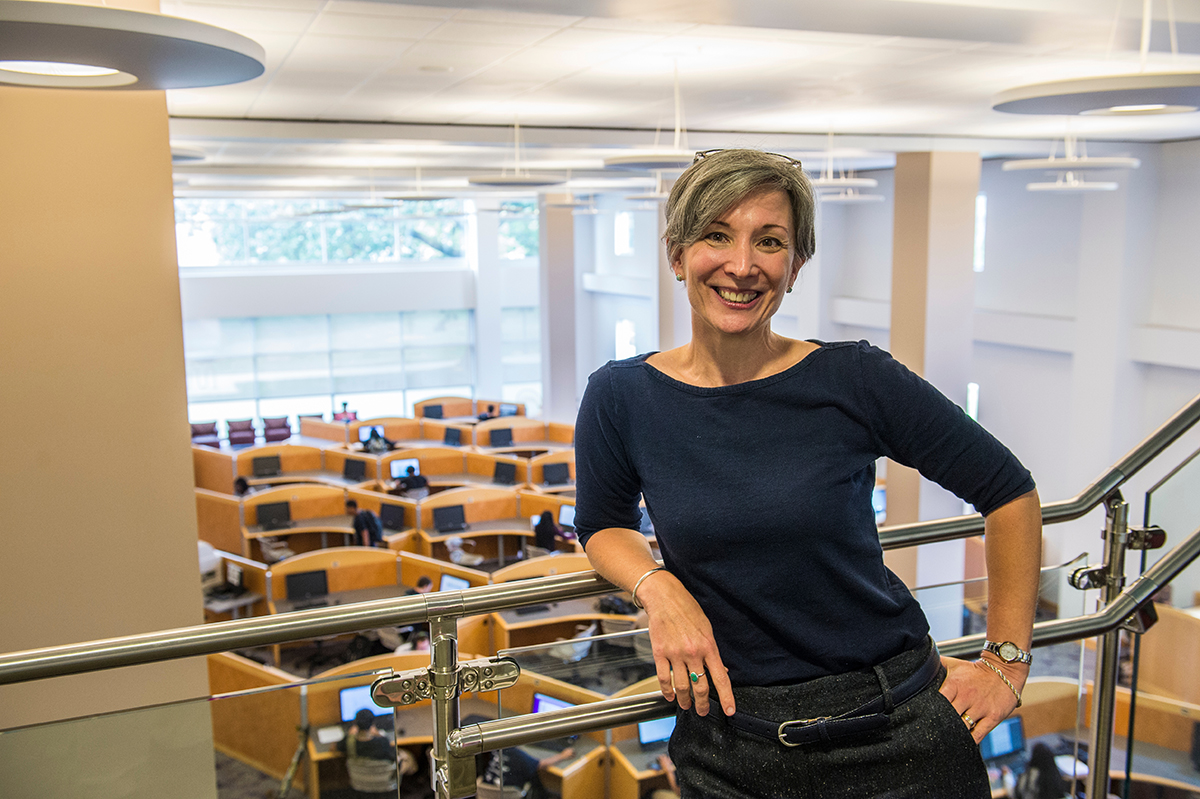 Cherie Watson's connection to SIU has literally gone around the world and back, so it's no surprise that she's savoring her current role as outreach and instruction librarian. Her tasks are many and varied, but include serving as a community ambassador for SIU and Morris Library. In addition to teaching, she works with students from campus and local schools.
Removing barriers to academic research
Acting as one of the leaders of the Morris Library Preview Research Experience is a big part of Watson's job. This project is a unique community outreach effort that brings students from local school districts, primarily high schools, to the library for a free, customized research and learning experience.
Working with Karen Stallman, SIU's director for community relations, the Morris Library team connects with school districts from all over the region and helps facilitate individualized research experiences for students, giving them not just a tour of the library and an introduction to the millions of resources it holds, but also the chance to do a real school research project with assistance from Morris Library staff.
Aided by Josh Vossler and Christina Heady, Watson seeks to create "an affective experience that helps remove barriers (such as intimidation) to entering academic spaces."
Before the students even arrive on campus, Watson and Vossler talk with the teachers about their specific research projects and what resources students will need. When the teens get to the library, staff are prepared to guide them in in their use of the appropriate college-level print and electronic databases and resources.
Going beyond Google
In a world where Google is the prevalent "go-to" starting point for most queries, where everything seems to revolve around keywords, Watson strives to help students become "aware of how much information they cannot get on the 'free web' by Googling."
"Some of the best information is behind an academic publishing paywall, but it is available to them as a tuition-paying student and we are here to help them learn how to access and use that information," Watson said. "We want to help them learn how to find information, and how to use it wisely and ethically, giving credit where credit is due."
Always looking for better ways to serve students
Watson thoroughly enjoys connecting with students – whether from local school districts or Salukis – and helping them discover not only the seemingly countless resources they can tap into at the library, but also the many services provided there, including testing and tutoring, the Special Collections Research Center, a writing center and math lab, individual and collaborative study spaces and much more.
She loves fostering an excitement about learning in young people, helping them feel at ease in the academic environment, and sharing her passion for SIU with them.
"Cherie has always been passionately 'students first' in her approach," Phil Anton, associate professor and program director for exercise science/interim chair of SIU's kinesiology program, said. "She simply never stops thinking about what will serve students best. She knows that whatever we can do to help shape the future of students will be reflected directly in the future of the planet."
A lifelong Saluki
Watson's affiliation with SIU began as an undergraduate student, but her college career was interrupted by a three-year move to SIU's former branch campus in Nakajo, Japan. While there, she worked in the front office and later in the campus library, where she set her sights on the goal of becoming a professional librarian.
After returning to Carbondale to continue her undergraduate degree, she took a student employee job at Morris Library and later worked there as a paraprofessional. That's also where she met her husband, Mark Watson, then a junior faculty member.
Watson took some time off from work and school to enjoy being a stay-at-home mom to her child from a previous marriage and then returned to complete a "fantastic" University Studies degree she "designed herself" when she wanted to study art history, sociology, literature and anthropology all at once.
She worked in various locations on campus, including the Paul Simon Public Policy Institute, Continuing Education and the Center for Environmental Health and Safety, where she received a great deal of support, she said, while completing her library degree at the University of Illinois.
SIU is a family tradition
She met her husband Mark Watson when both were students at the university and he likewise spent his career at SIU, retiring earlier this year as an associate professor in Library Affairs. Her daughter and son-in-law Hannah and John Goode are both double alumni of SIU, with Hannah completing her marketing degree and MBA at the university and John earning a bachelor's in management and a masters in sports administration.
Observing what a positive experience SIU was for Hannah, younger sister Kathryn Watson decided to follow suit. She's currently a freshman journalism major. Cherie said the family's connection to SIU may continue even further. It's way too soon to know for sure, but perhaps her granddaughter Harper Goode, age 10 months, will be a Saluki?
Cherie would be happy to see that happen and says she's been connected to SIU a long time, observing the ups and downs, and she's confident in the university and its future.
"There's a lot of heart on this campus, and that's because of the people who are here and who are dedicated to serving the students first and then the region," Watson said. "Like so many other universities, we're having to retool but the basic qualities that have kept bringing people to SIU continue to be here."
Always around to help
Watson is involved in campus and the community in other ways as well, calling herself a "utility player" and "ready volunteer," she fills in wherever she can help and shows up in support of as many special programs and activities as possible.
"Cheri consistently and selflessly gives of her time to provide leadership in various facets of campus and the community," Anton said. "When there is a job to be done or a role to be filled, Cherie's name is always at the top of everyone's list because they know the commitment, energy and expertise that she will bring to the table."
Watson serves on the Faculty Senate and its executive council, where she's currently secretary and previously chaired the committee on committees. You'll find her lending a hand at happenings like the Big Event and SIU Day, attending the Morton-Kenney Public Affairs lecture at the Paul Simon Public Policy Institute, clapping in the audience when students, faculty or staff win awards, and listening intently when anyone makes a special presentation on campus.
In fact, she insists that one of the best things about being a librarian is having such a great opportunity to be a lifelong learner and she said SIU offers "so many great programs."
Watson is involved off-campus as well. She's politically active, participating in campaigns and supporting community service organizations by participating in fundraising walks and events.
She said she is optimistic about SIU's future because of its dedication to students.
"I see signs of great progress here. We're embracing new ways of thinking and new ways of doing things" she said. "I've been everything from a student to staff to faculty. So I've seen it from every perspective and can tell you there is a deep and abiding commitment to student success at every level on this campus."