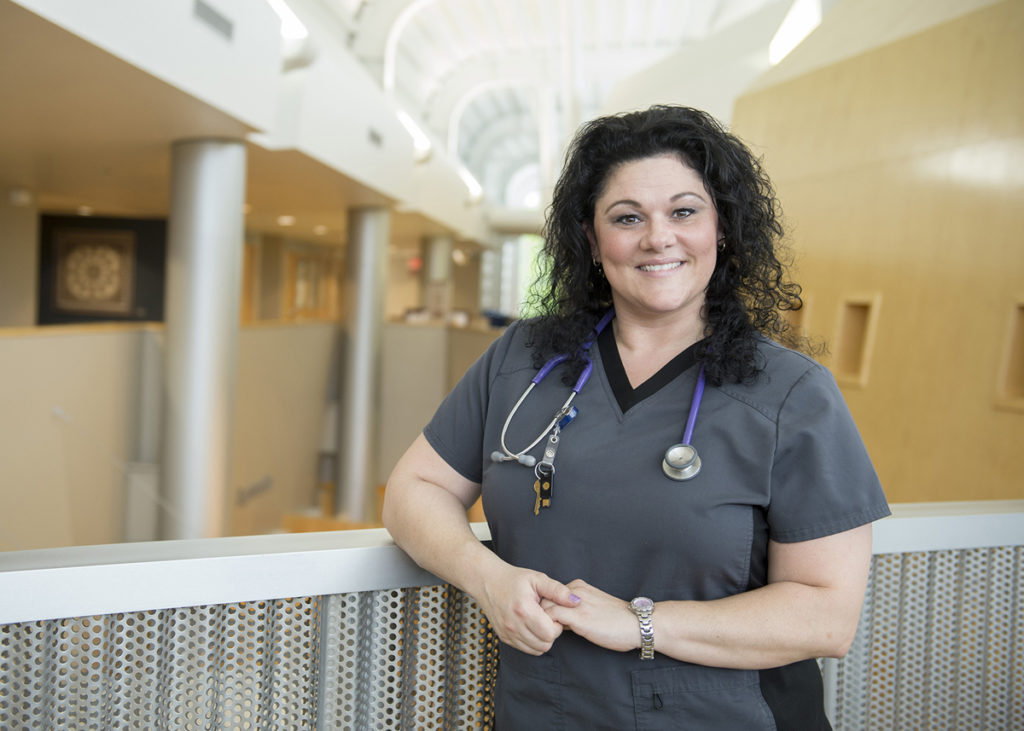 Leading the Pack is a regular feature that highlights faculty and staff members who go above and beyond to fulfill SIU's Mission. If you would like to nominate someone to be featured, fill out our nomination form.
When Mandy Phemister started her journey as a nurse in 1999, she wanted to do everything in her power to help those in need of extra care. That first led her to geriatric care, then women's health, before she finally found her fit working with students at SIU's Student Health Services.
Even after 10 years and thousands of students, Phemister is still just as devoted to giving each student the care they need to live a healthy, happy and productive life.
Preparing students for long-term health
Healthcare is important at any stage of life, but it is especially unique during a young person's formative years in college. For Phemister, this is the time for students to build a foundation for their long-term health.
"We are usually the first line for helping the students learn to manage their own healthcare," Phemister said. "Many of the students are living on their own for the first time, and we want to help them have a smooth transition from their parents."
While many adults approach health care with a "been there, done that" approach, most of the information is new for the students.
"I always like to think that when the students look back, they remember coming here and getting that beginning understanding of how to manage their health," Phemister said. "Our goal is for the students to know how to direct their care when they leave SIU and the Student Health Center."
Seeing an average of 25 students a day keeps Phemister busy, but she refuses to let that impact the quality of care each individual receives. Her priority is always listening to the students and giving them the attention they need, every time.
"We are all about the standard of care, so what we practice here is what should be practiced everywhere else," Phemister said. "That way the students have the foundational knowledge to know how to manage their health in the future."
Sometimes we get so busy we forget to take care of ourselves, especially students, Phemister explained. That is why we are always reminding them how important their long-term health really is.
Above and beyond to serve students
For Phemister, education goes far beyond the classroom. Her goal is to give students all the information they need to live a healthy and happy life beyond just their time on campus. When it comes to women's health, her specialty, she works hard to teach young women what is normal, along with what steps to take if something goes wrong.
"You can't rely on someone else to take care of your health, so my hope is that this information really resonates with the students," Phemister said. "With lots of education and talking, I think this really sticks with them when they leave here."
When a student has a medical issue that requires more care than is available on site, the team always refers students to a specialist that can help. However, more than just passing them along, Phemister prepares the students for that next step and gives them all the information they need to build an effective healthcare plan.
"We walk them through the reason for their referral, and then educate them on what to expect," Phemister said. "We also help them build a plan for how their treatment should look after graduation."
For Dr. Melodi Ewing, family medicine doctor at the Student Health Center, Phemister does more than basic nursing work; she really listens to the students and takes care of them in a holistic manner.
"Nurse Phemister goes above and beyond each and every day supporting the student's physical and mental health needs. No matter how busy her schedule, she will make it a priority to ensure that each of her patients feel heard and well cared for," Ewing said. "Despite having a busy schedule as a working mom herself, she consistently brings her best to SIU in support of our mission."
Always working to protect campus
Along with her general nursing work, Phemister serves on the Infection Control Committee to ensure the SIU campus remains healthy and safe. The team of six members work proactively to develop guidelines and plans in the rare case of an infectious outbreak, along with keeping track of anything that may seem suspicious.
"I always want to be learning and improving," Phemister said. "It is great to get ideas and knowledge from the other people on the team and it helps me upgrade my standards of practice and care."
Additionally, Phemister is the nurse on the sexual assault team on campus. Phemister, along with Ewing, takes care of any potential victims and offer them support on their path to recovery.
Keeping active with family
When not seeing patients or serving on committees, Phemister devotes her time to her two-year-old son, Dylan. A native of Marion, Illinois, she loves playing co-ed softball when she finds any extra time in her schedule.