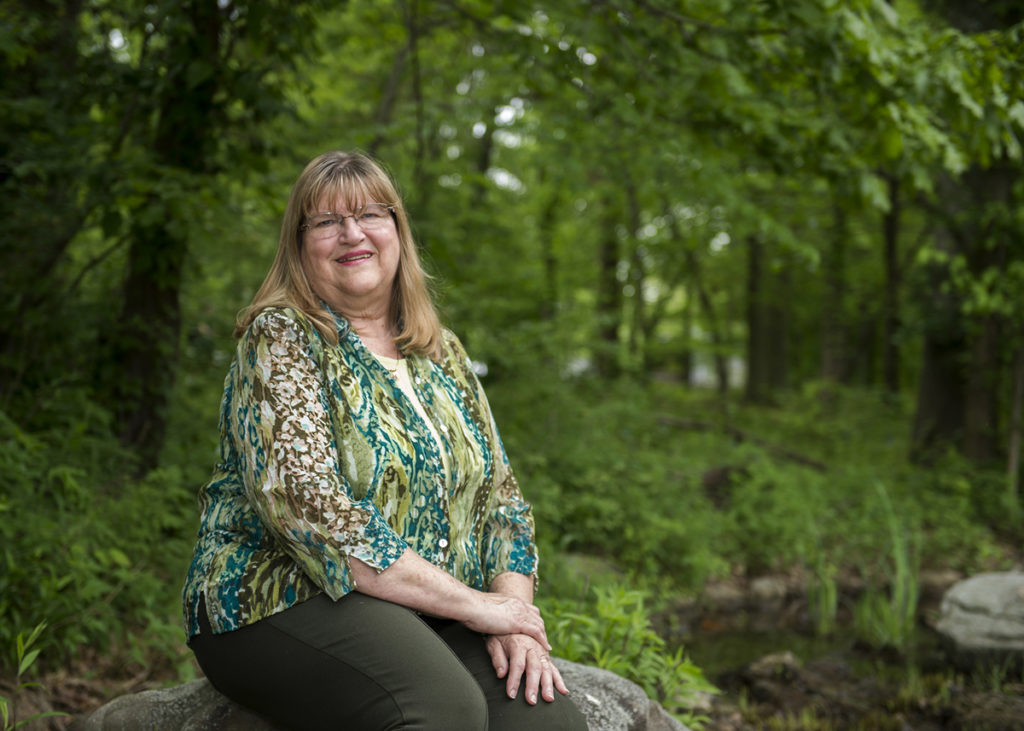 Leading the Pack is a regular feature that highlights faculty and staff members who go above and beyond to fulfill SIU's Mission. If you would like to nominate someone to be featured, fill out our nomination form.
Every student needs someone to talk to while away from home. Thankfully, SIU forestry degree program students have Patti Cludray.
Originally from Anna, Illinois, Cludray came to SIU over 21 years ago to work in the forestry offices. Yet, in no time, she moved from a normal office worker to an invaluable member of the SIU family.
Becoming the 'Mom' in the department
When Cludray first started in the forestry department, her job description mostly focused on managing an office. However, her position quickly evolved into much more, including becoming the "go to" person when someone needed a little extra care and attention.
"I have always just gravitated back towards students," Cludray said. "I love watching them mature and gain knowledge and self-confidence. That is one of my greatest joys."
From giving gentle guidance to offering a listening ear, Cludray's big heart and gentle spirit are what earned her the nickname "Forestry Mom."
"I have laughed with the students and I have cried with them," Cludray said. "I have always just wanted to provide them a safe place where they can come to me about problems and share what is on their minds."
After losing two sons in a tragic accident, Cludray has a unique perspective on the value and importance of family. She builds connections with the students every chance she gets, and sees them as an extension of her own family.
"Maybe it is because of my nature that people come and talk to me," Cludray said. "But I have always just felt pulled to help."
Building connections across campus
While Cludray is devoted to the forestry department, she is also passionate about connecting with others on campus. She often works with the admissions department to ensure students get where they need to go, along with closely communicating with the academic advisors to set students on the right path.
Another portion of Cludray's job includes managing graduate contracts and curriculum guides, while also assisting with articulation and registration issues. Her ultimate goal is to ensure each student receives the care and attention they deserve.
"We are always looking to adapt and make things better for our students," Cludray said. "We work hard to make sure students don't waste their time and get the highest quality of education."
Many in the college recognize her work, especially when she is called upon to help with a random project. Susan Graham, assistant to the dean of agriculture, sees Cludray as a vital piece of the department.
"Patti is the glue that holds all things together in the forestry department," Graham said. "She manages the office, becomes the go to 'mom' to all the students, takes care of all faculty and staff needs, and helps in the college where needed."
Proud Saluki
Cludray attended Joliet Junior College, and then later completed her bachelor's degree at SIU in paralegal studies. A lifetime member of the SIU Alumni Association, Cludray could not be more proud of her Saluki family.
Whether it is helping a student with a challenging course, cheering her graduates on at commencement or managing the announcements for one of the many forestry registered student organizations, Cludray's heart is always with her "kids."
"SIU is such an amazing stepping stone for our students," Cludray said. "They are introduced to research and have countless opportunities on their path towards a career."
In addition to her normal workload, Cludray serves as the staff sponsor for the Forestry Club. This usually includes assisting with paperwork, attending the annual conclave competition and much more.
Devoted to family and community
Relationships are a big priority for Cludray. Much of her personal time focuses on traveling with her husband Larry, who recently retired from SIU, and spending time with her daughter and son-in-law, along with her many close friends.
She is a choir member at Second Baptist Church in Marion, Illinois, and stays busy keeping up with her three-year-old German shepherd.