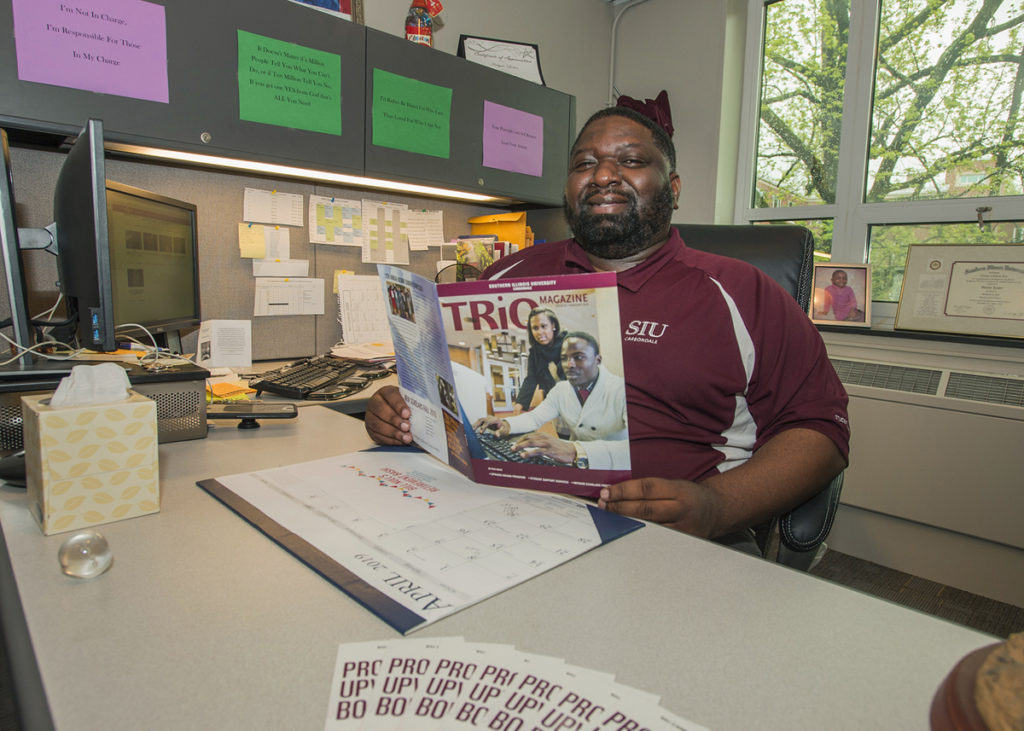 Leading the Pack is a regular feature that highlights faculty and staff members who go above and beyond to fulfill SIU's Mission. If you would like to nominate someone to be featured, fill out our nomination form.
Antyne Lester knows that success in college starts long before students walk into their freshman classrooms.
As director for SIU's branch of Project Upward Bound, Lester has spent the last 20 years working with at-risk high school students to prepare them for a rewarding future. From monthly tutoring sessions to intensive summer retreats, Lester is always ready to help one more student on his or her path to success.
Preparing students academically and personally
Originally from Chicago, Lester first came to SIU as a student in 1993. He never expected to stay in the area, but when he started as a student worker at Project Upward Bound, he fell in love with the ability to bring real change to so many young lives.
"When I first started at Project Upward Bound I was just looking for student work," Lester said. "But when I realized I could have a real impact on kids, it just kept me going."
An academic enrichment program for local high school students funded by the Department of Education, Project Upward Bound assists income eligible and first-generation students as they navigate through their post-secondary education or training.
As director of the SIU branch of the program, Lester and his team serve six area high schools, including Meridian, Cairo, Murphysboro, Carbondale, Century and Egyptian. With both academic and summer programs, the team works to develop and prepare students for a successful launch out of high school and into college.
"I like working with young students because you still have so many opportunities to shape and mold them," Lester said. "It is challenging, but rewarding."
Setting students up for success
More than just assisting with academic life, Lester's goal is to develop students in a holistic way so they have everything they need to be successful.
The team hosts academic workshops on campus, while also offering personal, academic and college preparation counseling. Students have opportunities to participate in multiple other workshops that focus on everything from career development, to writing and thinking skills, math anxiety, leadership development and much more.
"We are always engaging the students, whether it is one-on-one or in groups," Lester said. "We take every opportunity we have to talk and reach out to them. We are always tutoring and assisting them along, in addition to our other main groups and meeting times."
The most intense part of the program is the six-week residential component in the summer. Students come to campus for enrichment classes in math, science, English, and Spanish.
In addition, upperclassmen participate in work-study opportunities that provide them hands-on experience in architecture, engineering, med-prep, law and more. This not only prepares students for future academic life, but it also opens new doors for them.
"Students get an introduction to fields of study that typically are underrepresented by lower-income students," Lester said. "Ideally the students come all four years of high school, which really helps prepare them for their futures."
Building dreams for the future
While Lester often tells his students that degrees are not a guarantee for a successful career, he firmly believes they open so many doors for the students. By preparing students to succeed while in college, he believes they will have what it takes to continue into a strong future.
"I want these students to go as far as they can," Lester said. "My goal is for them to get a post-secondary degree and get grounded in their fields. Someday I want Project Upward Bound to have a professional network that provides opportunities for current students and alumni of the program."
Currently, the program serves about 88 students. However, with proper funding, Lester can fit more into the program and he is always ready to jump on it.
"If I can get in two more students, I will go for it," Lester said.
As a small department in a rural setting, the team works hard to reach and recruit students for the program. While often faced with a variety of hindrances and struggles, Lester keeps motivated by knowing the impact of the work.
"What keeps me going are the success stories," Lester said. "I feel great when a student comes back and shares how much the program influences them. One of our recent graduates is now teaching at Kansas University, which is so inspiring for us all."
Keeping busy with family life
With a 13-year-old daughter and a nine-year-old son, Lester is usually on his toes trying to keep up. He is also the president of the Black Staff and Faculty Council on campus, and is always working to strengthen the SIU family.