Madison McMinn first came to Southern Illinois University Carbondale because she was determined to start undergraduate research the moment she stepped foot on campus. After working in an SIU lab for almost four years, that hard work paid off with her winning the prestigious National Science Foundation Graduate Research Fellowship.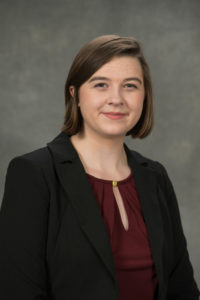 McMinn, a chemistry senior from Chatham, Illinois, was one of over 12,000 students to apply for the fellowship. Out of all the applicants, only 154 fellowships were awarded to chemistry students and just five awards in McMinn's specific specialization.
While already accepted into Northeastern University's Chemistry Ph.D. program, the fellowship sets McMinn up for a strong future in chemistry.
"During the review process, the NSF panelists really look at your potential to be a leader in the scientific community," McMinn said.
Working with a Harvard cancer researcher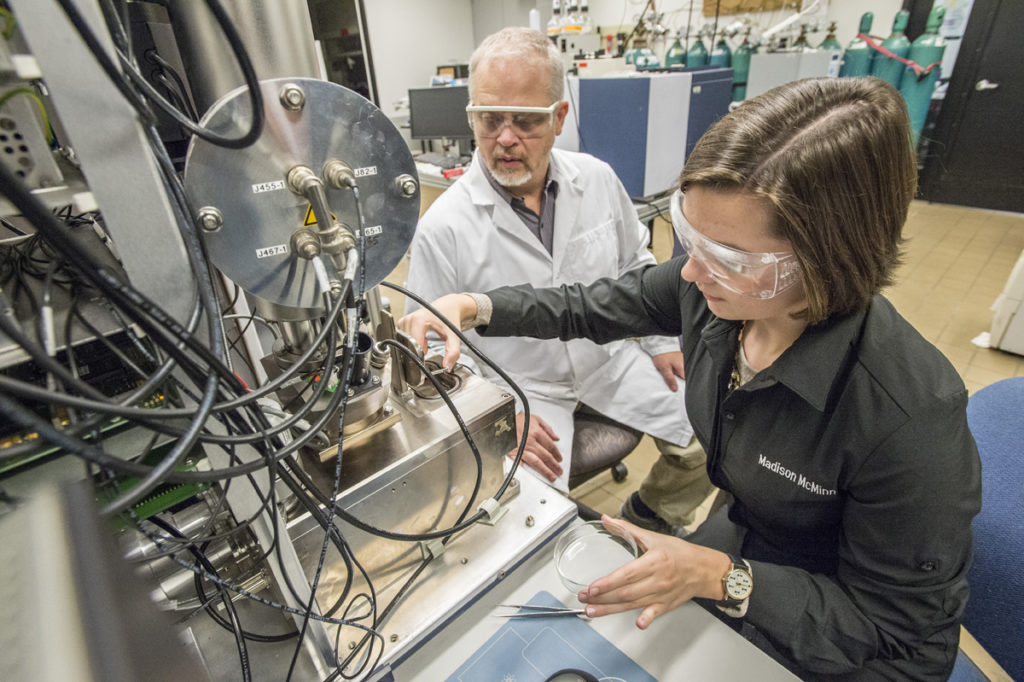 For the past three years, McMinn has conducted research under Gary Kinsel, SIU professor of chemistry and biochemistry, on Matrix-Assisted Laser Desorption/Ionization mass spectrometry, commonly referred to as MALDI.
"MALDI is a powerful analytical technique used for characterizing proteins and other biomolecules," McMinn said. "However, we still don't fully understand how MALDI works."
Under the guidance of Kinsel, McMinn has investigated the ionization process that occurs during MALDI experiments, in hopes of that a deeper understanding of these important chemical reactions will lead to new ways to improve MALDI mass spectrometry.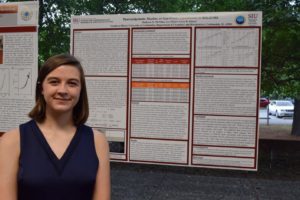 Last summer McMinn took the basis of her research and worked on a summer research project with Harvard Medical School professor Dr. Nathalie Agar. The team worked with MALDI mass spectrometry imaging to develop a method for the detection of bacteria directly from tissue. From that program, McMinn knew her future career was in advancing the field of mass spectrometry.
"When I was at Harvard I applied my research to mouse brain tissue samples for clinical applications," McMinn said. "When I came back to finish my degree, I continued that research with Dr. Kinsel. While I developed a clinical application last summer, I was always interested in the fundamental chemistry behind the method I developed, which became the basis for my senior thesis."
Solving real-world problems
For her, seeing the research go from theory to practical implication was both inspiring and fulfilling.
"I was able to take the research I do at SIU, and apply it in a clinical setting during the Harvard-Amgen Scholars program," McMinn said. "I never pictured myself working in a hospital setting, so it was an exciting way to apply everything I had learned over the past few years."
In the 10 weeks McMinn worked with Agar at the Harvard-Amgen Scholars Program, McMinn had completed enough quality research to garner a first author publication in Analytical Chemistry, a journal from the American Chemical society, which will be published in the coming weeks.
Following her summer with the Harvard program, McMinn decided to attend Northeastern University, where she can continue her work with Agar. McMinn is set to begin her Ph.D. program this summer, with the NSF fellowship covering five years of study, along with three years of funding.
Falling in love with research
McMinn's love of research really started after she won the State Science and Technology Fair of Iowa as a freshman in high school. She travelled to Boston to present at a conference, and quickly realized she wanted to spend her life in the scientific community finding solutions to a variety of complex issues.
"I came to SIU because I knew of the amazing opportunities for undergraduate research here," McMinn said. "Nearly all of my peers have worked in a research lab at some time, and when I was deciding where I was going to go for my undergraduate degree, research was top on my list of priorities. When I found out that I could start doing research on day one as an undergrad, I knew I wanted to come here."
By the time of graduation, McMinn will have worked in an SIU research lab for almost four years, with two summers of research work, one at SIU and one at Harvard.
"I just love doing research, and I feel like winning this very competitive and prestigious fellowship through the National Science Foundation is the ultimate validation to show not only that my hard work has paid off, but also that the quality of education and research at SIU is on par with anything else out there," McMinn said.
Working to build a strong female representation in STEM fields
With a strong Saluki pride, McMinn is always recruiting others to the SIU family. Her sister joined her on campus a year after she did, and her younger brother and sister are considering SIU in their college decision.
McMinn also serves as a Ronald E. McNair Scholar, Saluki Science Ambassador, Alpha Chi Sigma member and current President for SIU's student chapter of the American Chemical Society. With this group, McMinn is always working to help local kids find interest in STEM fields.
"Last fall we hosted a STEM workshop day with the Girl Scouts of Southern Illinois," McMinn said. "That is really important to me as a woman in science. I want to make sure women have representation in these fields, just like I did when I was that age. Without similar programs when I was younger, I may have never pursued a career in science."