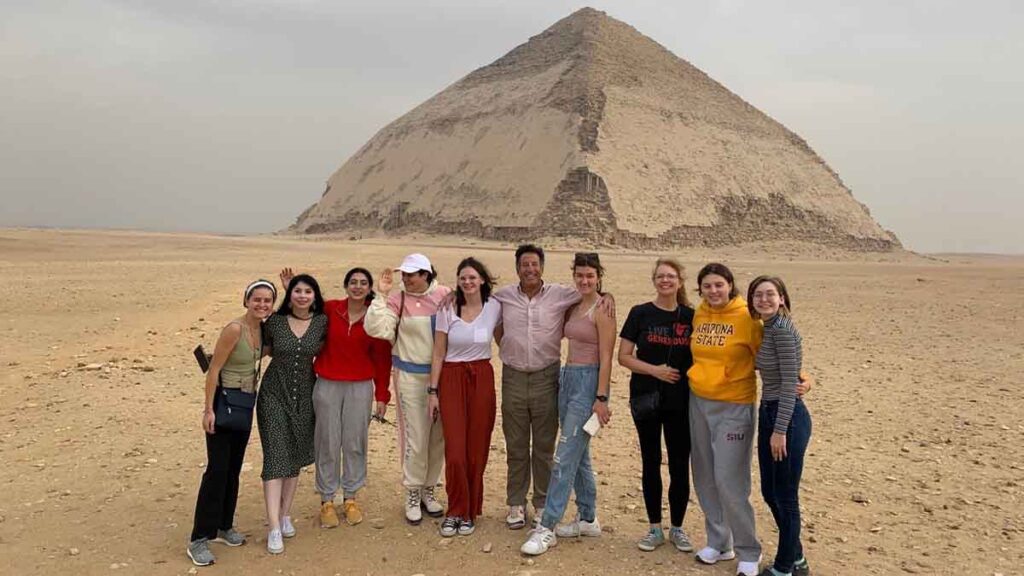 The Bent Pyramid, built during the end of the 27th century B.C., is in the background during the December 2021 Ancient Legacies program trip to Egypt. Robert Hahn, program director and SIU Carbondale philosophy professor, is gearing up for two trips in June to Greece and Turkey as well as Egypt. (Photos provided)
Southern Illinois University Carbondale students and community members have an opportunity this June to learn about ancient history in interdisciplinary, team-taught, hands-on excursions to Greece and Turkey or Egypt and explore life's great questions such as democracy and the afterlife.
"We will use the country as the classroom," said Robert Hahn, a philosophy professor and Ancient Legacies program director.
People interested in a trip can attend one of three Zoom presentations on Feb. 6, 12 or 13. Specific information for both students and adults is available at ancientlegacies.org. The trips are will be limited to 25 people.
Open to students and the community
The mix of students and adults on these journeys is special, Hahn said. The trip to Egypt in December comprised eight students and two mothers. The mix is a hallmark to the success in the 39 years since Hahn's first SIU study abroad venture in May-June 1983, less than a year after arriving on campus.
"My idea is to have adults and students and deal with life's great questions," he said. "The adults have had a lot of joys and sadness by virtue of their experiences that our students might not have. And the students have a level of vitality and excitement that enables them to add some liveliness to the program."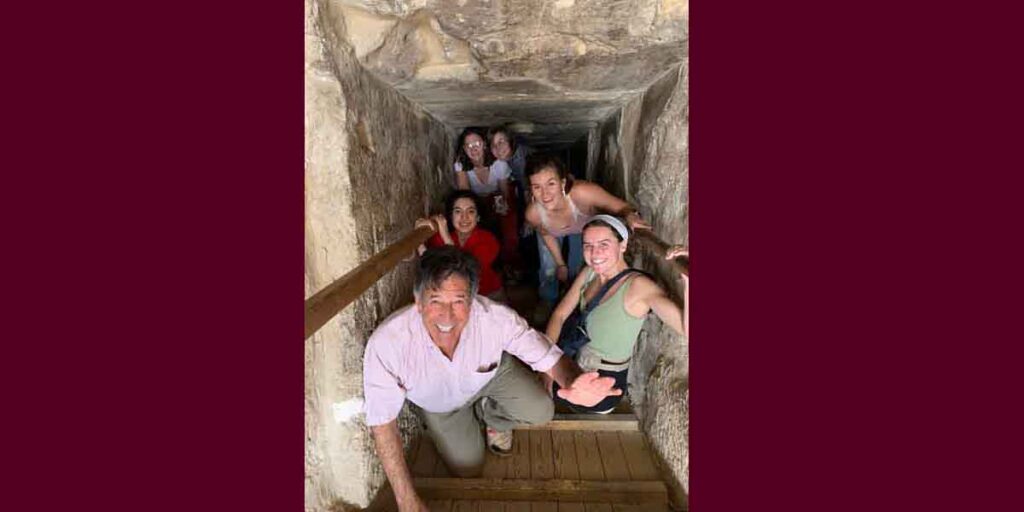 Ancient Legacies program director Robert Hahn, front, and members of the December 2021 program to Egypt coming out of a narrow corridor in the Bent Pyramid on the Dashur plateau.
Experience 'enriched my life'
Leslie Murray, a doctoral student in SIU's philosophy program, went on a trip to Greece as an undergraduate student majoring in philosophy and international studies. The program fit his own research desires in philosophy and to "get more in-depth on my own interests in ancient megalithic structures and the relationship to philosophy and the emerging discipline of archeoastronomy." Archeoastronomy is the study of archaeological artifacts and site to determine people's beliefs and practices involving astronomy in ancient civilizations.
Murray would like to also lead study abroad trips in the future because "actually being there in a place where so many events happened is meaningful for human understanding, especially when confronting the ancient world."
Such experiences added to Murray's understanding of both philosophy and education today, he said.
"Getting our boots on the ground to experience a place cannot be replaced." Murray said. "It must be experienced. Simply reading about it can be sufficient for certain disciplines, but being there adds a layer to the experience that cannot be imitated or replaced."
Successful program
While at SIU, Hahn has directed 64 separate trips to Greece, Turkey and Egypt. In that time there have more than 1,200 participants, with at least 400 adults who were not students, he said.
Hahn is one of several faculty on the trips that will encourage participants into thought-provoking reflection, he said.
"What we try to do is make the visits small … then we sit down and talk about it," he said. "The program is designed mostly for the largely inexperienced as opposed to the experienced."
Kylie Asbury, a 2020 psychology and classic civilizations graduate from Palatine, Illinois, said going to Greece fit with her coursework. Part of what prompted her decision to go was being able to see many places — including the Parthenon in Athens; the temple of Apollo in Delphi and the Temple of Artemis in Ephesus — that Asbury previously read about in a textbook.
"The experience was magical. It was the perfect balance of learning and fun," she said. "Everything that we were learning about was an arm's length away. Being so close to the object, concept or place that we were learning about helped solidify the information in my head."
Kevin Cales, a doctoral candidate in philosophy from Dublin, Virginia, enrolled to go on the trip to Greece for research purposes. His research was inspired by the trip and Hahn's approach to ancient Greek philosophy, he said.
"The experience of traveling abroad was new to me, and it was a wonderful adventure filled with delicious food, relaxing activities, long hikes and educational content," Cales said. "Dr. Hahn is an excellent guide, and he has designed a great program."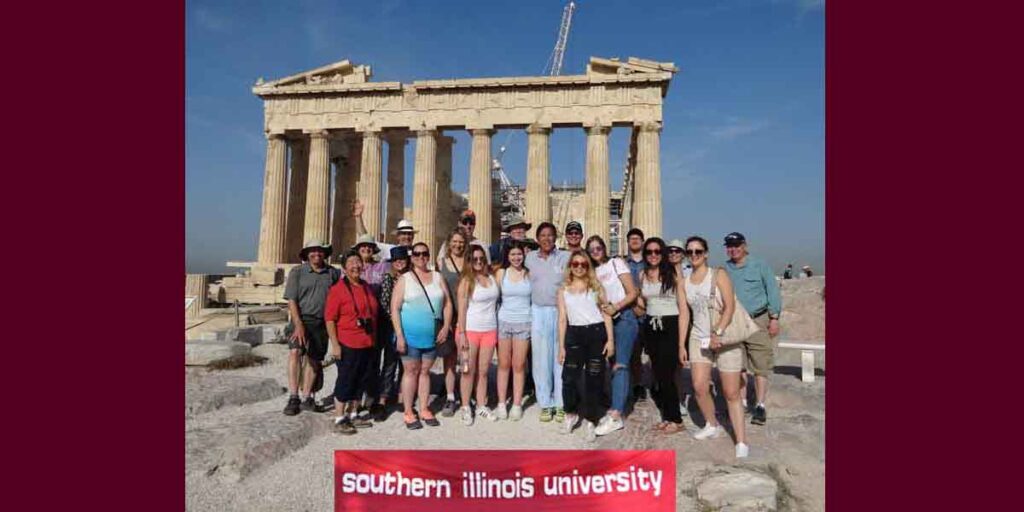 Members of the 2018 Ancient Legacies program in Greece in 2018.
Each journey carries a main theme
Hahn noted the main theme in Greece will "explore inventions traceable to ancient Greece that we continue to embrace and admire — democracy and the jury system, Western philosophy and empirical science, historical writing, public literacy, naturalistic sculpture, the Olympic Games and the theater."
Activities will include a discussion of the Olympic Games in a Pan-Hellenic stadium and running a short footrace in an ancient stadium; re-creating the trial of Socrates in an ancient council chamber as part of the exploration of the inventions of democracy and the jury system, making seasonal sundials and performs an ancient play in an ancient theater with costumes and masks that participants make themselves.
In Egypt, activities will include exploring ancient Egyptian views of death and the possibility of an eternal afterlife while participants try to come to terms with their individual mortality; hands-on activities that will include building a model pyramid out of sugar cubes to test competing theories on how they were built; trying to erect a breakable obelisk to investigate whether the ancient Egyptians made scale-models, and learning to carve and paint a limestone tablet, like in the tomb of King Tut that the group will visit.
The exchanges among participants, especially among family members, can be very rich, Hahn said. He recalled one trip where grandparents accompanied their daughter and two grandchildren. After visiting a Great Pyramid and having a subsequent discussion on views on the afterlife, the grandmother stated she believed in reincarnation, something that her husband of 53 years had never heard before.
"I thought, 'Isn't this wonderful?' Hahn recalls. "I'm not coming here with a text. I'm coming here to promote exchange and discussion."
Students can earn credits/scholarships
SIU students who are on the trip can earn from 3 to 6 course credit hours; 3 credits for participating and another 3 credits for a serious research project that will be due over the last six weeks of the summer of 2022.
For the first time, the program price will be reduced for the first 10 students who enroll and place a deposit at Study Abroad, Hahn said.
For more information, contact Hahn at hahnr@siu.edu.