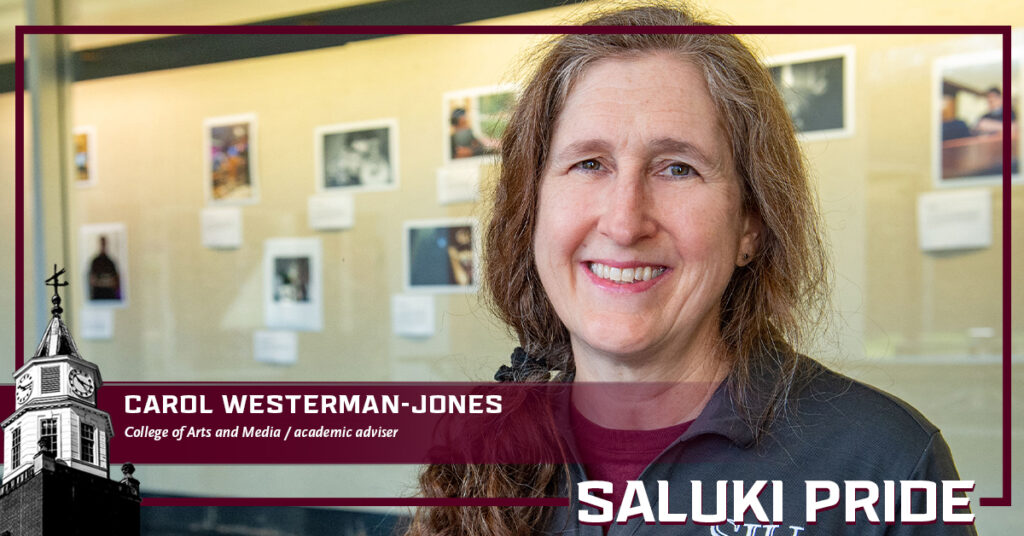 As an SIU Carbondale alumna and academic adviser in the College of Arts and Media, Carol Westerman-Jones knows a great deal about the university. But "her warmth, her patience, her creativity and her extensive knowledge" are pivotal in helping students succeed, according to Rita Medina, an academic adviser in the College of Engineering, Computing, Technology and Mathematics who previously worked with Westerman-Jones in the College of Arts and Media. Westerman-Jones is "such a tremendous resource for myself and for a number of other colleagues across campus" and provides positive and "forward-thinking perspectives" on campus.
Get to know CAROL WESTERMAN-JONES
Name: Carol Westerman-Jones
Department/title: College of Arts and Media, academic adviser.
Years at SIU Carbondale: 33 years total, including the first five years as a student, four years civil service and 24 years AP staff, academic adviser.
Give us the elevator pitch for your job.
Meeting and forming connections with amazing students who have chosen SIU Carbondale to further their education. Giving academic and career guidance to prospective and enrolled undergraduate SIU Carbondale students along their path to a bachelor's degree. Helping students navigate through struggles and challenges, then joining in the celebration of their achievements.
What is the favorite part of your job?
Connecting with students. I have the great opportunity to meet students from all over the U.S. and the globe and see their excitement about their classes and projects. I also enjoy staying connected with our students after graduation to see how their lives unfold.
Why did you choose SIU?
A wonderful recruitment coordinator, Diana King, offered me the opportunity of a transfer student scholarship. Once I started attending SIU, I was excited by the diverse community of arts students. I grew up in a small town in Southern Illinois and was familiar with the city of Carbondale through family day trips for shopping or a visit to a movie theater. Carbondale was a big city compared to my hometown of about 8,000. When I began attending SIU in the late 80s as a first-generation college student, coming onto campus was like stepping into another universe, so different from my weekend experiences of Carbondale. It was life-changing meeting students, faculty and staff from different backgrounds from my own. I loved meeting SIU "family members" from other countries and cultures, and still do.
My favorite activity away from work is … and why?
Genealogy. It's fascinating learning about the history of my family and connecting with distant cousins. Because I come from a small, rural community, many other families in that same community are descendants of related immigrant families. It is very rewarding to discover relationships to so many people, both locally and globally. I love the principle that we are all related, it's just a question of how far back we have to go to find our common connection.
My fondest memory as a child was … and why?
Rainy days. My wonderful mom Gennine Westerman would always come up with a fun project to spend the day working on, either an art or craft project or baking project or some other fun activity. I still love rainy days for this reason. Thanks Mom!
Know a colleague to feature in Saluki Pride? Simply fill out this form.