Celebrating SIU's Saluki TRADITION, Saluki PRIDE and Saluki PROMISE for SIU's 150thAnniversary, This Is SIU is publishing a monthly feature detailing the past, present and future of notable places, events and people on campus.
Mention the phrase "Flying Salukis" and there can be only one image.
As a part of Southern Illinois University Carbondale's nationally recognized aviation program, the 15- to 18-member squad plays an important role in highlighting both the aviation program and the university's accomplishments.
The team has nine National Intercollegiate Flying Association (NIFA) titles dating back to 1977. Since 2011, when the Flying Salukis surprised many competitors by winning a then-seventh national championship, the team has nine straight top 3 national finishes. That includes championships in 2014 and 2015 and second-place showings in 2016 and earlier this month.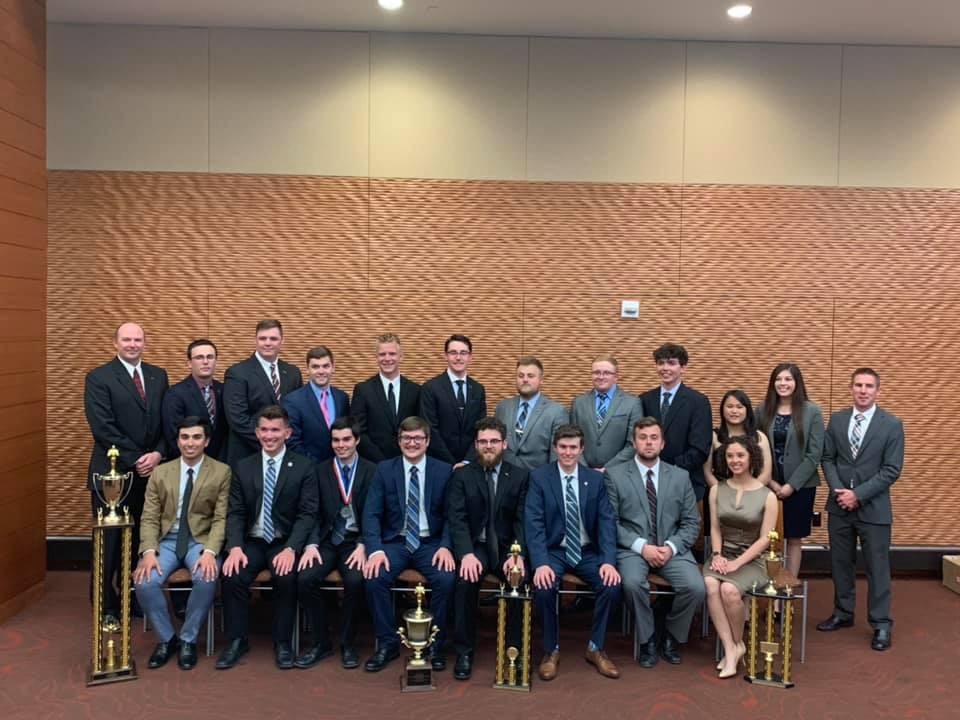 'Tangible evidence' of a great aviation program
The flight team's accomplishments helps make the aviation program attractive to potential students and parents, said Michael Burgener, chair of the aviation technologies program and interim chair in aviation management and flight.
The flight team, along with successful bachelor's and master's degree programs and research opportunities is a vital mix, he said.
"It's really extraordinary when you think about it," Burgener said. "A small school like ours — there are whole aviation universities. We are just a program within a larger university. For them to go out and compete and win national titles like that, the importance of that cannot be overstated."
Ultimate goal is top 3 national finish each year
"We always strive to be in the top three in the nation," said Flying Saluki Coach Nathan J. Lincoln, a senior lecturer in aviation management and flight. "Whether we can continue that every year is going to have to be decided in future teams. But I really instill that that's our ultimate goal. I push the team very hard to make sure that they are ready, prepared and that they can compete their best."
The team holds tryouts each fall and attracts students from each of the aviation-related programs. Practice regimens are closely guarded and Lincoln, who graduated from SIU and was a two-year member of the Flying Salukis in the late 1990s, credits students and program instructors.
"I think that the ability to take those great students and move them into the flight team has definitely benefitted us over the years. It is a wonderful place to learn how to become a professional pilot," he said.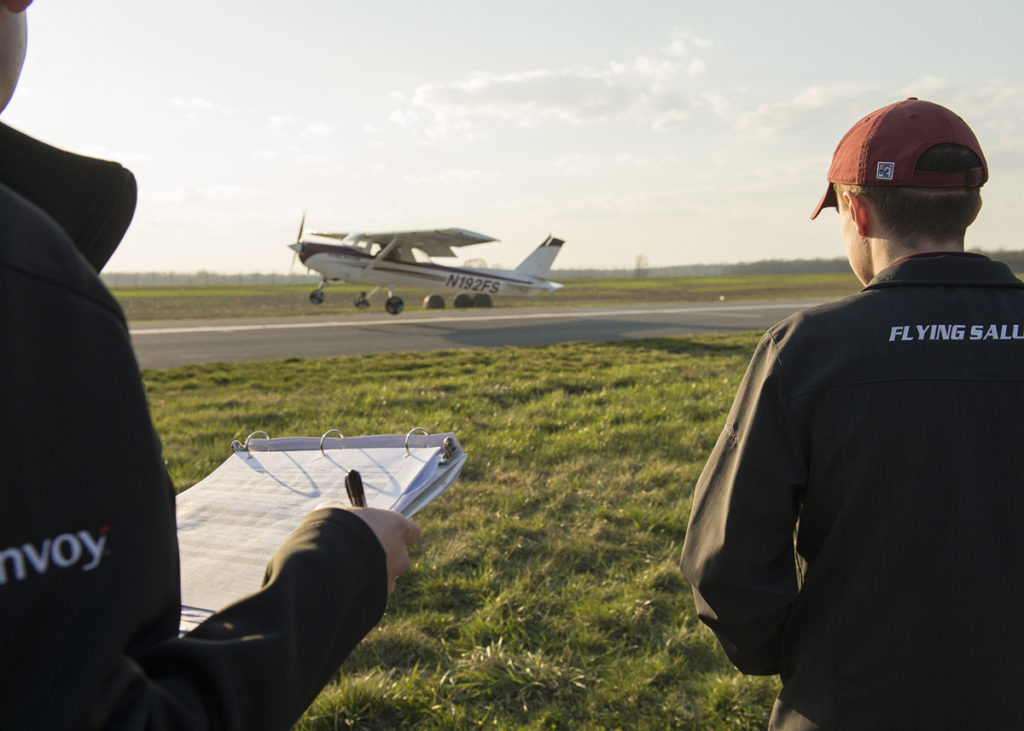 Team is a family
Time management is vital, as is loving the work needed to maintain the team's success, said Matthew Browning, a three-year team member who earned top pilot honors this year.
"You can't be on the Flying Salukis as long as everyone ends up being on there without finding some way of getting to the max study level," Browning said. He also finds what non-team members learn in general aviation knowledge and skill in their classes is ahead of many of those who compete at nationals.
"I think it shows the quality of instruction at SIU is much higher than most, if not all of the other schools," Browning said.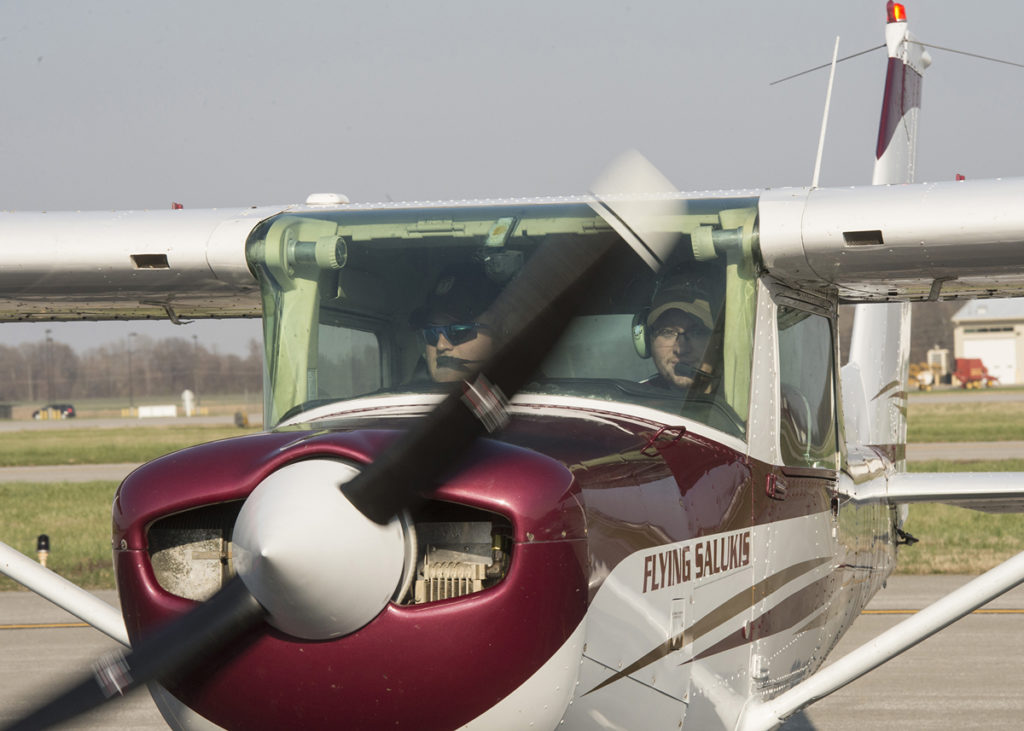 Team bonding is important
Andrew D. Finer, a co-captain and senior in aviation technologies and aviation flight, finished 10th in the nation in scoring and was part of a team to win the message drop title. Making the Flying Salukis has been his biggest SIU experience, he said.
"It's a really good bonding experience and these are my best friends who are with me out here," Finer said. "It's really cool to spend time with your best friends doing something that you love. I wouldn't spend my days any other way."
Angel Cochran graduated in May and was on the team for three years, finishing 11th in the traditional navigation event.
"This gives us real-world experience. It's a great way we can get resource management and prepare ourselves for the corporate and charter airlines," she said.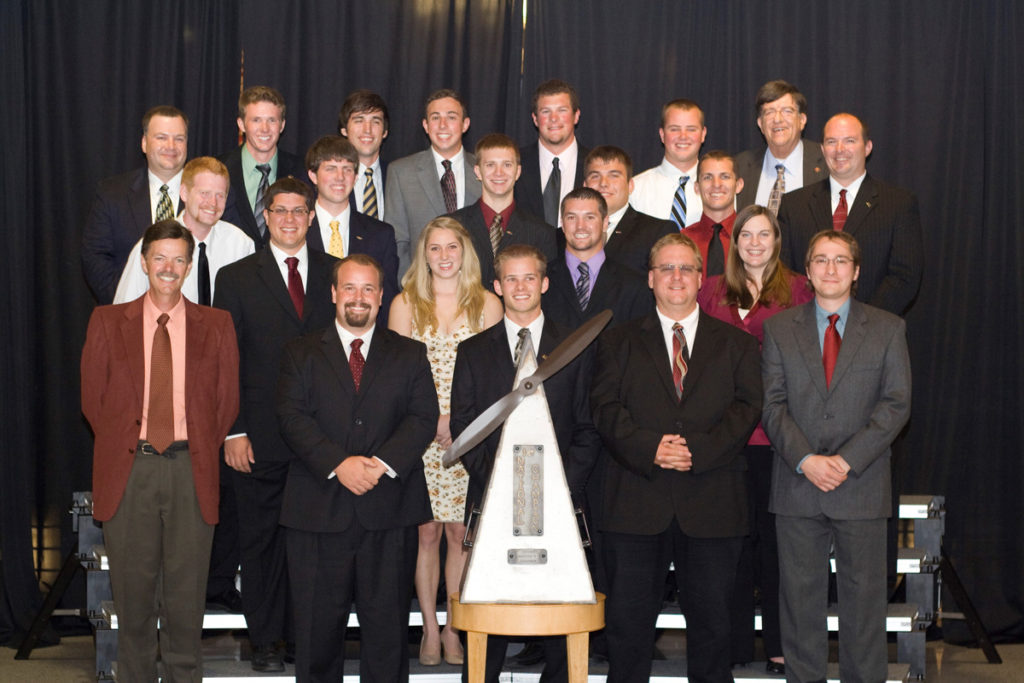 Maintaining a legacy
SIU has qualified for the national competition in 49 of 50 years. Team members know the legacy involved, Lincoln said. But he also offers a challenge. Lincoln has been the coach for 12 years and will enter his 13th season in this fall.
"I try to keep as much pressure off the team as possible. I want that pressure on the coaches to encourage the team members," he said. "I tell them time and time again that if you want to succeed, it is within each one of you. You have to decide that you want to be the best that there is in the country at what you are doing. I will give you the tools to do that, but it really has to come from … that internal drive to be the best pilot you possibly can be."
SIU will host the Region VIII flight championships at Southern Illinois Airport this fall. Celebrating 100 years in 2020, NIFA's national championships will be in mid-May in Oshkosh, Wisconsin hosted by the Experimental Aircraft Association.
Aviation program celebrates its 60th anniversary in 2020
In December 1960, the university purchased Midwestern Aero Services, the fixed base operator at Southern Illinois Airport for $56,000 and renamed it Air Institute and Service. Initially a service unit of the university that offered flight classes, what evolved was one of the country's leading aviation programs.
In 1965, the university offered a two-year aviation maintenance technologies degree, the first formal SIU aviation degree program, and has since transformed into a four-year aviation technologies degree.
The aviation management bachelor's degree program began both on- and off-campus in the mid-1970s. In 1990, aviation began offering a master's degree in public administration with a specialization in aviation administration. Online courses are also available.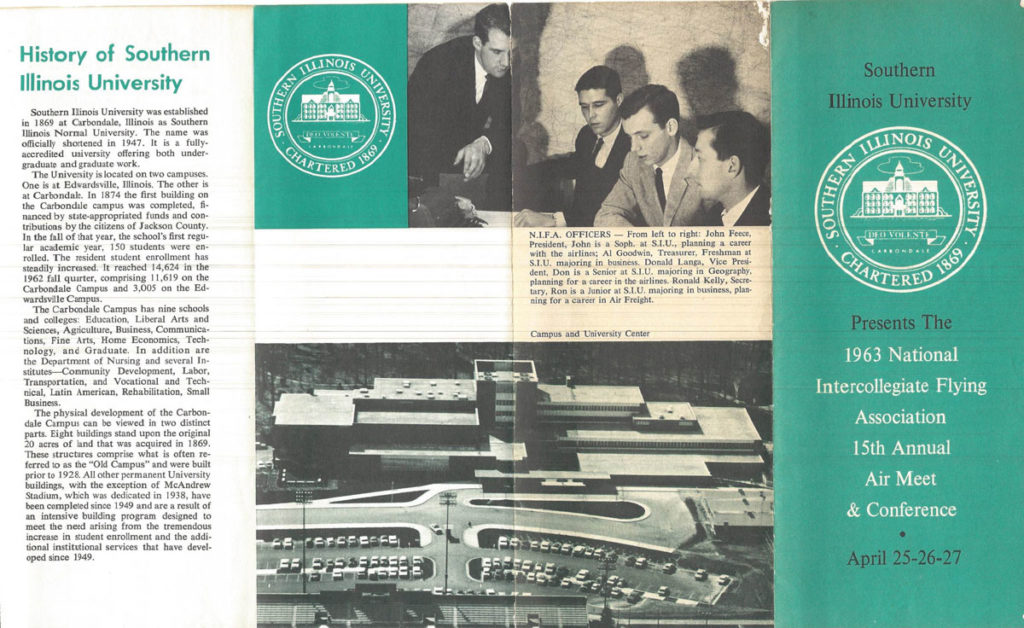 Early aviation flight beginnings
The late Ron Kelly attended SIU Carbondale after serving in the U.S. Air Force and helped start the SIU Flying Club and later Flying Salukis, in the early 1960s. He worked at Southern Illinois Airport for 27 years and was Air Institute and Service director for 12 years, in addition to teaching general aviation classes both on- and off-campus.
Retired Capt. John Feece, who had a 35-year aviation career with Ozark Airlines, Pan American, and United Airlines, came to SIU in 1962 to earn a two-year degree required at the time to become a pilot for many airlines.
He was one of a few students who went to a fall 1962 NIFA competition that year in Kalamazoo, Michigan, where the club finished third. Feece recalls organizers, who were in need of a spring conference and competition host, suggested the Air Institute and Service and SIU. The university hosted the event in April 1963 and also in 1973.
"Looking back on what it became years later, it was the beginning of a monumental event for the aviation program," said Feece, 78, who lives in San Jose, California. He credits his education, flight club work and NIFA activities with helping land his initial pilot job with St. Louis-based Ozark Airlines.
"It was a big plus," he said. "I've often thought that it wouldn't have happened the same way if the school and air meet wasn't there."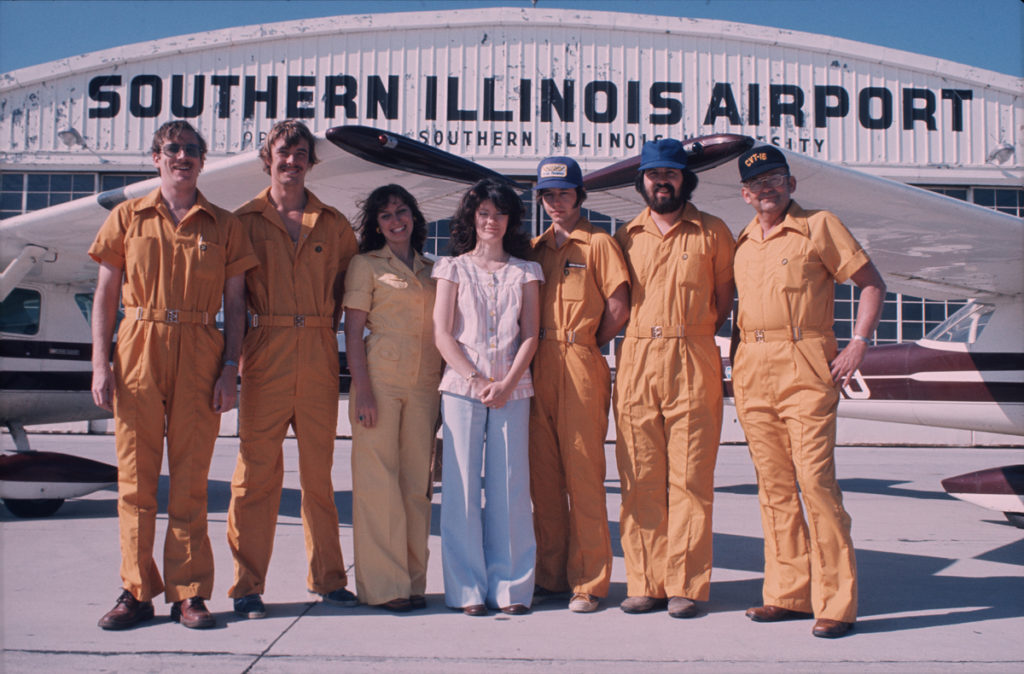 Flying Salukis' early successes
The squad won six titles between 1977 and 1984 under Tom Young, but it would be 27 years and 2011 before another top three national finish.
Dave NewMyer, professor emeritus and the former aviation management and flight chair, credits Kim Carter, a now-retired faculty member and coach during the 1990s and early 2000s, with setting a new tone for the team. Carter was coach in Lincoln's second year on the team and still helps part-time.
"Kim was absolutely essential in reminding us … of the resources needed to support the team and working with the students in a way that they hadn't been worked with in a while," NewMyer recalled. "Kim brought leadership to the Flying Salukis and he helped bring along Nate Lincoln as an assistant coach."
Alumni, industry support vital to program success
NewMyer said SIU has several advantages. That includes off-campus program offerings, a strong industry connection and supportive alumni and events that include aviation career days with United Airlines and American Airlines. Those events bring prospective students from the Chicago area to tour the Transportation Education Center, meet faculty, students and alumni and learn more about the aviation industry.
"We have support from industry because of the quality of our programs and the quality of our graduates that come out of it," NewMyer said. That includes donations from Chicago-based Priester Aviation and a $100,000 endowment raised from hundreds of former Flying Salukis, which goes toward some flight team costs.
NewMyer also notes the aviation program's strong connection with airports. Gary Shafer is the Southern Illinois Airport manager and a senior lecturer in the aviation program and is among those who provide an industry perspective in the classroom. There are 10 airport managers in Illinois who are SIU aviation graduates, NewMyer said.
In addition to providing internships and externships, the aviation advisory boards are some of the largest and most involved at SIU. The close industry relationship also assists in curriculum development, such as a product support minor that included working closely with Boeing and Rockwell Collins, a large avionics manufacturer, Burgener said.
Aviation Technologies program is unique
There are only a handful of FAA part 147 approved programs at four-year institutions, with most at community colleges or proprietary schools.
In addition to the FAA prescribed curriculum, which allows students to gain certification to legally work on airplanes, the program includes a choice of specializations in advanced aircraft maintenance, helicopter maintenance or avionics. The degree is also offered online.
"What the students get when they leave the program is they not only have their A&P license, they have their four year bachelor's degree as well as one year of niche training in a particular area," Burgener said. "That really sets our AvTech students further along in the career field than students who are coming out of most programs."
Faith Lorenz graduated in May with a degree in aviation technologies and helicopter specialization. She knew she wanted to do something that was more mechanically inclined and she found her niche with helicopters. She realized quickly that the program was for her. She never had anything but "help and encouragement" from classmates.
She noted there are numerous opportunities within the industry.
"Being a maintainer in the industry and being a woman is very, very rare," she said. "A lot of people think that it makes you an underdog but not at all. I have never once found in my time being here anything that would deter me from what I'm doing."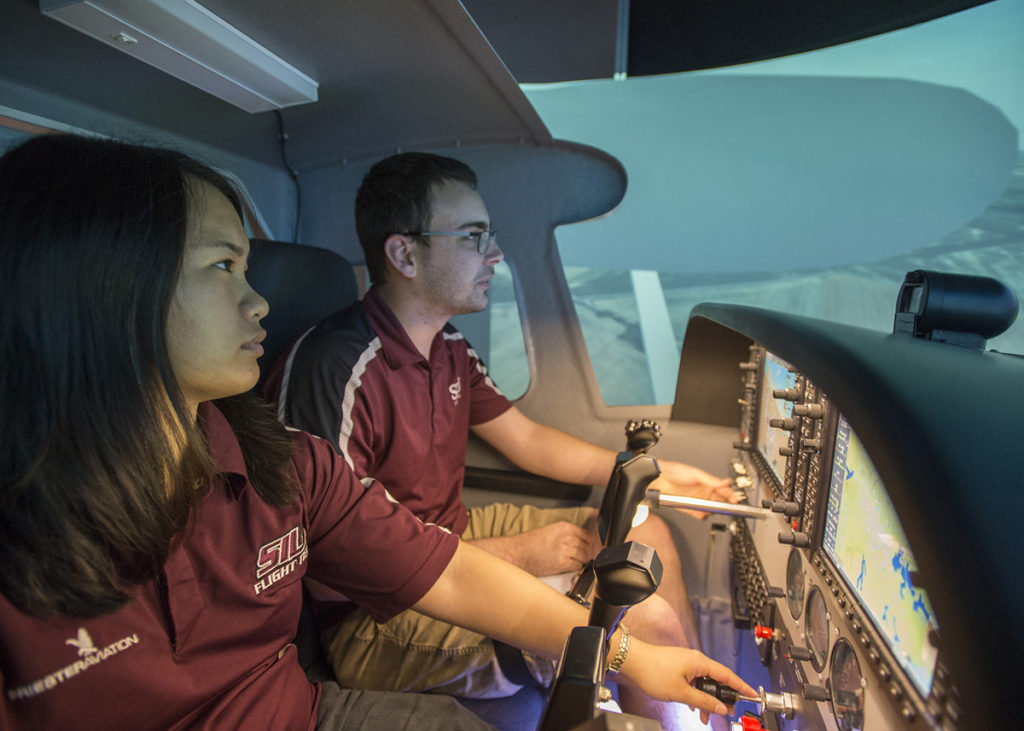 Transportation Education Center gave program a significant boost
The Transportation Education Center, completed in 2012, houses both the nationally recognized aviation and automotive programs, and includes an adjacent aviation engine research test cell. Because construction was under budget, the remaining funds helped buy equipment, including state-of-the-industry flight simulators, aviation maintenance equipment and an air traffic control simulator.
"It was the exact right time to not only expand our facilities – classroom and lab space – but also inject a great deal of technology into the program," Burgener said.
An integral piece of the aviation program is that everyone knows everybody, said Ken Bro, a senior lecturer in aviation management and flight and chief flight instructor.
"We are a small aviation school that functions like a big aviation school," he said. 'We have all the facilities you would expect at a large place. We have a large fleet. We have the most up-to-date simulators and aircraft. It's a small town with a big flight program."
That the aviation program is at a research university gives students the opportunity to participate in research, Burgener said. Several faculty are actively involved in research. The program has received multiple grants from several companies, including Boeing, that allow students to assist.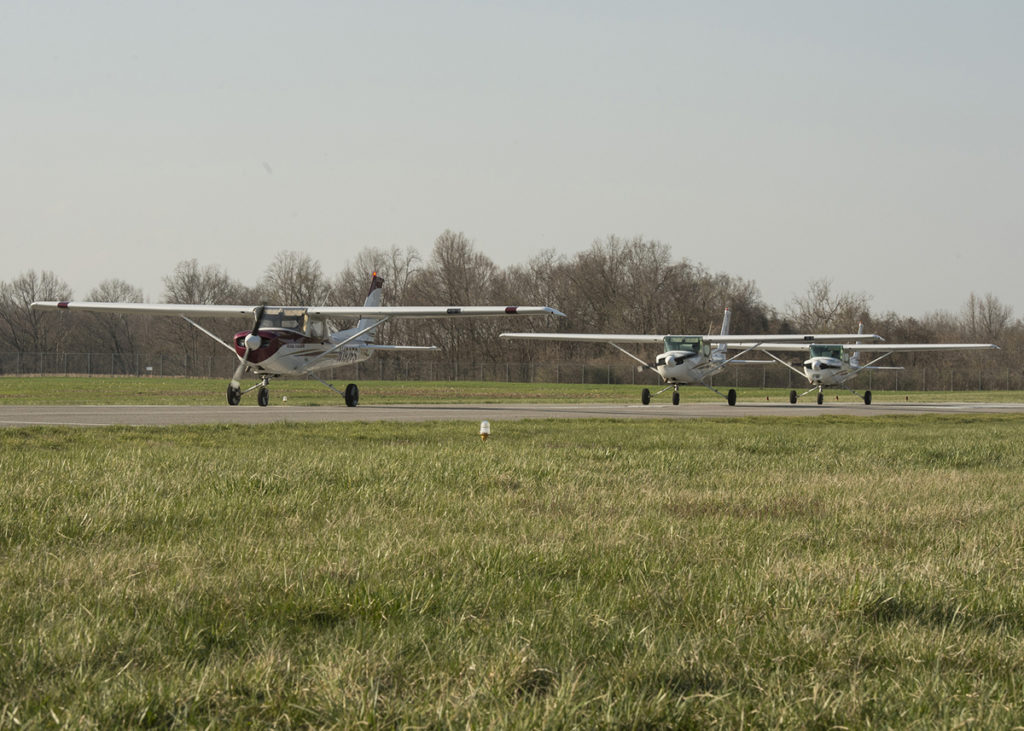 Students are the 'biggest strengths'
Burgener and NewMyer each point to students as the program's standard-bearer.
"We have strong programs," Burgener said. "We have very good faculty but probably the biggest strength of our program is our students. Our students come here, they succeed, and then they go out into industry and they succeed and continue to make us look good."