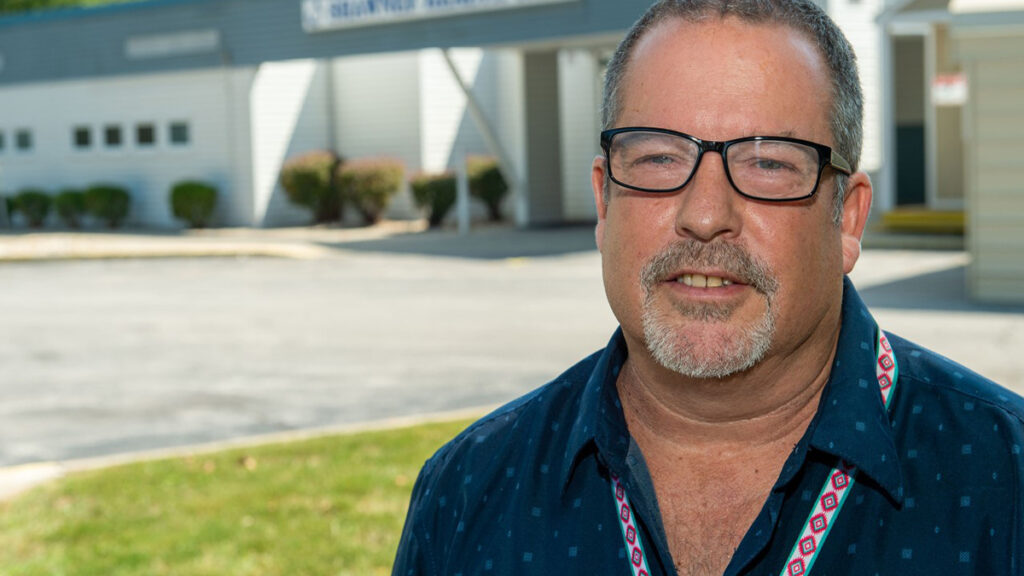 James Sparks was a nontraditional student in every sense of the word when he enrolled at Southern Illinois University Carbondale. But, he said, SIU provided the help, support and encouragement he needed to not only complete his life about-face, but also enable him to help other people do the same.
A life derailed by drugs
There was a time when Sparks couldn't have imagined the life for himself that he now has. Despite ending their formal educations at the high school and middle school levels, his parents were intelligent and managed to be successful in life, he said. They encouraged him to pursue higher education, a plan he initially eschewed by choosing a career in the printing trade. Then his plans went awry.
A self-described "full-blown addict," Sparks was sentenced to prison for distribution of a controlled substance. Then something remarkable happened. After serving his sentence, he ended up in Southern Illinois on work release through the Illinois Department of Corrections. He fell in love with the area, noting that "Southern Illinois has become a place of comfort to me." He also decided it was time to change his future by going back to school.
Not an easy path
Sparks' journey through academia was not without setbacks. He's endured two back surgeries and as an ex-con, encountered job-hunting difficulties. He originally started classes at John A. Logan College, but after suffering the loss of his father in 2016 and the breakup of his marriage in 2018, Sparks transferred to SIU Edwardsville and then shortly thereafter, to SIU Carbondale. There, he said, he found his home.
He originally planned to become a drug counselor, since he had seen firsthand the damage drugs can do to lives and families. But, in an encounter he calls "divine intervention," Sparks had a life-changing conversation with an SIU adviser who told him that with his background, passion and empathy he would make an outstanding social worker and advocate for addicts and people with mental health issues.
Persevering to the end with help
He decided to give it a shot and worked hard, even winning a Saluki Perseverance Scholarship, and managing to maintain a 3.5 GPA and complete his bachelor's degree in social work.
But that wasn't enough. To have the career of his dreams and help those he wants to help, he needed more, so he went on to enter the master's program in social work and graduated from SIU again on May 8, 2021. The date is especially significant to him. Exactly eight years earlier, on May 8, 2013, he was paroled from prison. And, as of May 28 this year, he celebrated 11 years of being drug-free.
He said faculty and staff on campus were supportive, encouraging and helpful every step of the way. When he struggled to understand some of the fundamentals of the generalist practice side of social work, Elaine Jurkowski, social work professor and graduate program director, "never stopped explaining and giving examples until I understood."
Sarah Buila, associate professor and undergraduate program director, and Robert Warshawsky, social work instructor emeritus, got Sparks genuinely interested in policy and inspired him to work toward change for Southern Illinois.
"We can make real leaders out of extraordinary people right here in our own community and get those people in places where they can make significant changes in the overall integrity of our government," he said. "There are potential leaders in all of us. I would like to encourage those with a passion to help others to learn to expand their passions and put them into action to make our systems better so that they serve the basic needs of individuals in our area."
Award-winning student
Jurkowski also convinced Sparks he had what it takes to go on to graduate school. She was right. He not only graduated but did so with accolades. Sparks was SIU's 2021 social work Non-traditional Graduate Student of the Year. Recently, the Illinois Rural Health Association recognized Sparks with the 2021 Student Excellence Award during its 32nd annual Educational Conference, held in Champaign, Illinois. The award is presented in recognition of a "student's outstanding contributions in scholarship or rural community service." The organization nominated him for the honor based on his application for a Behavioral Health Scholarship in early 2020, which was awarded to promote building the behavioral health workforce in rural communities. The scholarship was awarded at the 2020 annual meeting, which was held virtually.
While completing his education, Sparks worked, serving as a personal care assistant, a Wal-Mart employee and a life skills trainer for NeuroRestorative in Carbondale. He also completed internships with Five Star Industries in Du Quoin, Shawnee Health Services in Carterville and a Trauma Fellowship with the SIU School of Medicine.
"My story is one of addiction, recovery and overcoming," he said. "And I want to give others hope and confidence that no matter what you go through, you can make your life better through education. Without attending college, my life would not be what it is today."
He said he already had the desire to help others, but at SIU, he found the guidance, education and mentorship to turn that passion into ideas for services and programs to help other people and the framework to begin the groundwork to bring them to life. Sparks likewise make quite an impression on the people on campus who were a part of his educational process.
"James did all of the heavy lifting, but as a faculty member, pushing James to see potential that he could not even dream of was the key that unlocked his success," Jurkowski said. "He is a role model for others who brings inspiration and hope to people wanting to make a different path through their education."
Making a difference for other people
Sparks is now a behavioral health care manager for Shawnee Health in Murphysboro, helping others overcome challenges to lead better lives. But he has plans to help on a larger scale and he credits SIU with helping him formulate a plan.
"These ideas first sprang from my passion to help people, but I would have never been able to put them together on my own, without others there to guide me," he said.
He's developed the concept for Freedom Home, a place where formerly incarcerated people can go to recover from drug and alcohol addiction. The idea germinated in a class project in one of Sparks' social work practice classes where students were tasked with building a not-for-profit agency from the ground up.
Currently residing in Du Quoin, Sparks hopes to establish the first home in Perry County and then expand to other parts of the region and even throughout the state,
"Addicts, especially those with felonies, are some of the most stigmatized population in the country," he said. "We all deserve a second chance in life. I have seen hope in the eyes of people just like me when I share my story, but it is not going to be enough until I can show them how it is possible in their lives, too."
He notes that there is still much work to be done before the first Freedom Home opens its doors, but said he could have never achieved what he already has without SIU and its people and he's confident he can make Freedom Homes a reality as well.
He is also determined to give something back to SIU by creating a scholarship.
"I received some scholarship assistance, and I can't begin to tell you how much it helped," he said. "I want to help others and inspire them to have the hope that they need to reach for their dreams and aspirations. I'm just one person, but I have a passion and I've never looked back. I've had some ups and downs, but there is nothing in my life that is coincidence. I hope that my life and story can help other people. One of the keys for me is to meet people where they are in life and be attentive to their needs and issues. I want to help people stay out of the positions I have allowed myself to be in and give guidance and skill-building tools needed to live the productive life they deserve."