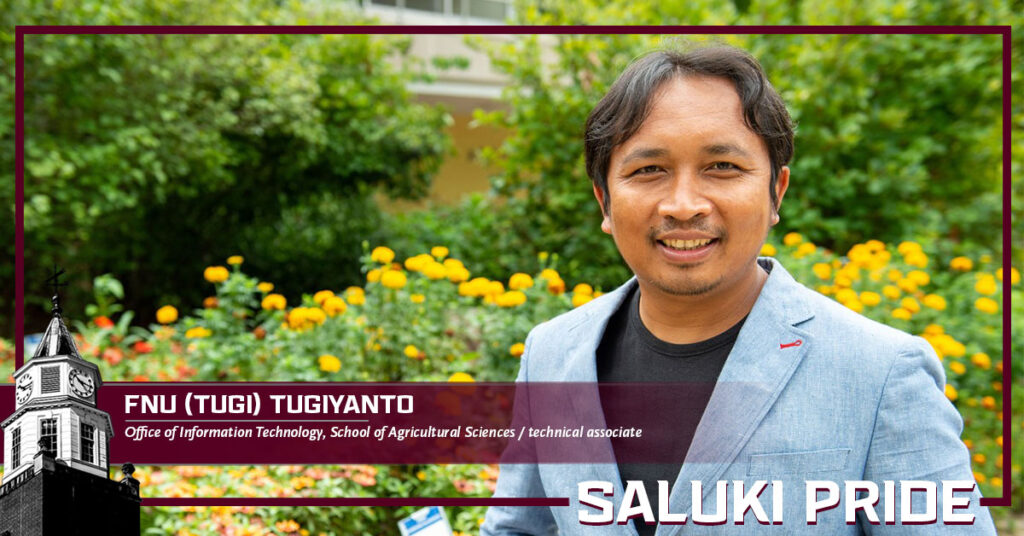 FNU Tugiyanto, or "Tugi" as the technical associate for the Office of Information Technology, School of Agricultural Sciences is known, has an amazing work ethic, a good heart, is an expert in his field, and will find a way to fix whatever needs fixing in the quickest way possible without making people feel like they are bothering him to ask for help, according to Katherine Elson, academic adviser for the school.
"Everyone loves Tugi. He helps everyone – students, staff and faculty," Elson said. "We are so spoiled with how good he is and wouldn't know what to do without him!
Get to know FNU (Tugi) Tugiyanto
Name: FNU (Tugi) Tugiyanto
Department and job title:. Office of Information Technology, School of Agricultural Sciences / technical associate.
Years at SIU Carbondale: 14 years, originally came to SIU as a graduate student and then joined the staff.
Give us the elevator pitch for your job.
My job is to provide appropriate technology-based solutions and support to students, faculty, staff and other users. I help solve computer issues and provide consultations for departmental technology needs and innovations.
What is your favorite part of our job?
People and technology. I love working with students, staff, and faculty members as well as collaborating with my IT (information technology) team. Meanwhile, I enjoy working with technology for instruction. I believe that technology can be used more effectively in education.
Why did you choose SIU?
SIU offers great programs, one of which is how to use technology in language teaching, which was taught within the TESOL (Teaching English to Speakers of Other Languages) program. I chose SIU knowing that TESOL offered the Computer Assisted Language Learning class. I was very welcomed by the linguistics department, which led to me working as a graduate assistant within the Center for English as a Second Language program, where I later obtained a civil service position. I enjoyed working with CESL and really like the classes. I actually earned three master's degrees at SIU: a Master's of Arts in TESOL and in linguistics and a Master's of Education in instructional technology. I also fell in love with Southern Illinois. Southern Illinois provides abundant opportunities for hiking, fishing, camping and many other outdoor activities that I love so much. I am now part of technology services within the SIU information technology department, which makes sure that I get the support I need to do well in my job.
My fondest childhood memory is… 

Exploring and swimming in big rivers in the middle of the Papua jungle in Indonesia. The Papua used to have mostly untouched rainforest that offered beautiful adventures for hunting and exploring. 
My favorite activity away from work is…
Bass fishing. Bass fishing can be challenging but we can do it as a family and we can fish with our kayaks, our Jon boat or while camping. My children also like outdoor activities so it is a win-win activity for all of us.  
Know a colleague to feature in Saluki Pride? Simply fill out this form.