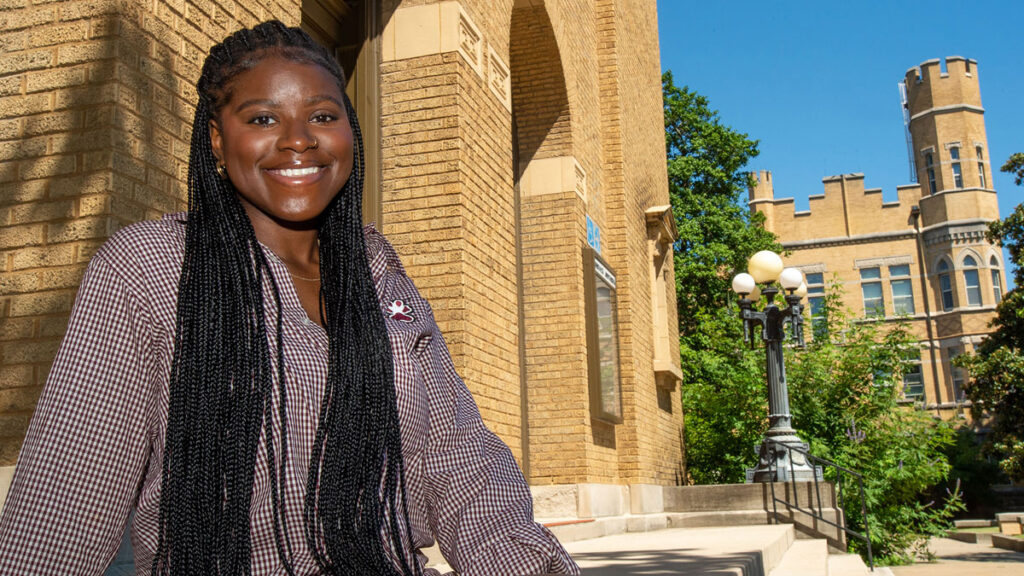 An intense three-week trek in June to Germany as part of a journalism study program not only gave Southern Illinois University Carbondale graduate Oreoluwa Ojewuyi greater insight into journalism, but it also affirmed her belief in the importance of history.
Ojewuyi was among 14 American students who participated in a recent RIAS Berlin Commission ERP Transatlantic program that connects American journalism students with their peers in Germany. A May 2022 journalism and political science graduate, Ojewuyi spent time in Berlin, Hamburg and Cologne, joining the group a bit late following the death of her grandfather in Nigeria. She first learned of the RIAS (Radio in the American Sector) program when several German students visited SIU in April and spent time on campus, including at WSIU and The Daily Egyptian newspaper, where Ojewuyi was editor-in-chief. What she learned piqued her interest.
"It just felt like something I had to do," she said. "Even though it was very last minute; I found out I was going a few days before graduation — I don't regret doing it whatsoever. It was really a life changing opportunity. I'm happy that I took the opportunity when I heard about it."
Varied experiences
Ojewuyi said day was filled with meetings at different print and broadcast journalism organizations and talking with German journalists, taking time to compare and contrast American and German journalism. She was also able to meet with politicians, citizens and Ukrainian refugees during the trip, along with visiting historic sites.
Newspapers are run by private media companies, and there are both public and private radio and television stations. Ojewuyi explained that every German household pays a fee toward publicly funded stations, and in talking with German citizens, she found some believe the fee makes those stations more of a "mouthpiece" for the government
There was a sentiment as well that there is more trust when reporting facts in Germany, particularly on COVID-19.
"The general consensus with journalists in Germany was that there was not a lot of pushback when it came to reporting cases. It was just factual information. Where in the U.S., it's a bit more murky," she said. "In the U.S., there is a tone of opinion to almost everything that is put out there whereas in Germany it seemed very straight."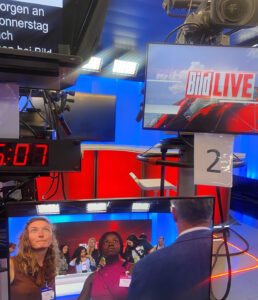 Dealing with history
Ojewuyi said the most important thing she learned from the trip and the German people is that history is important and that there is an acceptance of their history.
"I think a lot of times, not just in America, there is a denial of history, and you cannot move forward if you do not look at the past," she said. "They are so comfortable talking about it. There is no sensitive subject when it comes to talking about their history and what they have been through — whether it is the Cold War or the Holocaust — and trying to move toward a better solution in the future."
One difference, however, is with the number of political parties and wide range of opinions in Germany, Ojewuyi believes there is more objective reporting among German journalists but not as many debates on current issues.
"I think we need to have more credit in the U.S. because we are discussing very hard-hitting, sensitive topics that are currently happening in society," she said. "I think American journalists – we can feel good that we hit these very uncomfortable topics."
In her own growth, Ojewuyi noted her interests in politics, activism, community organizing and protesting.
"To me journalism is inherently activism and that is the greatest lesson I have learned thus far," she said. "By reporting factual information we are seeking out the truth provoking change."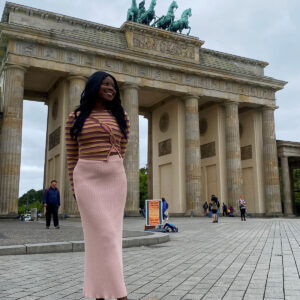 The future and SIU's important role
Now 23, Ojewuyi, a 2017 graduate of Carbondale Community High School, is deferring graduate school and will be utilizing an internship she had while an SIU senior to work with Chicago Votes as a full-time grant writer beginning in October. The nonpartisan, nonprofit organization focuses on voter engagement and civic engagement through numerous initiatives. While a different type of writing, Ojewuyi said she is excited to learn and know more. She is also pursuing a reporting fellowship.
"I want to be sure if that is what I want to do or if I want to go to law school. There are lot of things I'm interested in — international affairs, civic reporting, advertising," she said. "I'm trying to narrow it down in the next year. I don't plan to take a big break from school because of the love of the structure that school gives me."
While there were other schools to choose from, Ojewuyi, whose father, Olusegun A. Ojewuyi, is a professor and interim associate dean in the College of Arts and Media, candidly says she doesn't believe she would have had the experiences she did at another university. While at SIU, she worked in the College of Liberal Arts dean's office, for the provost, was a resident assistant and became a reporter and editor at the student-run Daily Egyptian. She also credits Jan Thompson, professor and director of the School of Journalism and Advertising, and Tobin Grant, professor and director of the political science department, for their efforts and helping point her in the right direction.
"None of these were things I envisioned for myself prior to coming to SIU, and I think there is so much room for growth here. The faculty genuinely care about their students, and I didn't think that they would be so involved in my life at the college level."
Ojewuyi said because Carbondale is a smaller community some may believe there are not the opportunities available at SIU.
"There are so many things that I think back and wish I had done in the five years I was here. I was constantly growing," she said. "I'm very grateful. I was accepted at other schools, and I'm glad I made the decision. It's going to be hard to leave. It challenges you."
Another SIU connection to Germany
Ojewuyi isn't the only SIU connection involved with the RIAS Berlin Commission this year. WSIU reporter Steph Whiteside will be among 10 American journalists from across the United States to take part in a two-week RIAS Berlin Commission fellowship in September. She will spend time in Berlin, Hamburg, Cologne and Brussels to learn more about journalism, politics, security and cultural issues in Germany and the European Union.
Fred Martino, executive director of WSIU Broadcasting Services, was part of the professional RIAS journalism exchange program about 20 years ago. He explained the commission was founded in 1992 in recognition of RIAS Berlin from 1946 to 1993, which provided millions of listeners in communist East Germany with uncensored information and entertainment. Martino maintains regular contact with the program and encourages other WSIU journalists and SIU students to apply for the fellowship.
Editor's note: Oreoluwa Ojewuyi is pronounced OH-reh-oh-LOO-wa OH-jeh-wee.