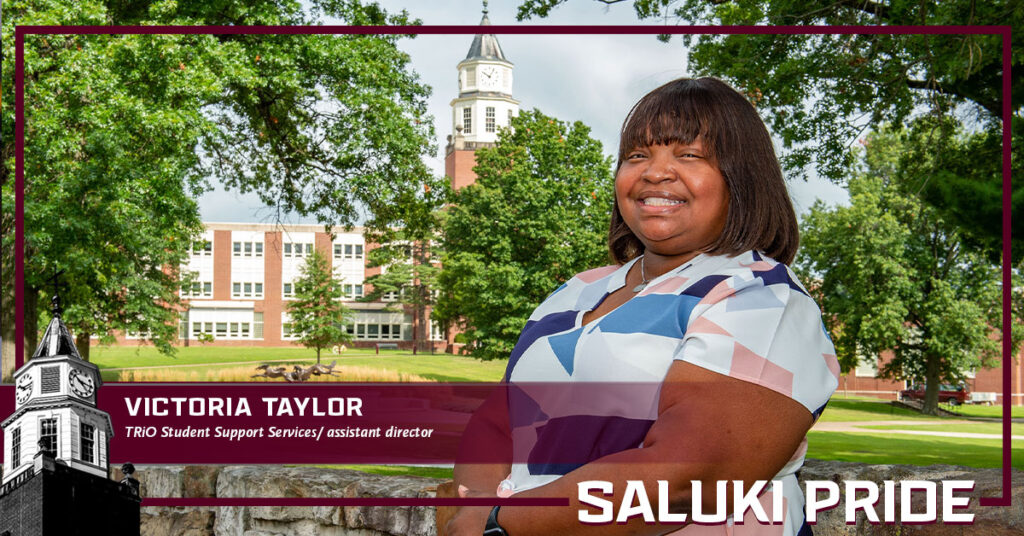 As assistant director of TRiO Student Support Services, Victoria Taylor goes out of the way to make sure students have everything they need to succeed and reach their full potential, colleagues say.
"Victoria exceeds every expectation when it comes to providing support services for students," said Renada Greer, executive director of the Student Multicultural Resource Center and director of TRiO Programs. "She's compassionate and caring, and she truly desires to help students succeed."
Taylor also has been selected by SIU to participate in the State Doctoral Scholars Program, an initiative organized by the Southern Regional Education Board to improve diversity in academia. The program helps minority doctoral students achieve their academic goals and pursue faculty posts. She is pursuing her doctorate in higher education administration and anticipates graduating in May 2023.
"The program is an enlightening experience," she said. "DSP provides a unique opportunity and bridges the gap of the doctoral process often felt by underrepresented students. One of the highlights of the program had been the networking events and activities. Through networking, I have connected with other scholars, alumni and faculty members to discuss potential research projects, conference presentations and journal submissions. I look forward to attending the upcoming teaching and mentoring conference this fall."
She also continues to work full time, assisting students in myriad ways. After completing her doctorate, she said, her plan is "to continue to provide support and advocacy for special populations through research, training development, programming and teaching."
Get to know: VICTORIA TAYLOR
Name: Victoria Taylor
Department and job title: TRiO Student Support Services, assistant director
Years at SIU Carbondale: 15, including my years as a student.
Give us the elevator pitch for your job.
I work to dismantle barriers that may impede a student's academic performance. Whether it is overcoming financial hardships, finding affordable housing, securing child care, making appropriate decisions or navigating the university system, I expend all available resources to ensure the problems and challenges are resolved. Additionally, our program provides a variety of academic support services including individualized tutoring, academically focused workshops, cultural and social activities, pre-academic advising and so much more.
What is the favorite part of your job?
My favorite part of my job is working with students and seeing them reach their full potential.

Why did you choose SIU?
Initially, I chose SIU to complete my bachelor's degree and later my master's degree. In 2007, SIU collaborated with City Colleges of Chicago to pilot a program for single parent college students. As a Chicago native, I found Carbondale was not too far from home. At that time, I and three other young women journeyed to SIU with our children to become Salukis. It was through this program that I was introduced to TRiO Student Support Services, so I am a TRiO alum as well. As a former student in the program, I have first-hand experience with how special it is. I've worked full-time in TRiO for 10 years.
Today, I choose SIU because I have witnessed the impact this university has on the lives of its students. SIU is a game-changer for many people, and I choose to be a part of the life-changing work this institution does for students.
I am happiest when I am:
Spending quality time with my family, especially my children. My daughter is 22 and graduated from SIU in May, and my son, 5, is our future Saluki.
My favorite activity away from work is:
Gardening. I enjoy growing indoor vegetables in my AeroGardens and caring for my house plants. It's a relaxing and rewarding way to spend my down time when I'm away from work.
Know a colleague to feature in Saluki Pride? Simply fill out this form.