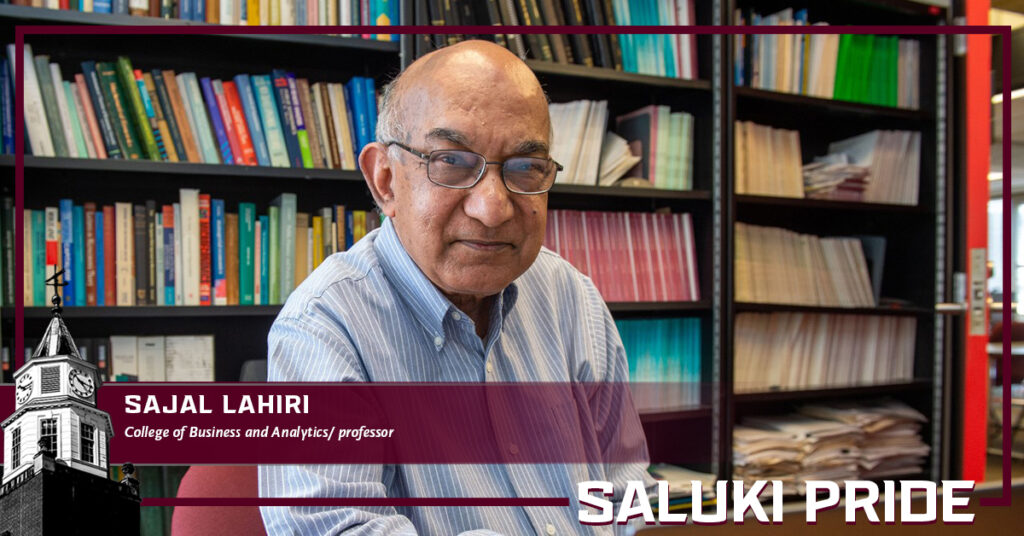 Sajal Lahiri, a professor in the College of Business and Analytics, holds the prestigious Vandeveer Endowed Chair in Economics and is a globally renowned scholar.
Lahiri has co-authored research with scholars around the world, his work has been published in publications with a global reach and he has given presentations in many countries, according to Kevin Sylwester, interim director of the School of Analytics, Finance and Economics.
The recipient of the 2016 University-wide Scholar Excellence Award, Lahiri has not only contributed significantly to the research in his field, but also to the next generation of scholars, conducting research projects with them and mentoring dozens of students and supervising their doctoral dissertations.
Lahiri came to SIU in 2002 after teaching at the University of Essex in the United Kingdom from 1978 to 2002. He was born in Kulti, an industrial town in India, and completed his undergraduate, master's and doctoral degrees at the Indian Statistical Institute in Calcutta, now Kolkata. Lahiri is currently on sabbatical, working on a book that he calls his "magnum opus" but still making time to lead the Faculty Association team that recently reached a collective bargaining agreement with the SIU Board of Trustees and to supervise five doctoral dissertations. His students are working on projects as diverse as the socio-economic determinants of anxiety among individuals in the United States, the socio-economic determinants of internal migration among individuals in the U.S., and the determinants of asylum seeking, trade and environmental policies for industries in a market structure dominated by a small number of large sellers or producers.
Lahiri has already completed some 300 pages of his book, with perhaps 200 more to go, and said it covers not only "the bread-and-butter issues in international trade" but also topics not typically found in graduate or undergraduate level textbooks. These are areas in which he has made significant contributions in the past 35 years, including the environment and trade, conflict and trade, foreign aid and trade, foreign investment and trade, multilateral trade policy reforms and more. Another thing that's especially significant about his book project is that he intends "to publish it in an open access format so even the poorest student in the world can get a free e-copy," and he's already found a publisher in England to make it happen.
Get to know SAJAL LAHIRI
Name: Sajal Lahiri
Department/title: School of Analytics, Finance and Economics (formerly the Department of Economics) in the College of Business and Analytics, Vandeveer Chair, Professor of Economics and Distinguished Scholar
Years at SIU Carbondale: 20 in August.
Give us the elevator pitch for your job.
I teach and research mainly in the area of international economics, but also in its interface with development economics and environmental economics. I also supervise doctoral dissertations. I spend most of my time on research. I have written four books and published about 160 research articles. Currently, I am spending my sabbatical semester writing a graduate-level textbook on international trade.
What is your favorite part of your job?
Supervising PhD dissertations. Since moving here just under 20 years ago, I have chaired 40 doctoral dissertations and am currently supervising five of them.
Why did you choose SIU?
I came from England for a fully endowed chair. This provided me with more time for my research.
My fondest childhood memory is:
Visiting Kashmir, India, with my parents and siblings. I went there when I was 8. I had read the Indian (Bengali) Nobel laureate poet Tagore describing it as the heaven on earth. I was "gobsmacked" by the beauty. I have been other beautiful places since then, but that was the very first. By the way, gobsmacked is possibly a British expression, but I have spent so much time in both the United Kingdom and the United States that I often forget which expression is not understood in which country. Winston Churchill once called them, "Two countries divided by a common language!"
My favorite meal is:
A Japanese meal in a good Japanese restaurant. This is one cuisine that the entire family, including the grandchildren, enjoys. We have spent a lot of time – adding up to nearly 3 years – in Japan.

Know a colleague to feature in Saluki Pride? Simply fill out this form.