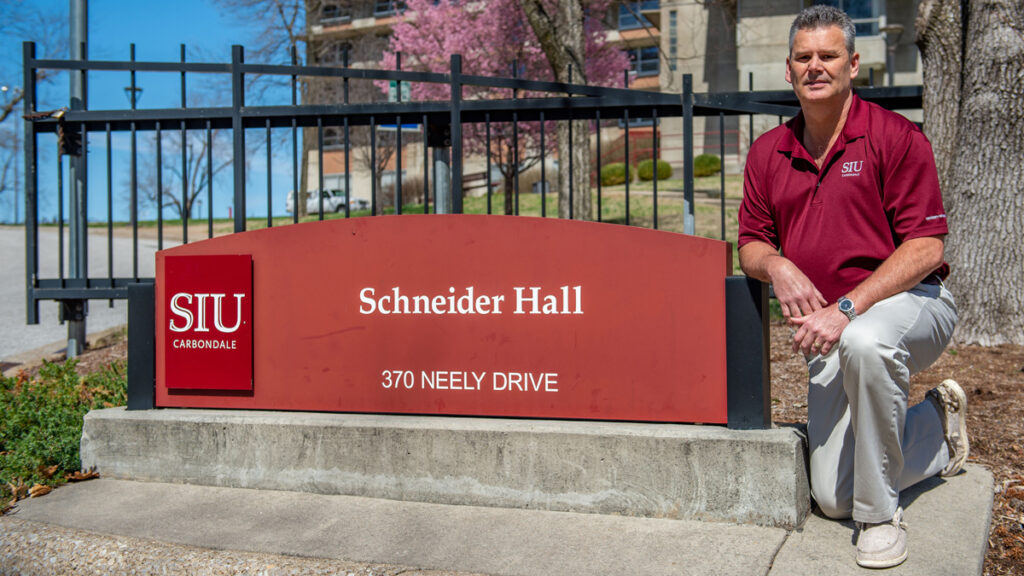 This is one in a series featuring the university's 2021 Faculty and Staff Excellence Award recipients, who are being recognized for outstanding teaching, significant scholarly and artistic contributions, and dedication to furthering the mission of the university.
As the superintendent of buildings for University Housing, Scott Taylor views his responsibilities as stretching far beyond the brick and mortar maintenance of SIU Carbondale's residence halls, apartments and dining halls.
For Taylor, it's about the students.
"Scott gives his all every day, keeping students at the forefront of his work," wrote University Housing Director Jon Shaffer, who nominated Taylor for the university's 2021 Staff Excellence Award. "He never allows the clock or calendar to suggest he should not respond to our students' or facilities' needs."
The award recognizes an administrative/professional or civil service staff member for significant contributions to further the university's mission. That includes demonstrating excellence in overall work performance, helping to improve students' experiences and serving as a role model for faculty, staff and students.
'Greatly humbled' by nomination, award
Taylor credits his "dedicated and committed staff" that he has the privilege to work with.
"I'm receiving the award, but it truly belongs to the entire Housing staff who during this past year tirelessly and selflessly put the care and comfort of others ahead of themselves," he said.
Taylor started with SIU in January 1995 as a building service worker. He held a variety of positions, including supervisor of custodial operations, before becoming superintendent of buildings in February 2016, where he supervises all maintenance and housing operations within University Housing, along with custodial operations, trades staff and mentoring student employees. The buildings include 15 residence halls, more than 400 apartments, Evergreen Terrace, two dining halls and several buildings that are offline.
'Integral role' in response to pandemic
Shaffer wrote of Taylor's concerns for students and staff even before the COVID-19 pandemic. Recalling lessons from the H1N1 virus a decade earlier, Taylor ordered a reasonable supply of personal protective equipment (PPE), sanitizer and cleaning solutions before they became scarce. University Housing was "fully prepared with a virus response protocol well before receiving guidance from the local, state or federal level" and provided easy migration into the larger university response, Shaffer wrote.
When several residence hall students were in insolation after spring break 2020, Taylor took personal responsibility to provide meals, keeping track of students' dietary restrictions, and deliver mail and packages and even medicines, Shaffer wrote.
"Scott's leadership during this time is the perfect example of not only his selfless dedication to students, but his insistence on leading from the front, especially when it comes to protecting his staff team," Shaffer wrote. "He does not ask others to do what he is not willing to do himself, and he sees it as his responsibility to be in the trenches when asking others to do tough jobs."
Credits his staff for their response
Taylor said he is "most proud" of his staff's willingness to accommodate students.
"Not once did any of the staff come to me to complain about the changes to their work schedules," he said. "Even though they had the added stress and worry, they continued to do their jobs ensuring that the residents' and staffs' needs were being met daily."