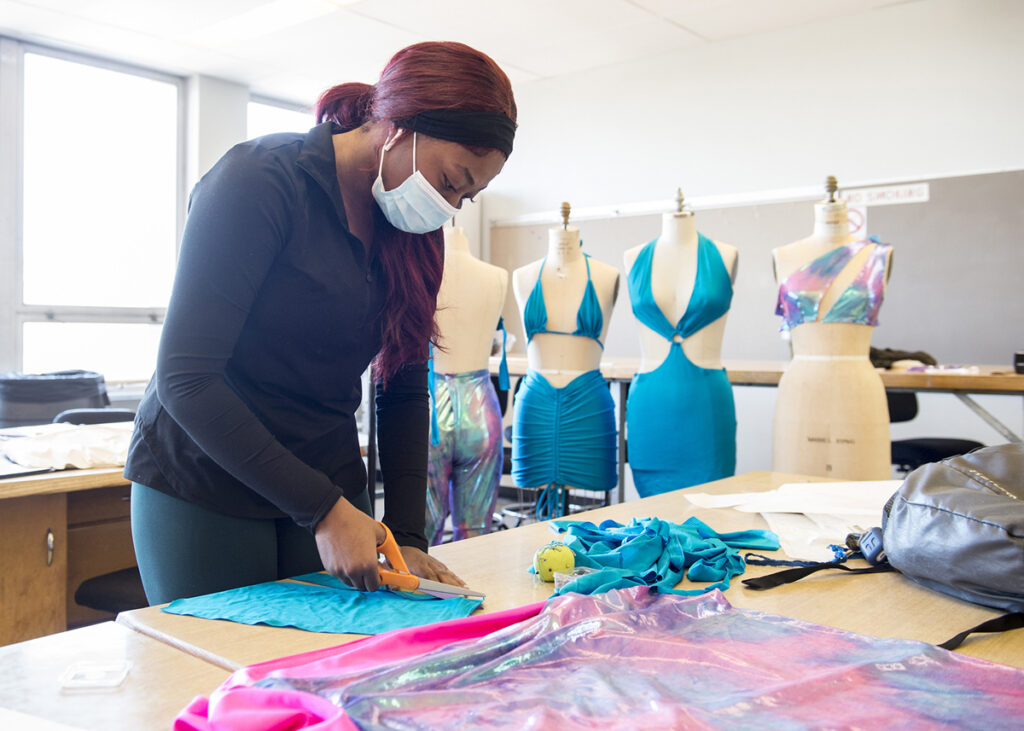 Fashion design can mean a lot of trial and error before finding that perfect fit. As the COVID-19 pandemic prompted many lifestyle changes during the past year, students in Southern Illinois University Carbondale's Fashion Design and Merchandising (FDM) program are also adapting this season to an exciting change to a long-held springtime staple.
"The runway show was always something fun and something you could look forward to the end of the year, and you would have the experience of what a real fashion show looks like behind the scenes," said Ebun Daley, one of five seniors who are feverishly working on their respective fashion lines. "But I think the aspect of us having a photo shoot instead of a runway show is better for the future for our portfolio and jobs and wanting people to see our work – especially if any of us want to start our own brand."
Moving in a different direction
Rather than holding the annual Student Showcase and Runway Fashion Show in April, Laura Kidd, an associate professor in the School of Architecture and program director, opted for photo shoots this spring to comply pandemic protocols. The five seniors specializing in the fashion design program will still find their own models, style out their garments and shoot fashion magazine-style photos that students can use in the portfolios.
SIU is the only public university in the state to offer a bachelor's degree in fashion design and merchandising.
Kidd, who has supervised student designers and the show since 1997, believes the change, based on the circumstances, is better. The class was held virtually via Zoom in the fall, and in January, they were able to return to the program's lab in Quigley Hall. This prompted another change by reducing the required number of outfits from eight to four.
Varied styles and fashions
From swimwear to casual and professional attire, the student designers are hard at work measuring, sewing and designing.
Jade Cochran, from Paducah, Kentucky, is using a lot of spandex, fun textures, glitter and sequins for her Butterfly Baby line. She created her line, inspired by butterflies and fairies, using an illustrator program along with hand drawings for a "very vibrant, holographic, fun and whimsical" look.
For Rana Schenke, her Icon fashion line features a Barbie theme, based on a lifelong affection for the iconic doll. Each of the looks is inspired by Barbie fashion from 1959 through the present day. She began sewing when she was 8 or 9 years old and made tiny garments for her own Barbie dolls, "which didn't turn out too well because I didn't know what I was doing."
A love for fashion began when Schenke, who is from Algonquin, Illinois, was 6 or 7 years old. One day while at the library, she found a book with photos of different Barbie dolls throughout the years "and it was just fascinating to me to look at how the fashion on the doll reflected the fashion of the world."
Schenke said she is hoping to get into toy design when she graduates and design dolls and doll accessories.
Daley, who is from Chicago, said her Twisted Swim theme shows off her lifelong interest in swimwear. Daley notes bathing suit styles are always changing and never out of season. She plans to move to New York City to pursue her career.
"Even though you have swim season, there are so many people around the world who are wearing swimwear depending on where they live," she said.
Shows off creativity
Sina Maiberger, from Frankfort, Illinois, said her A-Spire streetwear line is based on an architecture-related theme she was given as part of an entrance exam for a German university.
"I just love the creativity and being able to do what I want to do," said Maiberger, who was born in Germany. "I like being able to design something and then at the end have it physically made exactly how I want it to be. I thought it would be nice to end my last line on what gave me confidence to pursue going to college."
Not being in the studio last semester was hard, but she appreciates the consistent feedback now that students are on campus. Like her classmates, she agrees the photo portfolio brings new opportunities that give prospective employers "more of a lasting impression."
A sense of community
For the students, their individual projects mean long hours. Paige Gower, who is from Robinson, Illinois, changed her major to FDM after being accepted. Gower's grandmother taught her how to sew when she was little and that piqued Gower's interest. Her line, a mix of loungewear and resort wear is labeled Tigerlily in honor of her grandmother's favorite flower.
Gower's mix of resort and loungewear provides fashionable and comfortable clothes that can be worn on vacation.
The work means late nights and early mornings in the lab and a "sense of community," said Gower, who is looking to move to St. Louis or Nashville, Tennessee., where there are budding fashion communities. She said her experience at SIU has been "spectacular," noting she feels every day she comes to class she learns something new.
"We are all in this together," Gower said. "It's like 5 a.m. and we are all dead tired, but we are all in this together."
Maiberger loves the faculty, the program and her classmates, and hopes they remain in touch once they each graduate in May.
"It's awesome spending as much time with each other as we get to. I feel really close to them. I really love how close I've gotten with the other designers," she said.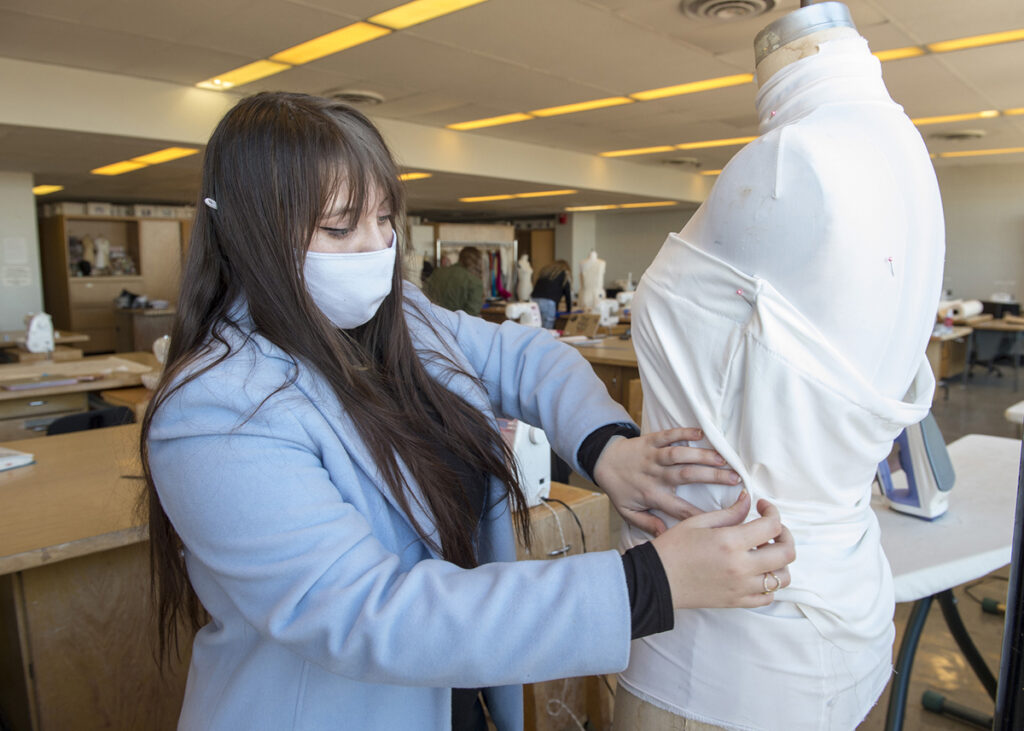 No experience needed …
Cochran always had an interest in fashion and at the last minute decided to change her major to fashion design, although she had a limited sewing background.
"It was definitely a learning curve," she said. "I had a little experience with hand sewing and making pillowcase, but other than that, I had no idea. So I started everything week one of being here."
But, Cochran said, fashion design correlates into planning and details.
"I really enjoy it. It really is a thought process. You have to think two steps ahead before doing anything else."
But commitment is required
Kidd emphasizes the role that student commitment plays for success in the program.
"I think there are many students who think this is fun, and all they see is the end result," Kidd said. "All they see is the garment that goes down the runway for the 30 seconds they see it. They don't realize you are seeing it for 30 seconds, but it probably took 6 weeks to two months to build."
Pandemic impact on fashion industry
Kidd believes shuttered runway fashion shows will return to enthusiastic audiences but that the pandemic did take its toll on the industry, particularly retailers, where it "just speeded up the inevitable for many stores" and prompted more people to buy online.
"One thing it has done is that now everybody and their dog thinks they are a fashion designer," she said. "So there is some stuff out there that is not very good, and I'm sure those people won't last very long because creating fashion is a lot harder and takes more time than people think."
For more information on the program, contact Kidd at 618-453-1970 or lkidd@siu.edu.