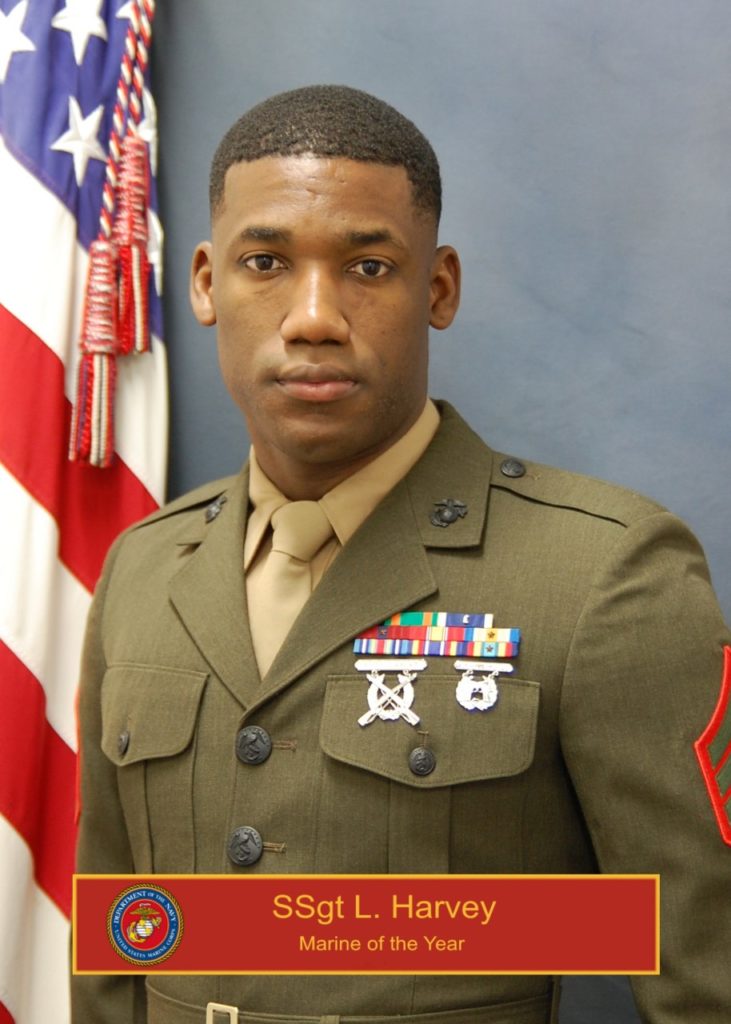 Even as a young child growing up in the Caribbean, Lerome K. Harvey had big ambitions and dreams.
Harvey's dedication, leadership and hard work have him on track to graduate from Southern Illinois University Carbondale later this year. He was also recently named Marine of the Year by the Center for Naval Aviation Technical Training.
Driven to succeed
Harvey grew up in Bamboo, St. Ann, Jamaica, and moved to the United States in 2007 at the age of 16. After graduating from Ossining High School in Ossining, New York, he began studying aeronautical engineering in college.
But, drawn to the discipline of the U.S. Marines, Harvey enlisted in 2012. He trained at Paris Island in Beaufort, South Carolina, and was then stationed at Camp Geiger in Jacksonville, North Carolina. He earned a Navy and Marine Corps Achievement Medal for his superior work, professionalism, dedication, commitment and leadership during his five years there.
Subsequent assignments in Florida and California provided many training opportunities and Harvey quickly earned several promotions. His first deployment was an assignment to VMM-263 (REIN), support of the 22nd Marine Expeditionary Unit, and he also served a deployment in Okinawa, Japan, in 2016. Harvey was promoted to staff sergeant last year after returning to Naval Air Station Pensacola in Florida in 2018.
Extensive responsibilities
Harvey's duties are quite diverse. They include:
Serving as non-destructive inspection (NDI) technician course instructor for Navy and Marine students.
Supervising the course curriculum and adjusting as needed.
Overseeing the training of new instructors through the 13-unit course as master training specialist and training division evaluator.
Maintaining all student data and counseling records as the NDI division staff non-commissioned officer in charge.
Training and sustaining Marines in fighting and leadership disciplines as Marine Corps mixed martial arts program instructor.
Becoming a Saluki
Harvey decided to get his college career back on track last year by becoming a Saluki. He enrolled in SIU's Workforce Education and Development program at the NAS Pensacola location, one of the university's many WED off-campus degree program locations.
After being out of school for several years, Harvey said he was "skeptical at first," but being able to attend classes in person on weekends while still working was one of the things that drew him to SIU's program. And while he admits that "it has been quite the challenge to be able to balance both work and school," it has worked quite well and in many ways, his education and his career have complemented one another.
SIU Carbondale has a longstanding commitment to provide outstanding educational opportunities to active duty personnel and student military veterans. The university was among the first in the nation to offer off-campus academic programs to military personnel, starting in 1973 at Scott Air Force Base.
Flying high
Harvey said his initial goal was to complete the WED program, earn his degree and become a commissioned officer in the U.S. Marine Corps. While that's still his desire, he has also "gained a significant appreciation for everything that goes into the process of education and training development."
Harvey said he's discovered the parallels between his coursework and elements of his military leadership training and that has "fueled my interest even more. I can without a doubt say that the program assisted in my award as Marine Instructor of the Year."
Harvey aspires to become a flight officer and a fixed-wing aircraft pilot. Eventually, he hopes to become a flight instructor for the Marines, later transitioning to civilian instruction.
"Achieving this degree in WED is the first step," he said.
High praises
The Center for Naval Aviation Technical Training oversees all Navy and Marine Corps' aviation training throughout the United States. Colleagues there describe Harvey as "poised, confident and self-driven" and the nomination forms say that he "consistently displayed outstanding performance in the execution of his duties.
"Through leadership, competence and dynamic personal example, he persistently improved the professional growth of all students and staff in the NDI division. His actions resulted in significant improvements in the content and delivery of the NDI training course," according to the nomination.
The nomination notes that at SIU Harvey is maintaining a 4.0 GPA and earning a spot on the Dean's List. And, they say he has completed additional military courses, proven himself a top performer among peers, serves as a Marine Corps Martial Arts Program martial arts instructor and has volunteered to serve in funeral details to provide final military honors.
Motivated to succeed
With so much intense competition for the honor, Harvey said he feels "immense pride and undying gratitude" to be chosen as the winner and said he is "grateful and humbled." He is motivated by his family and peers and gives credit to the "amazing leadership."
"The Marines and sailors that I work with on a daily basis are phenomenal individuals who exhibit a level of professionalism that is unparalleled," Harvey said. "They literally make me work hard."