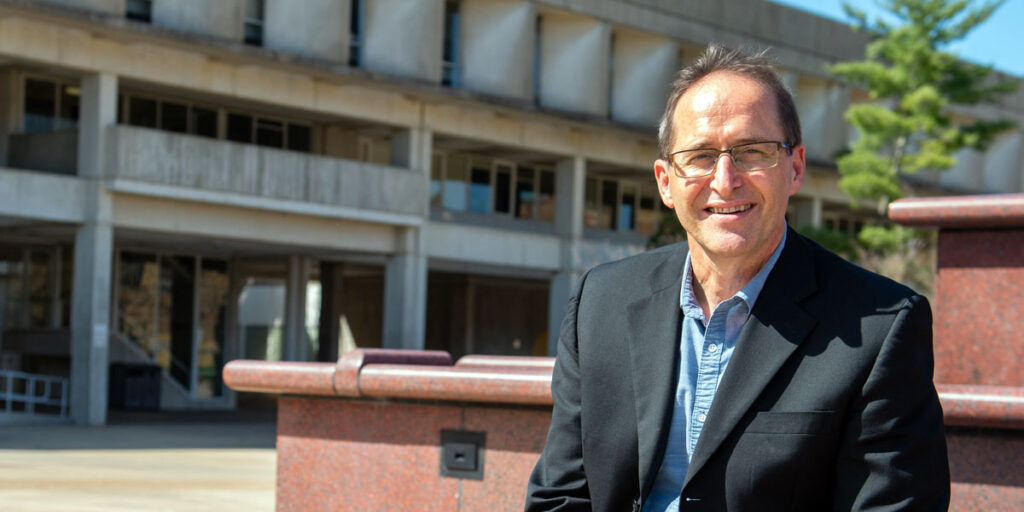 This is one in a series featuring the university's 2021 Faculty and Staff Excellence Award recipients, who are being recognized for outstanding teaching, significant scholarly and artistic contributions, and dedication to furthering the mission of the university.
In nominating Daryl Kroner for Southern Illinois University Carbondale's 2021 Scholar Excellence Award, colleagues note his research has "changed the way the field of correctional psychology thinks about offenders with mental illness" and may "dramatically improve the lives of several hundred thousand people who are suffering from mental illness while incarcerated or under community supervision."
Kroner, a professor in criminology and criminal justice, "is widely recognized as a national leader in violence risk assessment and the treatment of criminal offenders with mental illness, and his work in these areas is 'required reading' for many graduate students throughout the United States," wrote David DeMatteo, a professor of psychology and law at Drexel University.
Matthew Giblin, professor and director of SIU's School of Justice and Public Safety, wrote in his nomination letter of Kroner's international reputation in forensic psychology and that his "scholarly work has positively influenced colleagues and students through collaborations and mentorship."
Kroner came to SIU as an assistant professor in 2008 before becoming associate professor in 2011 and full professor in 2015. His research includes criminal offender assessments, offenders with mental disorders and the effectiveness of various interventions to reduce recidivism.
The award recognizes and promotes outstanding research and creative endeavors and is given only to those who have made outstanding contributions to their discipline and are widely recognized for their achievements by other scholars in the field. Kroner will receive the permanent title of Distinguished Scholar.
Active in research, productivity
Giblin notes Kroner's research has generated 76 peer-reviewed publications, six books, six book chapters, 97 conference presentations and 17 invited talks, with his work cited by other scholars more than 4,100 times and "a level of productivity that shows no evidence of letting up." His research is also supported by more than $1.6 million in external grants from a variety of national, state and private agencies, including the Illinois Department of Corrections, the National Institute of Justice, the Council of State Governments and Correctional Services Canada.
Honored to receive the award
"I am humbled by knowing that I have been blessed to have worked with great colleagues in the formulation of ideas, conducting research and communicating with others," Kroner said. "There is a synergy in working with others."
Giblin notes that students "benefit tremendously" from Kroner's research, frequently involving them as co-authors or co-presenters. He noted one of the McNair Scholars Kroner mentored, Tamara Kang, earned her doctorate and is now an assistant professor in SIU's psychology program.
Enjoys teaching
Kroner said a "great enjoyment" is getting to know his students and "through this relationship, engaging and challenging them to consider other views. Then evaluating those views, whether rationally or through data, as to their coherence and validity with application to real-world situations is satisfying."
Kroner earned his bachelor's degree from the University of Alberta; master's degree from North Carolina Central University and doctorate from Carleton University.