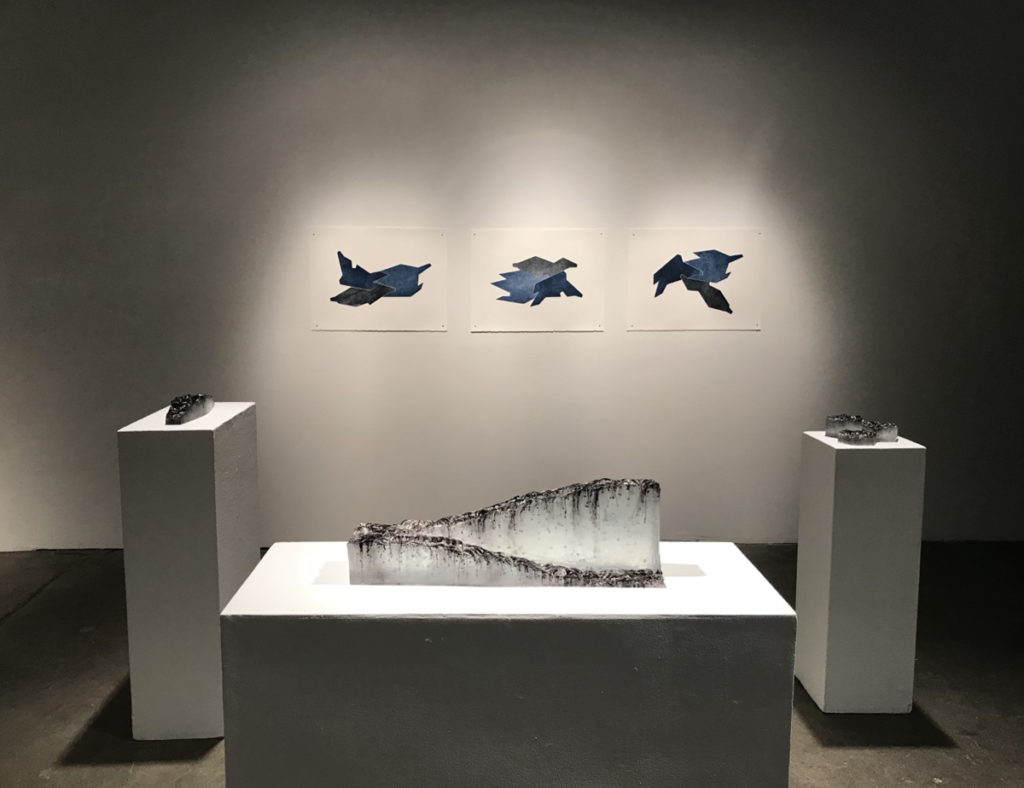 When first walking on campus at Southern Illinois University Carbondale, it is often hard to choose from the 200 degree plans available. Bill Sieber faced that problem as an undergraduate, until he found a way to do it all.
A non-traditional student when he first came to campus, Sieber started his undergraduate degree in the geology department. While he soon decided to switch gears and follow his passion in art, he could not completely abandon his love for geology. Now as he finishes his MFA program, he has found a way to create beautiful pieces with strong geological themes.
"All of the pieces have roots in my interest in geology," Sieber said. "I have really come full circle from where I began. I have not abandoned my interest in geology; I am just now translating it into artwork."
Embracing the creative process
Before Sieber ever picks up a piece of metal or starts pouring concrete, he starts with a simple sketch of his idea. Anytime an idea hits him or he sees something unique and inspiring, he jots down his thoughts and creates rudimentary sketches. Many of these sketches turn into masterpieces, while others fall by the wayside.
After he develops an idea and sketch, Sieber picks which type of material to use for the project. While he has many options to choose from, he is intentional about matching the material with the core feelings and message of the piece.
"I love sculpture, because you aren't stuck with just one material," Sieber said. "I like to use different materials and processes for each unique project; I can use glass, metal, concrete, among others."
While each piece has a certain amount of thought behind it, much of his work turns into trial and error.
"I usually start to make something, and then I discover what I did wrong and I make something else," Sieber said.
Instead of seeing this process as a failure, Sieber just makes quick adjustments and creates new pieces as he goes. Often, he will tackle several works in a series at the time, designing unique but similar pieces for various exhibits.
With such a diversity of interests, Sieber often works on multiple projects at once. He may create a piece in printmaking while waiting for concrete to dry, or experiment with a wooden sculpture while waiting for a glass piece to cool. The goal is to always be learning and growing as an artist.
"The thing that excites me the most is little details," Sieber said. "Some people like to step back and admire their finished work, but I like when I come up with small solutions and figure out the little pieces as I go. The best part is when you struggle through an issue, and then it finally works."
Sculpture from plastic straws
Earlier this year, Sieber won second place for his unique sustainability-focused piece at Reclaimed!, a juried exhibition at the Arts Council of Fayetteville/Cumberland County in North Carolina. The exhibition worked to promote recycling by accepting art pieces that reused materials in new ways.
Sieber designed a large fishnet like piece, titled "Ocean Sweep" from plastic drinking straws and fishing line. Following the guidelines of the exhibition, over 70% of the piece came from reused materials. The giant fishing net stretches out over 20 square feet, and is on exhibit until Aug. 17.
"A lot of my work has environmental elements to it," Sieber said. "When I made this piece last year, it was first becoming popular for people to opt out of using plastic straws. I wanted to make something that reflected that movement."
Exhibiting across the nation
As Sieber continues to explore new techniques and ideas for his pieces, he is also building a name for himself in the art field. Just in the last few weeks, he has driven over 2,400 miles to drop off his pieces, with several others shipped to their exhibition location.
Currently, Sieber's work is in five different shows, stretching from Denver, to Chicago, St. Louis, Cincinnati and Fayetteville, North Carolina.
Staying involved on campus
One of Sieber's favorite parts of the MFA program is the continual collaboration and inspiration from his peers in the program. He also keeps busy with two graduate assistantships, including acting as an instructor of record, teaching a beginning sculpture class. The past two years he has also served as president of Critical Forum, a sculpture student organization.
Sieber plans to continue his work and artistic discovery after graduation, with many other exhibits and competitions in his future.