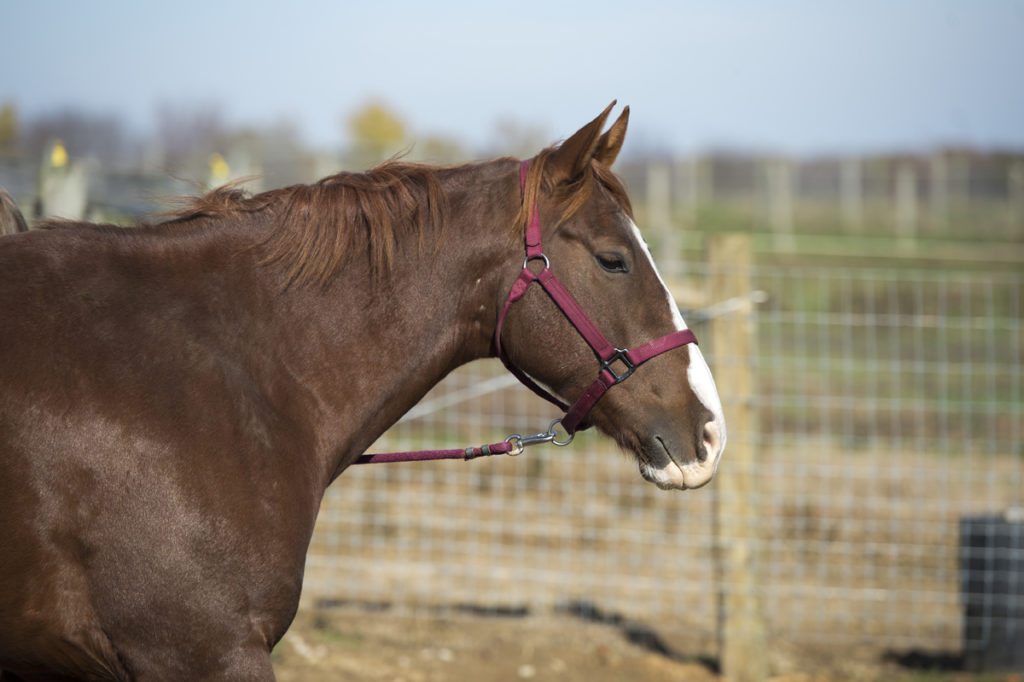 When you think of pregnancy cravings, you might picture foods like pickles, chocolate, licorice, tacos or other random combinations. What you might not imagine is a pregnant mare being picky with her usual fare. However, just as food cravings and aversion are a common part of a women's pregnancy journey, new research suggests similar cravings just might hit horses as well.
Understanding palatability
We often imagine that all horses have similar tastes, but junior Cierra Crowell thinks quite differently. While apples are a common horse food, she has seen some horses that will not touch anything that contains apple. Just as humans have varying opinions when it comes to food, so do horses.
"They are really no different than us," Crowell said. "I have things I don't want to eat, and they have flavors they don't want to eat."
A long time horse lover, Crowell first came to Southern Illinois University Carbondale from Lincoln, Illinois, with the goal of learning everything she could about equine science. Working under Erin Perry, assistant professor of animal science, food and nutrition, Crowell earned a REACH grant for her research.
Crowell is conducting a gestational palatability project, looking at the eating habits and preferences of five gestating mares compared to five non-gestating mares. The study will examine how the horses respond to various foods over the length of their pregnancy, with the goal of understanding more about pregnant mares' eating patterns.
Following this study, Crowell plans to go back and examine the new foals to see if there are any changes based on what their mothers ate during pregnancy. Crowell hopes to discover if palatability could be a learned behavior, as opposed to just a natural behavior.
Testing the food preferences
All ten of the horses in the study reside on the University Farms, as part of SIU's equine program. The hands-on portion of the research will start in the mare's later gestation term, which will give more accurate results as the horses will start to make more overall adjustments for the pregnancy.
For the study, Crowell plans to use feeds flavored with apple and anise, a spice with flavor very similar to black licorice, to compare a sweet and savory flavor. The team will cover up the foods, and then allow the horses to smell the two options. Once the horse chooses one, they will uncover it and let them taste it. The researchers will also keep track if the horse decides to go back and try the other food.
While the mare is eating, the team will count how many times her mandible rotates to see if she is actually chewing or just trying to rush through the food. Considering various external factors, such as weather and age, the team will then develop a base understanding of the horses' preferences.
The end goal is to assist farmers, breeders and the feed industry with the overall diet of the mares. Crowell hopes this research is a launching point into further discussion related to palatability and nutrition.
Giving horses what they want
Research related to swine and cattle palatability is a big topic, because farmers and breeders always want to see a big gain from the animals. However, since horses are companion animals, much less focus goes to their nutritional preferences.
"Palatability is a relatively new area of study," Crowell said. "We have spent so much time studying nutritional requirements, but we haven't put much thought into texture and flavor and how that affects the horses' intake."
Age and geographical location can also affect a horse's preferences. Older horses may need softer textures, while those who lived near apple orchards may choose sweeter foods.
"I am really intrigued by the behavior of the horses and how they are so unique," Crowell said. "But, if we can find some common controls we can determine what the majority of horses prefer, and make a food product based off of that."
Crowell's hope is to give the research to feed companies so they can create products specifically for gestating mares.
"Since horses are companion animals, we really want to feed them something they want to eat," Crowell said. "We don't want to waste our money on food they aren't going to like."
The goal is more than just feeding the horses what they like; it also pertains to meeting their overall health and nutrition needs.
"If we can feed them a flavor they want, they are going to get more nutrition from the supplements we are giving them," Crowell said. "If we can increase our supplementation of vitamins and minerals in those feeds then we can feed less of it for the same intake, and overall reduce the spending."