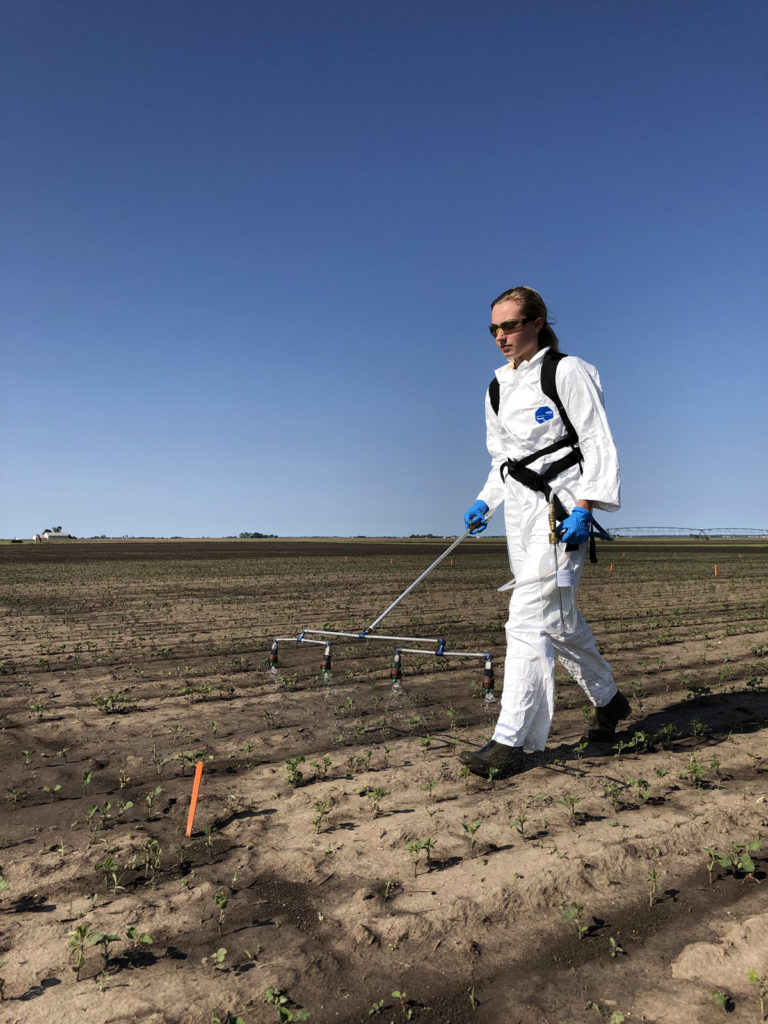 When Madelyn Heinecke first walked onto campus, she already knew her passion centered on agriculture. What she did not expect was to be the first student from Southern Illinois University Carbondale to win the prestigious Young Leadership Scholarship from Mid America Crop Life Association.
"Agriculture is super important, which is why it's my major focus," Heinecke said. "There are many people who don't know much about agriculture and where their food comes from, and I want to do what I can to bring further education to local communities."
First SIU student to win award
Growing up on a farm in Clayton, Illinois, Heinecke always knew her life was in agriculture. A member of the FFA and 4-H clubs in high school, she was quick to take a hands-on approach to common agricultural topics.
That passion fueled her decision to come to SIU, which led her to be the first SIU student to receive the MACA Young Leadership Scholarship.
In its seventh year, the program is set up to give future young agriculturalists helpful exposure to the important field of crop protection. Out of the thirteen students picked for the program, Heinecke was the only representative from Illinois.
"It means so much to me because I not only get to be a part of another great networking system, but I receive a great scholarship as well," Heinecke said. "I am very proud that I get to represent SIU for the first time in this scholarship program."
BASF internship
As part of the program, Heinecke worked as a field biology intern this summer at BASF Midwest Research Farm in Seymour, Illinois. The highly competitive internship offered practical training and responsibilities in a variety of crop related activities.
"Getting the BASF internship was a total shock to me," Heinecke said. "Being at SIU and working for Jason Bond as an undergraduate researcher in his lab has helped me gain more knowledge and connect with other people in the field."
Heinecke started the internship by receiving her assignment to monitor a few trails for the summer. She would regularly spray the trails with herbicides or fungicides, while also rating them based on what weed or disease pressure each plot had.
"While some of the information was overwhelming, I took so much away from my internship," Heinecke said. "My favorite thing was identifying weeds, disease and crop injury. The internship helped me gain more work experience and a new network of people."
This fall, Heinecke will attend the annual MACA meeting where she will present on her experiences from the internship and meet with industry leaders and representatives from across the country.
Staying involved with research
Heinecke rarely has a dull moment, as she juggles academic work, research and participation in both the Collegiate Farm Bureau and Agronomy Society. She came to SIU after winning the University of Excellence scholarship, which was just another step in her pursuit to graduate debt free.
Research is a big part of Heinecke's focus, as she works under Jason Bond, professor of plant soil and agricultural systems and Ahmad Fakhoury, associate professor of plant soil and agricultural systems.
Over the last year, she has assisted with a variety of soybean research projects in the lab. From taking soil samples, to soil processing and assisting with nematology studies, Heinecke sees the experience as an important stepping-stone toward her future career.
She previously spent two summers working at Phibro Animal Health Corporation in Quincy, Illinois, which provided her with a variety of new experiences. Heinecke was also the 2018 Miss Adams County Fair Queen, which gave her many opportunities to share knowledge about agriculture to the community. After graduation, she hopes to continue in research and possible work as an agronomist.