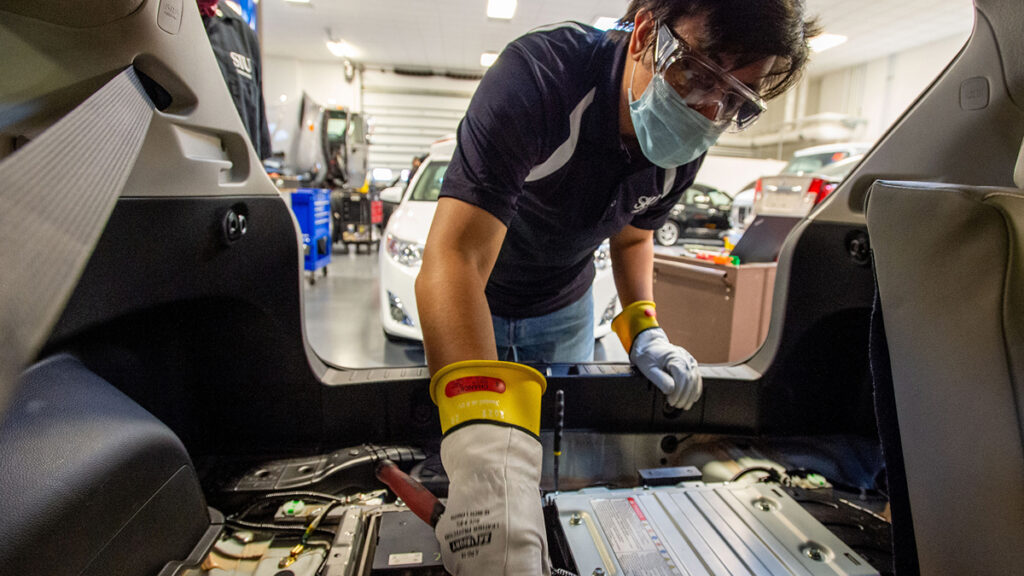 Southern Illinois University Carbondale's automotive technology program isn't taking a back seat as the country and automotive industry continue moving toward greater reliance on electric vehicles, or EVs.
A recently developed 10-week, six-credit-hour course on electric vehicle propulsion by Jessica Suda, an assistant professor, is the latest example, as the nationally recognized program's curriculum has incorporated a focus on hybrid and electric vehicles for several years.
"What we are learning here is the current technology, and we are also dipping into the future technology of electric vehicles," said Joe Quattrochi, who earned his bachelor's degree earlier this month and went to work as a repair technician for Rivian, an Irvine, California-based electric vehicle company with a manufacturing plant in Normal, Illinois. "What we are learning here is everything we are going to need to survive in the industry going forward into the next decades."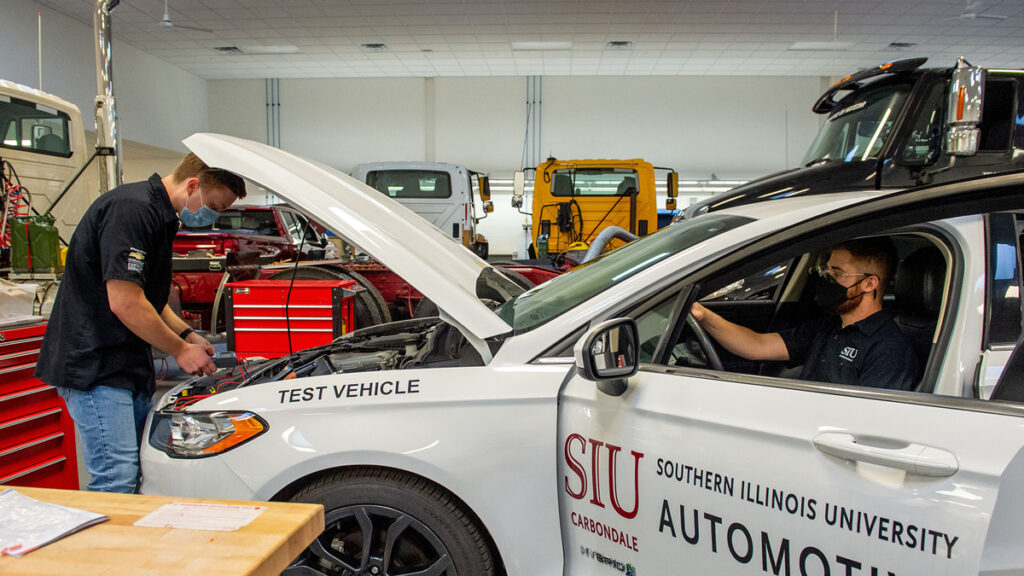 Developing new courses is a collaborative effort
Suda, a three-degree Saluki alumna who is pursuing a doctorate in electrical engineering, developed her course from scratch using content from 12 different textbooks and training available through industry, along with industry donations such as a Subaru Crosstrek hybrid. The course was first offered in the fall 2020 semester; Suda and assistant instructor Alicia Johnston have taught a three-credit course on hybrid vehicles for several years.
"There are a lot of things automotive-wise that these students already know about the automobile electronics and diagnosis," Suda said. "It's just a different propulsion system that they are applying these skills to. It's not an entirely new thing they are learning; it's just a little bit different of a propulsion system setup."
Suda has been collaborating with John Hayes and other EV academics from around the world and plans a virtual presentation next month for University College Cork, Ireland's Engineering Education for Sustainable Development 2021 conference on "Global Perspectives on Electric Vehicle Education."
Mike Behrmann, department chair, said that developing new courses takes a team of faculty and industry partners. One aspect is gathering the laboratory resources necessary to provide a hands-on applied diagnostic learning environment.
"SIU Automotive has an amazing team of faculty that maintain a focus on industry trends and continually seek ways to best prepare our students," Behrmann said.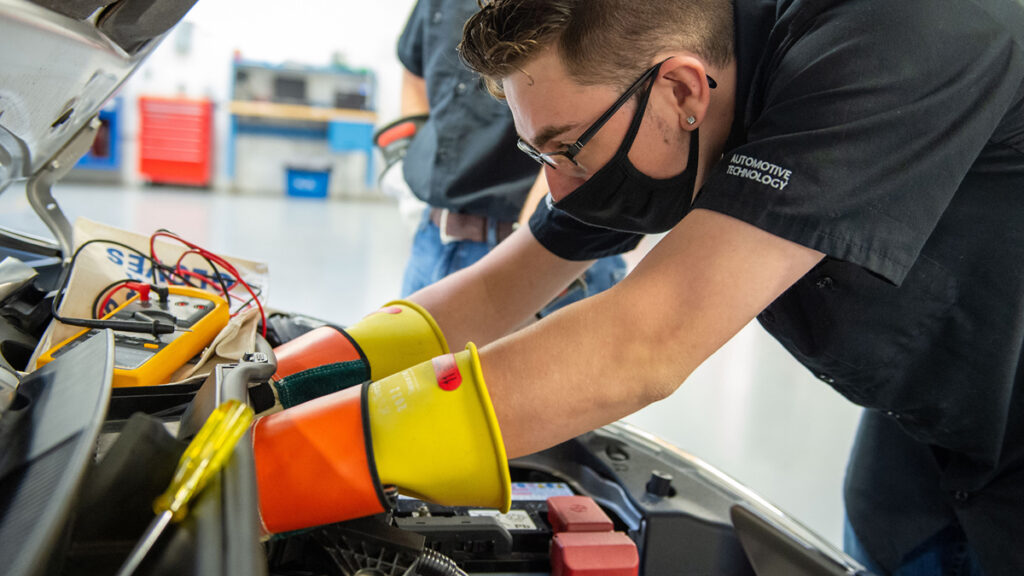 Continual upgrades
With more attention on electric vehicles, the program is incorporating more emphasis on this with new coursework. The program is known industrywide for the quality of education students receive, Behrman said.
"We consistently work with our industry partners to modify the curriculum so that SIU Automotive remains this nation's premier automotive training program," he said. "This is important to our students as we prepare them not only for today's industry, but what will be necessary for them to help lead this industry into the future."
Students are excited
Suda was pleased by the enthusiasm the 18 seniors who were in the spring semester class showed and sees a bright future for her students in an electrified automotive industry.
"This class, in particular, across the board, has been asking me to show them everything that I know so that they can succeed in the industry," she said. "They realize that this is the way in which the industry is going to go."
Justin Kucharski, a May 2021 graduate from Woodstock, said it was important for him to be a part of the "new frontier" in the industry.
"You keep hearing that car manufacturers in 2035 are going to be all electric so I wanted to be ahead of the curve and at least know how these cars worked," he said.
While electric vehicles might be more difficult for shade-tree mechanics to work on them, Quattrochi, who is from Somonauk, sees fewer mechanical-related repairs.
"A big part of the future of the new electric cars is going to be not working on mechanical moving parts and more on replacing sensors, more diagnosing sensors and sensor issues and wiring issues because electric vehicles have very little moving parts whereas an internal combustion engine you have a crankshaft, connecting rods, pistons and valve trains," he said.
Jared Fry, a May 2021 graduate graduating senior from Elgin, said the class enjoyed a sense of community. He enjoyed the "opportunity to work on the vehicles, be able to talk to multiple people, do the different labs and learn these different systems together. It is an interesting and introspective piece to the whole automotive puzzle and learning process."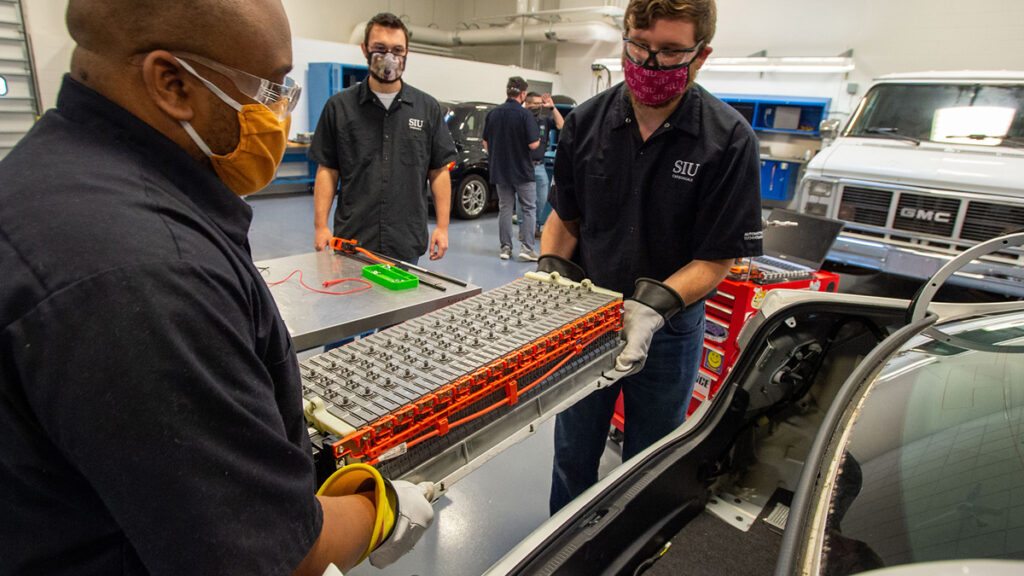 Moving forward
In April, President Joe Biden announced goals for advancing the nation's electric vehicle charging infrastructure to include a $15 billion investment to build a national network of 500,000 charging stations. Ford Motor Company, General Motors, Fiat Chrysler (now Stellantis) and Volvo – along with other automakers – already have or are moving forward with plans for electric vehicles. Illinois Gov. JB Pritzker recently announced an interstate signage program that will direct motorists to electric vehicle charging stations.
"That interconnects every pocket of the United States so that if there were range issues, which is going to be minimized here in the not so distant future because of the advanced battery technology, there's no shortcomings with electric vehicles in comparison with the conventional vehicle that we know today," Suda said.
Quattrochi, who has been interested in electric vehicles since childhood, sees continued growth and applications. That includes taxis, personal transportation, commercial and fleet vehicles.
"Companies are very money conscious, and they are not going to want to maintain a gasoline-powered vehicle when an electric vehicle can just be plugged in and require very little maintenance, be more efficient and save money," he said.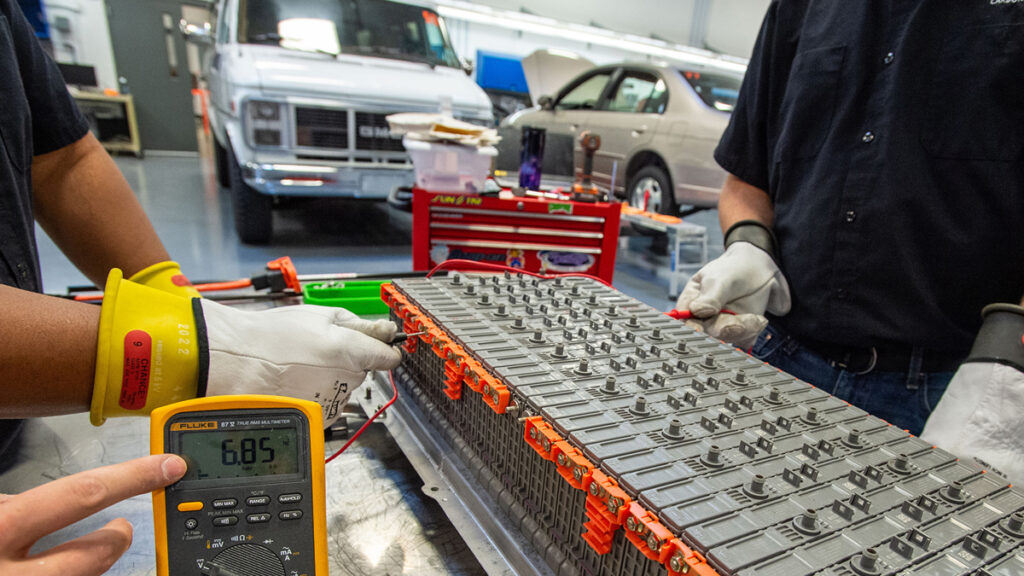 Electric vehicles are not new
While chatter on electric vehicles has increased in the last decade, Suda notes electric vehicles existed in the late 1800s, early 1900s and since, only in a limited capacity. Suda said although technologies have improved drastically over the years, it is important to appreciate where the technologies were derived from.
Suda, along with Eric Jones, at SIU Carbondale Property Control, recently orchestrated transporting the department's disabled 1991 GM electric GVan, a concept vehicle among less than 100 made, to University Museum for display. The van, one of three left in existence today, according to Suda, will be part of an upcoming University Museum exhibition promoting the automotive technology program.