It's not at all unusual for Kelly McCormack to look out her office window at Southern Illinois University Carbondale's Dunn-Richmond Economic Development Center, home to the Business Incubator Programs, and see deer prancing across the grassy lawn or drinking from the pond.
Yet, she likens her "amazing" modern office to some of the best Silicon Valley has to offer. In fact, she's coined the phrase "Little Sillinois" to describe the supportive, high-tech environment she's found at SIU.
"For a tenth of the price, we have the opportunity to be supported and be supportive, similar to the way Silicon Valley created its culture," McCormack said. "There's everything a business could want or need here, all for a low cost."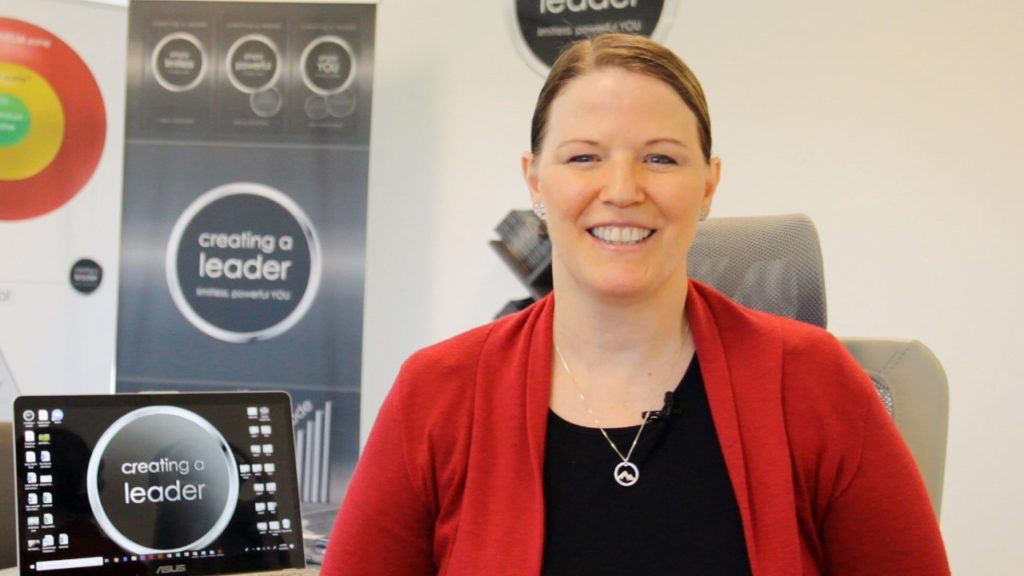 Strange turn of events led her to the incubator
McCormack ended up at the incubator almost by accident, but she said she couldn't be happier.
She began working at the age of 14 and by the following year, was assistant manager of a swimming pool company.
A year later, she was manager, responsible even for hiring and firing employees. She went on to earn her bachelor's degree in management and then her MBA. She travelled the world as a trainer for Tony Robbins, the well-known business and life coach. She managed a medical company that grew to 75 doctors and practitioners.
But eventually, McCormack's entrepreneurial spirit led her to encapsulate her experiences and knowledge, along with some 15,000 hours of research over a three-year period, into her very own company, Creating a Leader.
She wrote a series of three books highlighting the pathway to leadership and the power of a leader. Her step-by-step programs are designed to enable people to become leaders and be more successful personally and professionally.
A cross-country book tour was in the making when, thanks to the recommendation of a friend who graduated from SIU, she found herself at an area bed-and-breakfast to finalize her plans.
Soon she heard about the incubator and on a whim, decided to check it out. What she found so impressed her that she rented space, cancelled her book tour and moved full-speed ahead promoting her company in a variety of ways, including via videos filmed in-house. Fast forward several months and she's proud to say that her business is successful and growing.
"I can't overstate how great it is to have a team of people I can call almost any time for assistance," McCormack said. "They have all of the amenities here you could ask for and the people here want you to succeed and have the knowledge and expertise to help you make it happen."
Technology, support and more
McCormack said she was amazed to find so many amenities and services available in one location.
"There is so much technology here," she said.
SIU's Business Incubator Programs, housed within the 55,000 square-foot multi-use Dunn-Richmond Economic Development Center, feature office, lab, manufacturing and warehouse space to accommodate any business – including technology-based enterprises, research-oriented concepts, service businesses or manufacturing operations.
The space is available for any entrepreneur to lease: SIU students, faculty, staff and community members.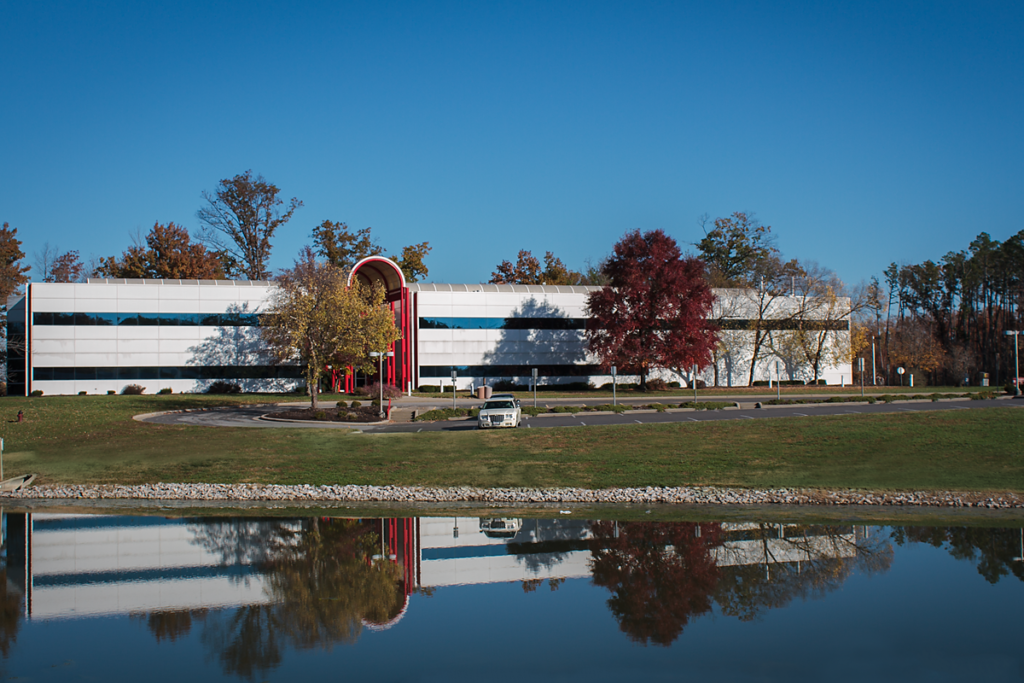 Clients get office and meet-up space, access to the comprehensive services of the Illinois Small Business Development Center staff, collaborative work space, a giant white board for ideas and planning, an e-conference room with convertible tables, Internet and web TV access, use of large and small conference rooms, a 3D printer to help create prototypes and more. There are fully equipped labs with a variety of equipment. Fume hoods, showers and other specialized items are available as well.
Having access to such comprehensive facilities has made all the difference in the world to Maureen Doran, co-owner of Saffron Scientific Histology Services.
The business, a certified vendor for the state of Illinois, makes microscope slides for research and diagnostics. They launched at the incubator four years ago and said the university's economic development staff has helped them all along the way, navigating the maze of paperwork, connecting them with government contracts, and providing a site featuring sinks, showers, a fume hood and other vital necessities for their business.
"There's no way we could have afforded to build or retrofit a building when we began our business," Doran said.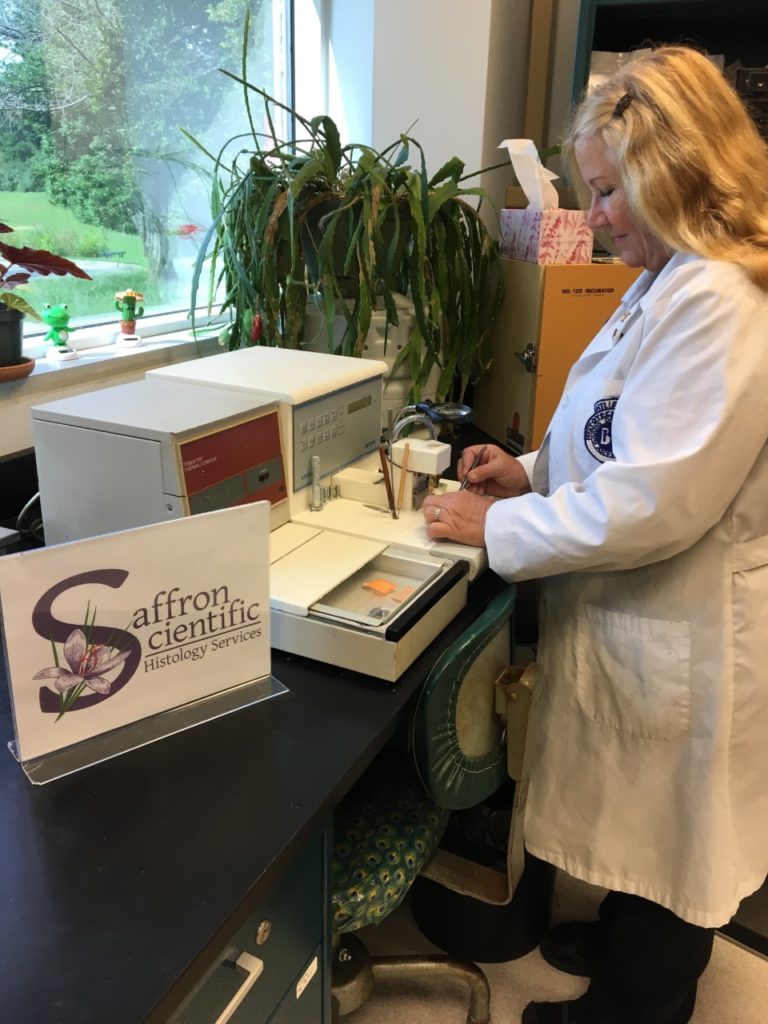 The Dunn-Richmond Economic Development Center, located at 1740 Innovation Drive across from Saluki Stadium, also features a unique atrium and landscaped outdoor area. The facility offers meeting space for clients, businesses, campus faculty/staff and community members along with a service area to accommodate catering needs.
Low costs
Rent for incubator tenants is very reasonable, according to Deborah Barnett, director of Business Incubator Programs.
Offices range from 150-600 square feet with rent starting as low as $175 a month, including utilities and Internet. For student entrepreneurs, the cost for Saluki Ventures space is just $30 per semester. Furnished or unfurnished office space is available, so tenants can move right in with minimal start-up costs. The rent also covers access to common areas.
Works much like a chicken incubator
Barnett said it's quite appropriate to compare the business incubator to the incubator device used to hatch chicken eggs. The business incubator is a place where entrepreneurs and their ideas are nurtured and provided with the support and necessities they need to grow and thrive.
"The idea is to help them explore their ideas in a safe and nurturing environment where they can develop, become sustainable, and eventually spread their wings and fly," Barnett said. "The goal is not to stay in the incubator forever, but to grow into successful Southern Illinois businesses outside of these walls."
Not every potential client that walks in the door decides to move forward with their business concept, she noted.
"We give them the knowledge and tools to evaluate their ideas and make a wise decision as to whether or not they should proceed," she said.
And for those who do take the next step, the Business Incubator Programs and the Illinois Small Business Development Center at SIU are there to help every step along the way, from the idea stage to development, expansion, growth and self-sufficiency.
"There are so many different people with different skills who are willing to help with everything from technology to marketing, from financial matters such as how to start an LLC to how to create promotional videos," McCormack said. "An adviser even helped me determine the scale for my business. I truly believe that they want me to succeed as much as I want to succeed and that's invaluable. I can't tell you what it means to have a team I can call on at any time. I feel like I've been handed something very special here. It's a dream."
Several programs offered
Initially, clients are typically a bit nervous when they visit. They don't know where to start or what to expect.
They quickly discover that what they've found is help for every step of their path, from assessing the viability of their business idea to registering their business and doing all of the necessary paperwork. From there, they get help understanding the funding aspects and securing financing to handling day-to-day operations, targeting prospective customers, and so much more, Barnett said.
There are four main programs in the business incubator:
Traditional incubator, which houses start-up businesses and includes offices, light industrial/manufacturing, lab/wet lab space.
Affiliate/shared space, which gives tenants access to all services but allows them to save money by sharing rooms or office space.
Saluki Ventures – the student business incubator, which allows any SIU student to enjoy shared space, access to all services, as well as mentoring, at a reduced price.
Saluki Innovation Lab – research and development lab space. This is a large shared lab space with freezers, hot plates, an incubator, fume hood and a wide variety of other pieces of laboratory equipment.
Barnett said she's been especially impressed by the students who have taken advantage of Saluki Ventures and what they've accomplished.
"The ideas I've seen and maturity the students have shown in pursuing those innovative ideas has been totally amazing," she said.
All services are provided confidentially and free of charge. Space can be rented at the incubator for a fee. The Business Incubator Programs are a component of SIU's Office of Innovation and Economic Development.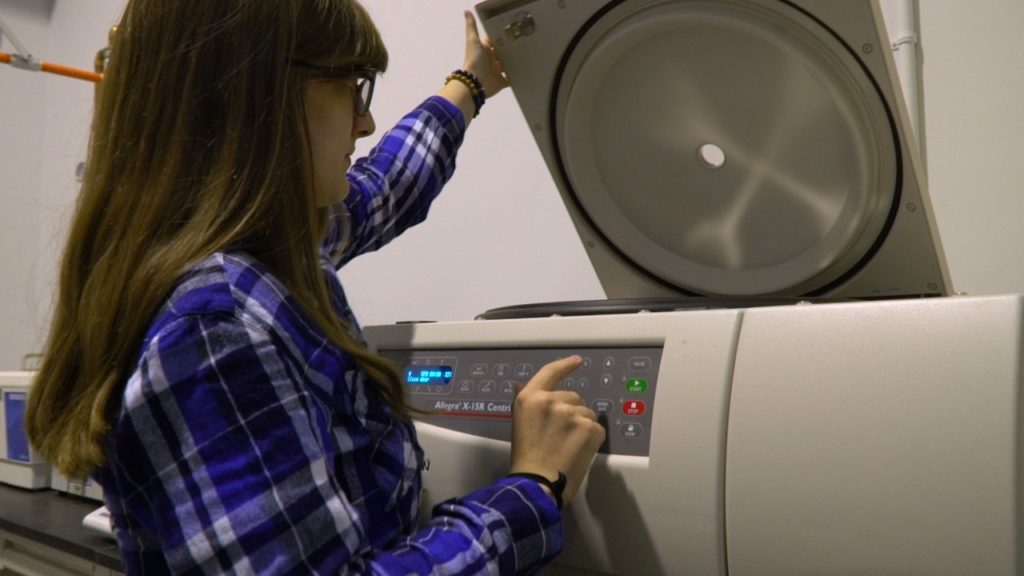 SIU Business Incubator Programs have a history of success
McCormack is far from the first success story since SIU's state-of-the-art Dunn-Richmond opened and the Business Incubator Programs launched in 1990.
Just a few years later, two SIU students began hatching a business plan in their residence hall on Thompson Point. Entrepreneurs Ben Weinberger, a 2001 radio-television graduate, and Matt Berry, a 2000 electronic systems graduate, created Digitalsmiths, a company offering personalized video searches, recommendations and browsing for multiple devices.
The groundbreaking company, which soon found a home at the business incubator, was the first to catalog different items in videos. The company was acquired by TiVo for about $135 million in 2014, and it all began at SIU, according to Barnett.
The SIU alumni have continued to be successful in business. Weinberger is currently senior vice president and chief product officer at Sling TV while Berry and Rich Lee launched the hybrid cloud software platform Pureport last year.
National award winner
Rover Enterprises, LLC, a mobile marketing company that connects college students with area businesses via the RoverTown discount loyalty program, also traces its roots to three SIU students and the incubator.
The business, launched in 2009 as a discount card and later converted to a mobile app, was the brainchild of co-founders Brad Miller, a 2010 management graduate; Joshua Freeman, a 2009 finance graduate; and Mike Philip, who studied information systems and applied technologies at SIU.
The start-up company moved to the incubator in 2010 and three years later, some 1.4 million college students on nearly 70 campuses across the country had access to the program.
Rover won $50,000 in funding and support services in the Arch Grants 2013 Global Startup Competition and subsequently claimed a $100,000 Arch Grant.
Now based in St. Louis, the company continues to grow, becoming one of the world's largest mobile student discount programs with Philip, Jeffrey Harrison and Michael Rzeznik as principals.
More enterprises finding early success
Paige Boydston's background is in behavior analysis and psychology and on a whim, she created some humorous T-shirts she and her practitioner friends could wear. Her designs were so popular, she considered expanding. A friend recommended that the SIU behavioral analysis and therapy doctoral student visit Dunn-Richmond.
There, she got plenty of good advice, signed on with Saluki Ventures, and was able to launch BehaviorShop on Etsy last summer. With no business background, she's found the information and help she's received invaluable.
Her goal is to generate a profit from her products and to reach a wider audience, including people in her field and related fields who might appreciate her designs. She's confident she'll succeed, thanks in part to the resources she's finding through the Business Incubator Programs and Small Business Development Center.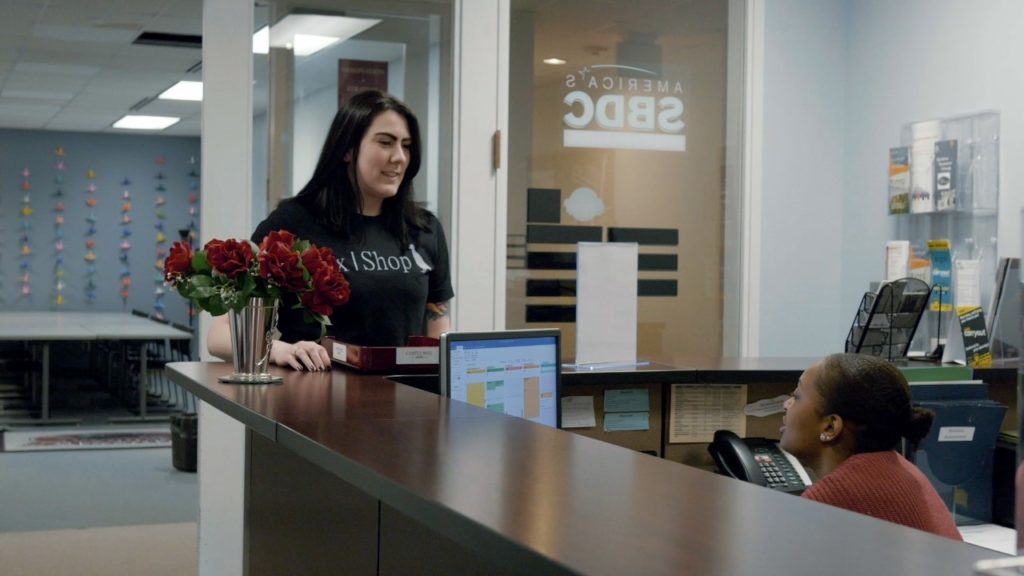 Transportation enterprise
Car GO, a transportation company offering ride-sharing and restaurant food delivery is another new tenant. The company originated in Cape Girardeau, Missouri, but entered the Business Incubator Programs when expanding its market into the Carbondale region. They quickly hired dozens of independent drivers and got numerous local restaurants on board.
Frozen coffee
SIU alumnus Curt Jones invented the international phenomenon Dippin' Dots and now, he and his daughter are launching a new business, 40 Below Joe, based within the Business Incubator Programs. The company features a line of coffees and creamers, prepared with a similar freezing technology, which can be eaten frozen or heated.
Successful businesses launched
Nathaniel Jordan launched SPREKK, a successful iPhone repair business at SIU and the enterprise has since expanded to the SIU Edwardsville campus.
Other clients have started technology, entertainment, videography and computer businesses and other enterprises. Entrepreneurs have created companies to look at innovative ways to remediate levees and control pollution.
The stories are as varied as the clients, Barnett said.
"We see a lot of different ideas come through the door," Barnett said. "The bottom line is that we're here for students, faculty, staff and anyone else from throughout the Southern Illinois region."
She said the programs provide the information and support small businesses need to succeed.
"For students, we help them grow their ideas while putting their educations first," she added. "Having these types of entrepreneurial and innovation resources available to everyone is very rare. It sets SIU apart being able to offer all of this."
Valuable connections
More than 100 businesses have grown thanks to the Business Incubator Programs, including many that have gone on to commercial success in the region or beyond.
It all begins with services and connections, according to Barnett.
"The Business Incubator Programs' motto is, 'Where great minds and big ideas connect,'" she said. "In addition, tenants have access to an entrepreneurial community allowing them to bounce ideas off of one another and build a community environment to grow their businesses."
These start-up enterprises in turn make a direct contribution to the region's economic development.
"I'm an entrepreneur at heart," Barnett said. "I've owned a small business. I can relate to business owners."
She also earned both her doctoral and master's degrees in workforce education and development. "I'm from Southern Illinois and I'm deeply connected to the region," she said. "Our work connects SIU to small businesses and to the region. On any given day you can walk into Dunn-Richmond and discover the most innovative things happening here."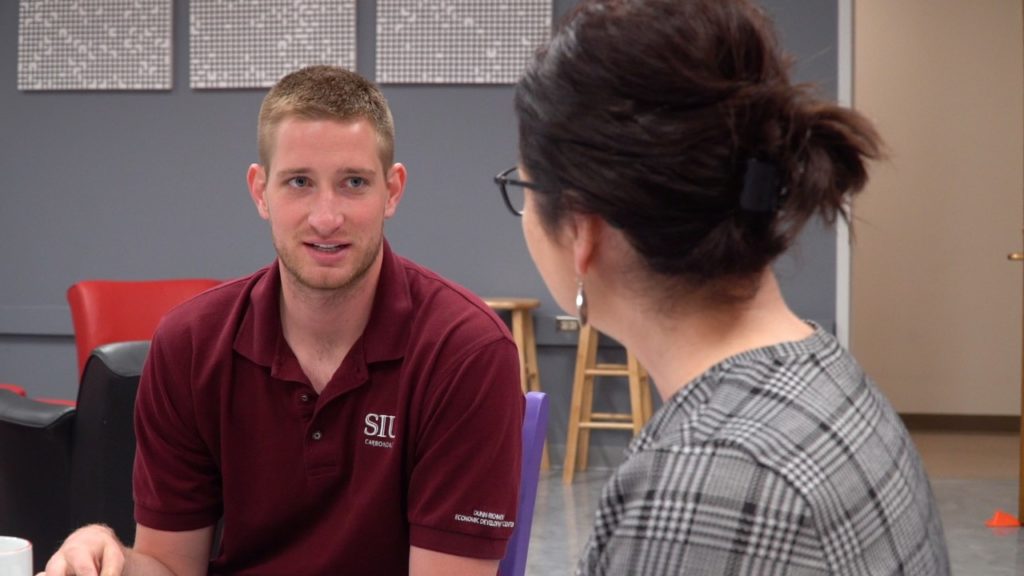 Learn more
"I encourage people to come in and check it out. Take a tour of the facility, set up an appointment with one of our business advisers here and see for yourself what we have to offer," Barnett said. "I want the region to see us as the go-to place for innovation, new ideas, business development and business growth in Southern Illinois. We're all about helping people succeed and we're willing to work to make it happen."
For more information, visit the website at incubator.siu.edu, call 618/536-2424 or email incubator@siu.edu.