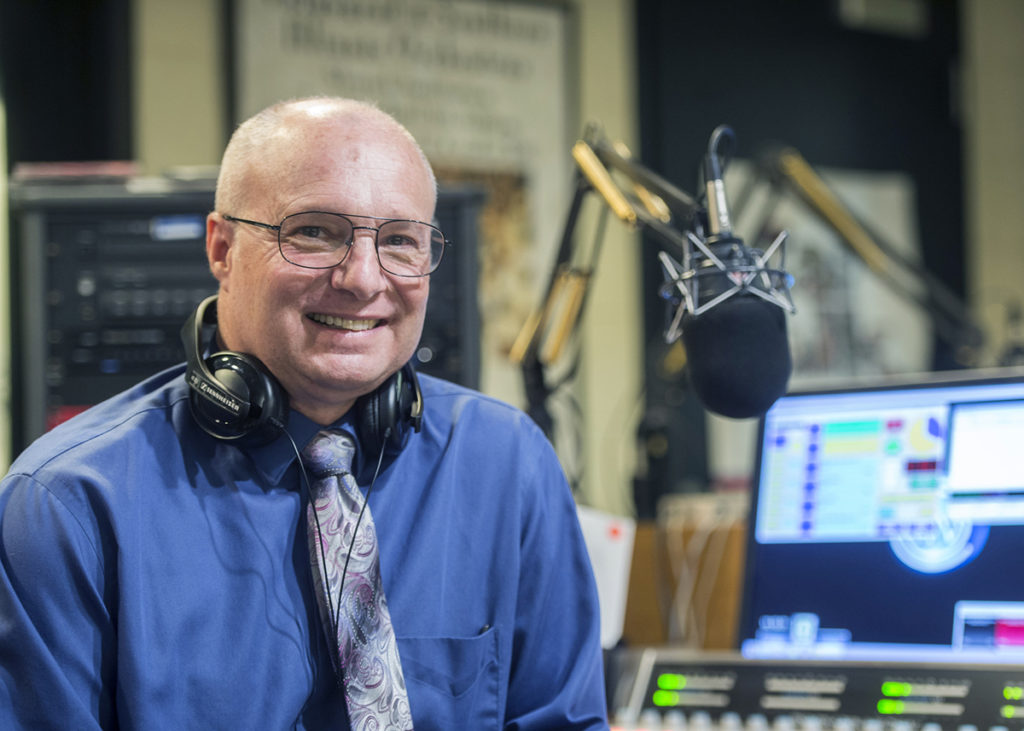 Leading the Pack is a regular feature that highlights faculty and staff members who go above and beyond to fulfill SIU's Mission. If you would like to nominate someone to be featured, fill out our nomination form.
For Kevin Boucher, the attention to detail and care that he provides to WSIU Radio listeners with his various new reports also shines through in coordinating the station's Southern Illinois Radio Information Service (SIRIS) operations.
"It's like coming home," said Pamela Smith of West Frankfort, who was encouraged by Boucher to become a volunteer reader when the two met earlier this summer at a senior living event in Marion.
"I told him I had always wanted to do this and he said, 'Why don't you just come and read?'" Smith recalled of the meeting.
For a half-hour twice a week, Smith comes to WSIU studios to read regional newspapers, magazines and other interesting items as part of the reading information service broadcast for blind, visually impaired and print disabled listeners. She credits Boucher, noting he is "moving every minute" when he is in the studios in the Communications Building basement.
"He keeps me engaged," said Smith, 69, who retired in 2013 from the Marion Veterans Affairs. "I'm giving something back."
Enjoys his job and the intimacy radio provides
Boucher worked in commercial radio at stations in the area before coming to SIU Carbondale to work as traffic manager for WSIU Public Television 24 years ago this month. He has worked for WSIU Radio for five years, where he is the community engagement producer in addition to working as a reporter.
He began as a SIRIS volunteer before overseeing the program and on his own times provides readings on nature-related subjects for the Wisconsin Reading Service, which covers the lower half of Wisconsin.
Boucher views his work as a "very unique one-on-one."
"I just find something magical and a good emotional connection with reading and knowing that people are considering me their friend on their coffee table," he said. "That is what drives me. In this day and age when we are information bombarded by so many things I still think there is a need for just a friendly voice on the radio."
Grew up listening to baseball games on transistor radio
Boucher, who spent 10 years in Washington, D.C., before his family moved to Murphysboro, first got involved in radio when he was eight years old, listening to Washington Senators' baseball games on a small AM transistor radio as fell asleep.
"It was at night, my room was dark and there was something just magical or spiritual about this voice coming out of the box. I felt like I knew this guy," Boucher recalls. He used to love listening to Paul Harvey's program each day, and said he often gets comments from listeners he meets who tell him they listen daily and feel like they know him.
Boucher got his first job in radio in 1980 right after graduating from high school. Boucher earned a bachelor's degree in radio-television from SIU Carbondale and then worked in commercial radio before returning to work on campus. He also has a master's degree in Professional Media and Media Management Studies from the College of Mass Communication and Media Arts.
Boucher coordinates the volunteers and oversees the student workers who help to edit, produce and automate the daily readings. He also represents SIRIS and community functions and speaking engagements.
"He's absolutely the best at what he does," Jeff Williams, WSIU Radio Station Manager, said. "He is incredibly warm and engaging, but especially with volunteers for the service. He's interested in working with the volunteers to give them the type of experience they are looking for."
There are several ways to receive SIRIS programming
Services are free to anyone whose vision or physical limitations make it difficult or impossible to read, Williams said. A special pre-tuned receiver to the sub-carrier frequency SIRIS broadcast is available for free upon request, or available through a password-accessed online programming stream at wsiu.org/siris. The radio is available for loan only and is renewable each year.
There are about 140 radios in use throughout the region for about 1,400 people both individually and for those in assisted living facilities and nursing homes. Based on national reading service estimates of people in the region who need the service that is about half of the estimated population who could benefit, Williams said.
In addition to local donations, SIRIS is funded by WSIU, SIU Carbondale, and the Illinois State Library.
There are now 10 to 15 volunteers who read for the service which is available to listeners 24/7. The service features local programming from 9 a.m. to 4 p.m. across the WSIU/WUSI region. The late afternoon, evening, overnight and early morning programs include readings from the Wall Street Journal, Time, U.S. News and World Report along with discussion programs directly focused on the needs of people who are blind or visually impaired.
Not all WSIU volunteers come into the studio to work; several record from home and send their files in by email, Boucher said.
Volunteer readers are vital; more are needed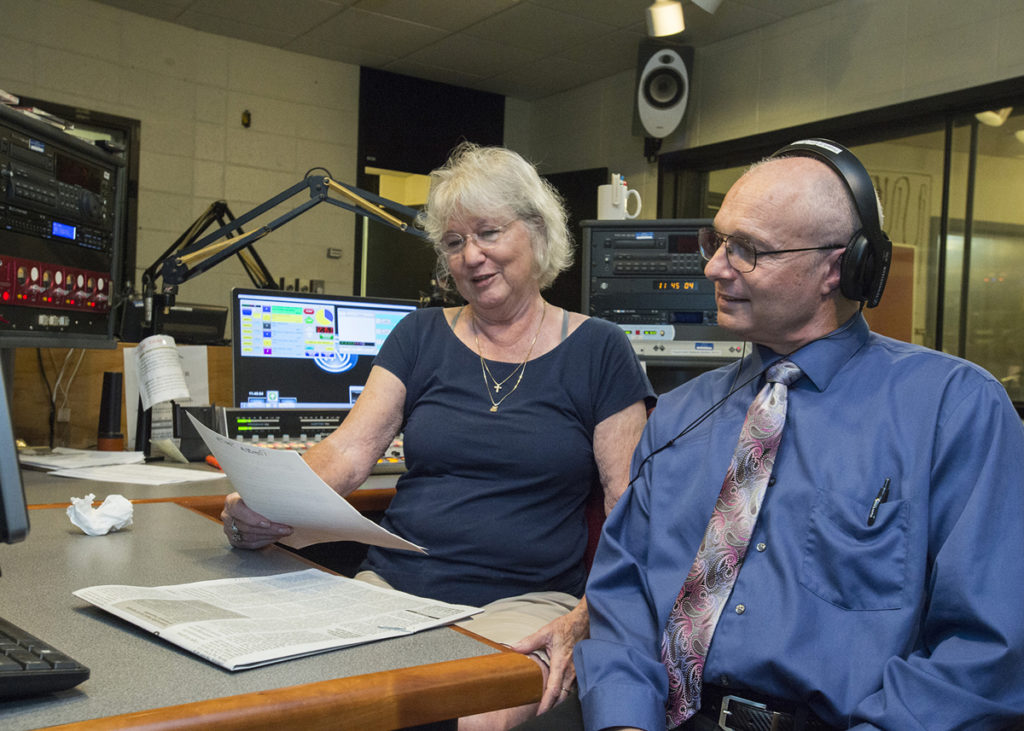 Boucher said he is amazed that the volunteers, many of whom who do not have prior radio experience, come into read and are not intimidated by the studio surroundings. Some of those volunteers who came in knowing nothing about radio become so adept that Boucher uses their voice for public service announcements.
Several SIU students also volunteer while classes are in session, he said.
"Many like reading for SIRIS because they get to know these towns and what is going on in them. It's a good way to be an ambassador for Southern Illinois," he said.
For Smith, who began reading this summer, she and Boucher have another connection. Her daughter, Beth Lamb, worked for Boucher in radio more than 25 years ago at Z100. Smith graduated with a degree in paralegal studies in the early 1990s, said the connection she shares with Boucher being a mentor for both her and her daughter is significant.
"It's more than fulfilling. I get to show my daughter that I can do this too. I'm proud of her," Smith said. Her daughter is a management analyst for the VA in Marion.
For more information on becoming a SIRIS reader, contact Boucher at kevin.boucher@wsiu.org or 618.453-4344.