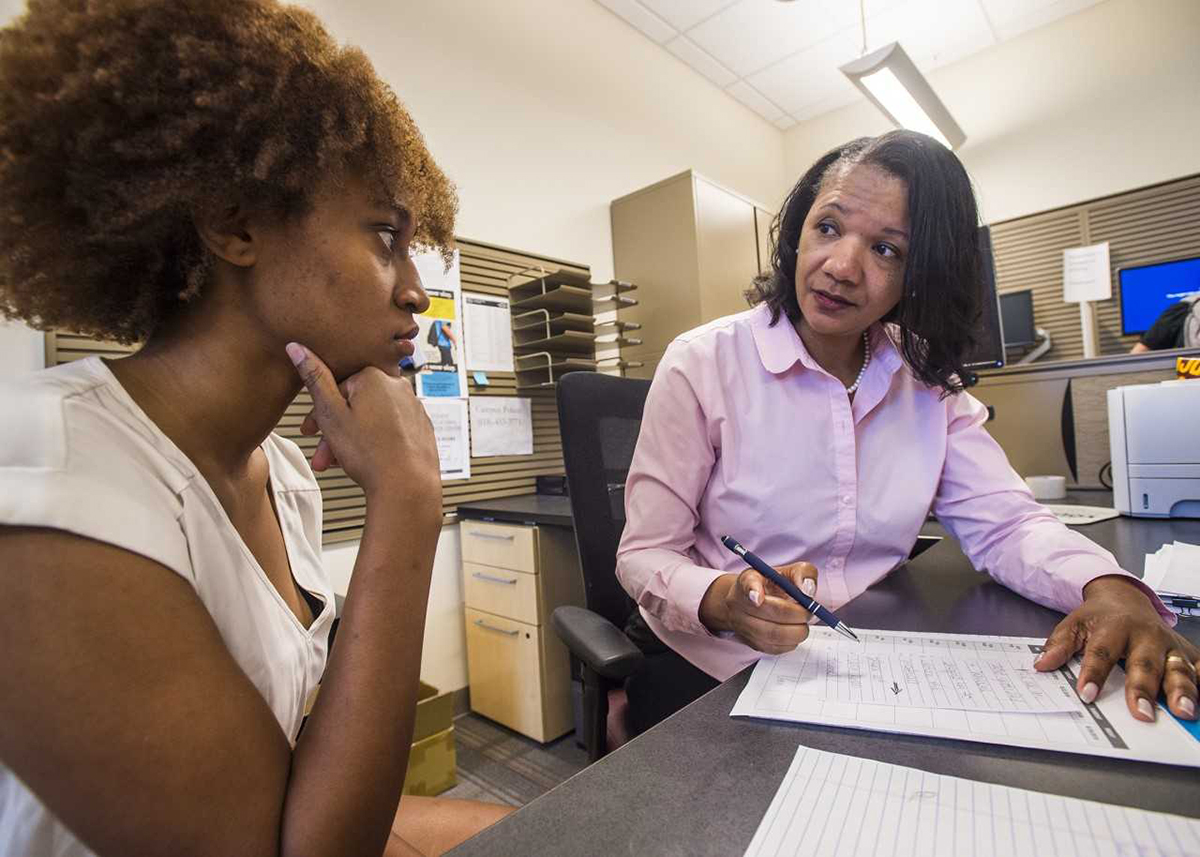 Leading the Pack is a regular feature that highlights faculty and staff members who go above and beyond to fulfill SIU's Mission. If you would like to nominate someone to be featured, fill out our nomination form.
Lanel Love has one overreaching priority for everything she does at SIU. She wants to help students succeed.
She knows that when students are involved, engaged and feel like part of a community, they're more likely to flourish. As assistant director of the Student Multicultural Resource Center, she strives to "develop opportunities for student involvement" and works with RSOs, faculty and staff "to create an environment that recognizes and celebrates diversity and inclusiveness on campus."
Students are the highlight of her day
Love takes a personal interest in the students she comes into contact with, serving as a mentor, even a "second mom away from mom" for many.
"My favorite part of the job is working with the students," she said. "I like planning events and the logistics and seeing it all come together, but the highlight is when I meet students on Day 1 as they arrive on campus and then witness their growth and progress and then get to see them walk across the stage to get their degrees."
Showing she cares in multiple ways
A double alumnus of SIU, Love earned her bachelor's and master's degrees at the university and initially worked for six years as an academic adviser and then program coordinator for SIU's Upward Bound, a program that assists students in successfully transitioning to college.
She then spent more than a decade operating her own daycare business and completing her doctorate before returning to SIU in 2013 as a program assistant for the Center for Inclusive Excellence, as the office was then known. By 2015, she was promoted to assistant director.
But from the moment she returned to campus, she knew she wanted to reach out to students in a variety of ways, providing connections and involvement to help make their college experience the best it could be. That's why she created the Sisters Interacting Successfully Living Learning Community in 2014.
"The S.I.S. LLC provides a supportive environment for African-American women, giving them networking opportunities and focusing on academic support," she said. The women live in Baldwin Hall, where they share support and enrichment programming.
The next year, Love founded Sisters Working and Achieving Together, a registered student organization created as yet another way of connecting with and helping African-American women.
"The RSO focuses on health and wellness, professional developmental and financial literacy," Love said. "It also provides guidance and support for the women in the group and other college students as well as for high school women in the community."
Reflecting success
Love's motivation in creating these support systems for students was simple.
"There was an overwhelming response of African-American women on campus saying they wanted to have a reflection of themselves. They were looking for opportunities to be more involved in campus life and looking for African-American women leaders on campus to mentor them," she said. "I wanted to make that happen for them."
Working one-on-one, in small groups, and with the LLC and RSO, Love is making a difference in the lives of students – students like Taelor O'Bannon. Love first met O'Bannon as a Saluki freshman in 2013.
Love hired the information technology major to help students in the LLC. With Love's support and guidance, O'Bannon mentored other students, successfully overcoming any challenges she faced along the way.
She served as president of the RSO, received her diploma in 2017 and now has a successful career. Love is proud to note that O'Bannon is now an infrastructure analyst and consultant for Avanade in Chicago, reviewing internal and external computer networks.
Seeing O'Bannon and other students succeed, not only in college but also in life, makes all of the time and effort expended worthwhile for Love.
Coordinates celebrations
Love also schedules and coordinates several heritage or history month commemorations at SIU, including Native American History Month, Black History Month and Asian and Pacific Islander Heritage Month. That involves working with groups and organizations on-and off-campus and with faculty, staff and students to schedule and facilitate a wide range of programs and activities.
Enjoys family
Love and her husband of 19 years, LaRue Love Sr., are the parents of two sons: LaRue Jr. and Landon. She spends much of her limited free time enjoying a busy family life and following the boys in their high school/middle school sporting and other activities. She also enjoys watching a good movie when she gets the chance, and is a member of Alpha Kappa Alpha Sorority Inc., Gamma Kappa Omega Chapter.