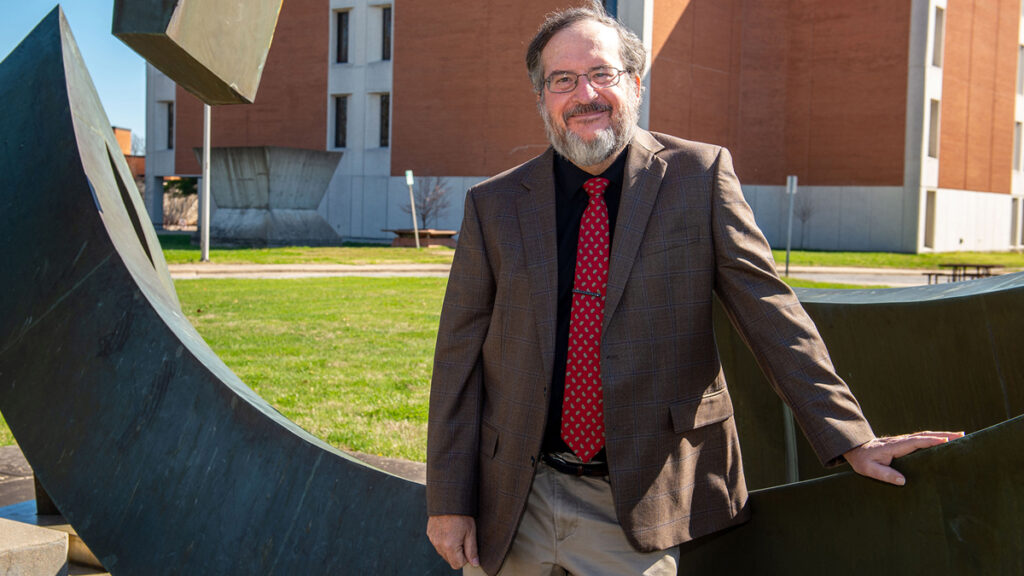 This is one in a series featuring the university's 2021 Faculty and Staff Excellence Award recipients, who are being recognized for outstanding teaching, significant scholarly and artistic contributions, and dedication to furthering the mission of the university.
Michael J. Lydy is the Southern Illinois University Carbondale Teaching Excellence Award (tenure track) winner for 2021.
A professor in the School of Biological Sciences at SIU, Lydy is a previous winner of the SIU Scholar Excellence award, as well. His areas of research include evaluating the effects of chemical mixtures and developing basic understanding of the chemical and biological factors that affect toxicity, bioavailability and other factors, including the remediation of contaminated sites. He also studies best management practices for reducing pesticides and nutrient loading in aquatic systems, working with a variety of state and federal funding sources.
The Teaching Excellence Award recognizes faculty for the high quality of their performance in the classroom, innovation, commitment to student learning outcomes and inclusive excellence in education.
Coming from family of teachers, Lydy said he is a demanding of his students, and that communications skills are key to his success.
"I greatly enjoy the interactions I have with students and staff members at SIU," Lydy said.
Lydy was nominated by Karen Renzaglia, professor emerita and herself an SIU Scholar Excellence Award recipient. Renzaglia said, having worked with Lydy for a decade, she has witnessed his approach in the classroom as an excellent teacher-scholar.
"He is an impressive educator who successfully integrates his insight and skills as a researcher into relevant learning experiences for all of his students," Renzaglia wrote in her nomination. "His courses are innovative, exciting and take the classroom experience to a new level. This teaching/mentoring style in conjunction with the extensive one-on-one training he has provided for students from high school to postdoctoral levels make him an exceptionally strong candidate for this award."
Lydy earned his doctorate in 1990 at The Ohio State University and arrived at SIU as an assistant professor of zoology in 2001. He became an associate professor in 2004 and a professor in 2007. During his career, he has supervised more than 50 undergraduate and high school students, as well as 46 graduate students and 13 postdoctoral researchers. He has published 220 peer-reviewed articles and received at least 74 state or federal research grants totaling more than $25 million.
Renzaglia said she has worked closely with Lydy on several projects, including her National Science Foundation-funded Noyce Master Teaching Fellowship grant, which has provided science content, research training and specialized professional development for more than 50 teachers across Southern Illinois.
"I can say that Dr. Lydy takes an innovative, hands-on approach to classroom teaching even in a remote format," Renzaglia said. "His classes are interactive, with give-and-take dialogue and engagement of the students through games and group projects."
Lydy said the award was a special honor to him.
"I'm very appreciative of the award and all the great students I have had the pleasure to mentor over the years."