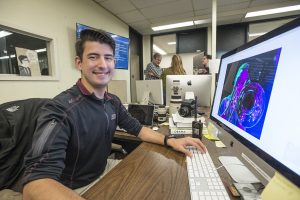 Brian Munoz's interest in journalism developed when he was a child and a St. Louis Post-Dispatch reporter and photographer began to follow and document his family's story — among several, in a series on immigrants in the U.S. in the search for the "American Dream."
Passion "ignited"from own experiences
After a lengthy process and an "exorbitant amount of money" his parents were able to come to the United States to build a life the hopes of better opportunities for their children.
Munoz, now a junior in the School of Journalism'sphotojournalism program, recalls his mother reassuring him that the journalist's work was important and worthwhile.
"Maybe, opening our home and our story to the journalists could help people and even ignite a spark of change in legislation towards comprehensive immigration reform," Munoz said.
"The intrigue of having journalists step into our lives and seeing the way they wove my family's story ignited my passion for journalism," Munoz said. "I was mesmerized with the imagery that accompanied the stories more than anything — I wanted to create that. I been chasing stories ever since."
SIU School of Journalism's opportunities stood out
Munoz, the son of Genaro Munoz and Mariela Marquez, is from Fairmont City — a small town about five minutes from Collinsville — where he went to high school. He started college close to home at SIU Edwardsville in Fall 2015 and while initially a music education major, he switched gears after he "stumbled into journalism"during his second semester there.
After a year-and-a-half at the school and taking a semester off to travel and get hands-on experience in his career field, Munoz decided to return to college to finish his degree.
Munoz was impressed by the Daily Egyptian while working on the staff of SIUE's student newspaper, the Alestle. That and advice from staff at the St. Louis Post-Dispatch convinced him to transfer to Carbondale.
"The cornucopia of opportunities, in the classroom, hands-on and collaborative, made Southern stand out from the rest," Munoz said.
Opportunities place him above peers at other institutions
The combination of opportunities offered by working at the Daily Egyptian, SIU Carbondale's 102-year-old student-run newspaper; reporting grants through the Pulitzer Center on Crisis Reporting; and collaborations with the Gateway Journalism Review and Nikon "set the program apart from others around the country," Munoz said.
"Having the resources and tools in order to be able to succeed make the world's difference," he said.
Munoz said that working at the Daily Egyptian, where he is photo and multimedia editor this semester, has given him an "even more critical understanding of an around-the-clock newsroom, as well as various opportunities to not only expand my photojournalism portfolio but also to develop in-depth reporting skills that I always look to improve upon."
Alumni, faculty experiences are pivotal for students
Munoz notes that School of Journalism staff are nationally recognized and alumni have worked at or are working for national publications including the Chicago Tribune, Washington Post and the New York Times.
"The program is truly preparing us to handle whatever is thrown at us in the ever-changing world of media and communication," he said.
'Natural instincts'of a journalist
William Freivogel, a professor in the School of Journalism, said while he has known Munoz less than a year, he has become "one of the outstanding young leaders in the School of Journalism."
Because of Munoz's leadership skills, he was elected by the faculty to represent students at faculty meetings even though he had only been at Carbondale a few months.
"I've taught him in class, edited his stories and seen him stand up for a stronger journalism program at faculty meetings," Freivogel said. "He has shown outstanding leadership skills in all these meetings."
"Blessed with a photographer's eye"
Freivogel said Munoz and another student are putting together a reporting proposal for the Pulitzer Center on Crisis Reporting that examines poverty, social issues and mental health on the Rosebud Reservation of the Lakota-Sioux Tribe in Parmelee, South Dakota.
"We've had a number of extraordinary photojournalists come through our program at SIUC in the past 12 years while I've been director and professor here," Freivogel said. " Brian is the latest.
He is blessed with a photographer's eye for the image and moment that tell a story."
Has garnered a Pulliam Fellowship and earned numerous awards
Munoz received a Pulliam Fellowship at the Arizona Republic in Phoenix, Arizona and will work there this summer as a photography/video intern with 13 other talented students from across the country.
He has recently received several awards including two first-place awards for general news and spot news photographs and a second place for in-depth reporting alongside two other students who reported on three SIU cheerleaders who knelt during the national anthem. He also earned second place in the Chicago Press Photojournalism competition.
Munoz said that while he is humbled with the recognition, his expectation is to put in 110 percent no matter the story. "If you happen to get an award from it, that's the cherry on top," he said.
"Being recognized is an incredible experience, but I'm always looking toward the future and asking myself — 'Okay, what are we doing tomorrow?'"