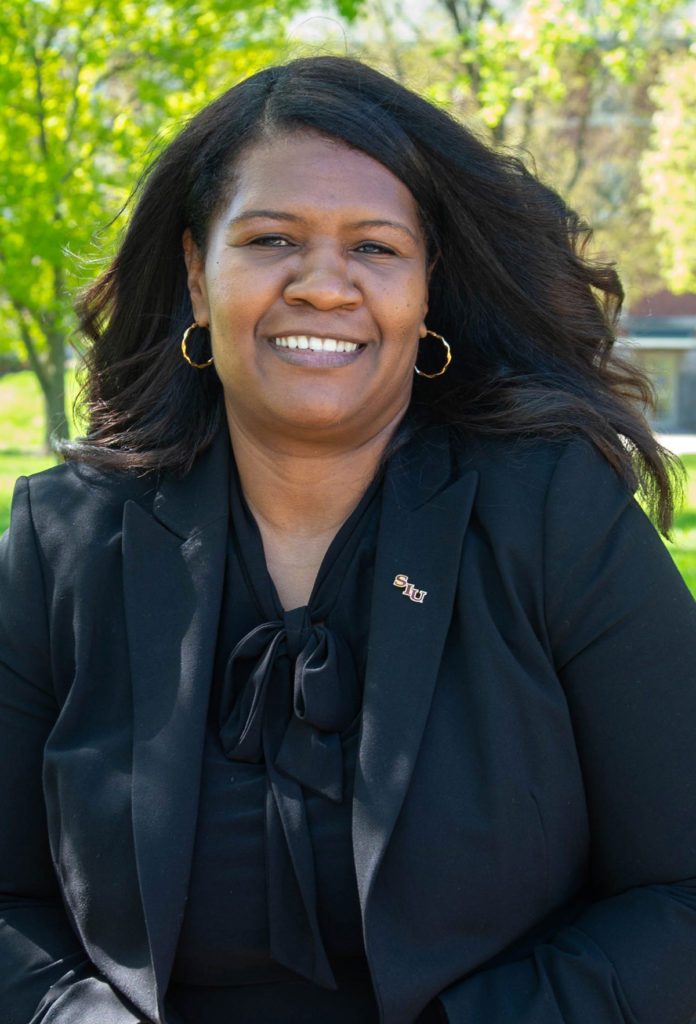 This is one in a series featuring the university's 2020 Faculty and Staff Excellence Award recipients, who are being recognized for outstanding teaching, significant scholarly and artistic contributions, and dedication to furthering the mission of the university.
Renada Greer has the opportunity to see first-hand the growth that many Southern Illinois University Carbondale students experience during their college careers.
As the assistant dean of students and director of Student Support Services. Greer's job as an active advocate for students is one that she truly enjoys.
"Student Support Services is unique in that it provides an opportunity to serve one group of students for their entire undergraduate career," said Greer, the university's 2020 A/P Staff Excellence Award recipient said. "We develop close personal relationships with our students, which allows us to share in the accomplishments as well as challenges. As a result, we get to see them grow personally and professionally from their experiences here at SIU, I enjoy contributing to that process."
Greer oversees several the university's programs that focus on first-year and first-generation students, including TriO, Saluki Summer Bridge, Project Upward Bound, Achieve Program and the university's role in last year's inaugural Chicago-based SMASH (Summer Math and Science Honors) Academy.
The award recognizes an administrative/professional or civil service staff member for "significant contributions" to further the university's mission. That includes demonstrating excellence in overall work performance, helping to improve students' experiences, and serving as a positive role model for faculty, staff and students.
In a nomination letter, Jennifer Jones-Hall, dean of students, wrote of Greer's collaborative work as the Student Support Services director to recruit, hire and train personnel to work with students from diverse backgrounds. A program started in 2013, the AT&T Summer Bridge program, holds an 82 percent first-year retention rate, Jones-Hall wrote.
Greer "always demonstrates an active commitment to creating a more equitable campus environment through her words and deeds. She embraces diversity and understands how important cultural competency is when working to create environments where students feel valued and included," wrote Lori Stettler, vice chancellor for student affairs.
'Providing the best possible solution'
Greer said that her greatest challenges happen when she "cannot offer a solution or find a resource to meet a student need" and learned there are many factors that students face while working toward their degree that she cannot control.
"I would like to find a solution to them all," Greer said. "However, I've learned to provide the best possible solution for students to thrive during college and beyond."
Mackenzie Rosario, a junior in cinema and photography, was part of a two-week Summer Bridge program, which assists incoming college students in the transition from high school. Meeting Greer on the first day of the program made an impression, said Rosario, adding Greer motivates and inspires many people both on- and off-campus.
"I knew she valued getting every kind of student every resource they need to be successful in college," Rosario wrote. "While also creating a very positive, productive and loving environment so students can feel heard. This one interaction alone was one of the top reasons of me choosing to attend SIU full time and inspiring me to work toward a bachelor's degree in film."
Three-degree SIU alumna
Greer has been with SIU Carbondale since 2005, starting as a field representative with Student Support Services. After serving as a coordinator for a year, Greer became director in 2008. In 2019, she was named assistant dean of students and serves as student ombudsman. A three-degree alumna, Greer earned her bachelor's degree in business administration and finance, a master's degree in workforce education and development, and a doctorate in educational administration in higher education.
Greer said she was surprised by the nomination and wasn't expecting an award for her work. For her, the job is "very rewarding and doesn't feel like work."
"I'm proud to be part of a great team in the Division of Students Affairs under the Dean of Students Office," Greer said. "It's an environment that cultivates continued personal growth and professional development."