While learning a foreign language might not be the easiest task, it can almost immediately boost your earning potential. In fact, language experts estimate that entering the workforce with a second language fluency can increase your pay rate by 10 to 15 percent.
That's why two students from Southern Illinois University Carbondale are working diligently to add German, French and Spanish degrees on top of their other career interests.
Finding new opportunities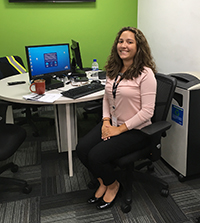 When Karla Rosado, a senior from Nashville, Tennessee, walked on campus as a freshman, she didn't have her entire degree path planned out, but she was ready to embark on the journey. She landed on a degree in foreign languages and international trade, with a specialty in German, and soon discovered a passion for finance.
Because many of the international trade classes carried over to a finance degree, Rosado decided to combine her love for international culture, with her passion for numbers. The result was new opportunities and unique experiences. After connecting with an alum who pointed her in the right direction, Rosado spent her summer working with a branch of Citibank in Honduras. Through this experience, she set herself up to understand new cultural aspects, add another language, Spanish, to her resume, and also prepare for a future in finance.
"[I have really been learning] how to interact with people in this kind of environment and how different cultures work in different countries and how they operate," Rosado said. "And how you kind of compensate for that when you work with different types of people."
Using language to combine unique interests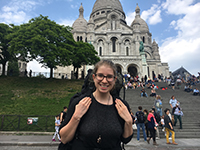 In similar fashion, Carly Kasicki, a junior from Rockford, Illinois, started with a degree in foreign languages and international trade, with a specialization in German. As she followed along her collegiate journey, she discovered a passion for biology, which she added as a double major. And with a love for languages in general, Kasicki also decided work toward a potential triple-major in French. Her goal is to combine her interests in a unique and powerful way.
"When I started learning about biology, I started to get excited about it. It just felt like something deeper, like you are understanding the world around you," Kasicki said.
Instead of solely focusing on the business aspects of a foreign languages degree, Kasicki wanted to combine a cultural understanding with a deeper knowledge of how the world works. To top it off, she decided to also pursue her interest in politics with a political scienceminor and will soon be working as an intern in the Illinois Attorney General's office.
While many scientists separate themselves from politics, Kasicki believes her unique combination of education will provide a new perspective to commonly discussed issues.
"For me, it's about being able to come at politics with a new perspective and with new information," Kasicki said. "So I have been getting into understanding the science perspective of politics, while also understanding the other parts of politics too."
Though her path is unique, Kasicki believes having various experiences will prepare her better for the future.
Language as an additional asset
While both Rosado and Kasicki are exploring unique career paths, they both believe having an international background will be an incredible asset for their futures.
"This is really opening my eyes to the rest of the world," Rosado said. "You live in the United States, even though it is a wonderful country and I love it, you kind of are blind to what goes on everywhere else."
As Kasicki moves forward, her unique background is what motivates her to understand and relate with people across the globe.
"I think it [foreign language experience] just opens things up in general," Kasicki said.