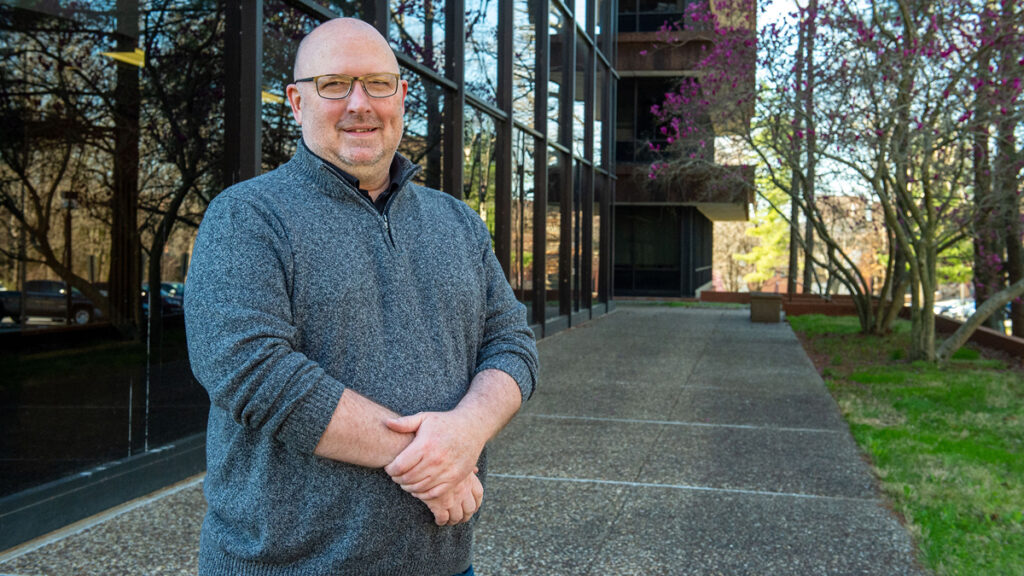 This is one in a series featuring the university's 2021 Faculty and Staff Excellence Award recipients, who are being recognized for outstanding teaching, significant scholarly and artistic contributions, and dedication to furthering the mission of the university.
Kevin R. Smith is the Southern Illinois University Carbondale winner of the Teaching Excellence Award (non-tenure track) for 2021.
A senior lecturer in the Department of Chemistry and Biochemistry the past 11 years, Smith teaches a wide variety of courses, including chemistry survey courses for non-science majors, introductory chemistry for preprofessional, general chemistry for science and engineering majors, foundation courses in inorganic chemistry, organic chemistry, and biochemistry for chemistry, among others.
With 18 total years of teaching under his belt, Smith said he strives to involve, challenge and excite his students.
"I enjoy the interactions with students, seeing the light that comes on when they figure out how to approach solving problems and seeing the smile come across their faces as they gain confidence in their ability to master topics in the course," Smith said. "I greatly enjoy being any part of that student finding their path in life."
In her nominating letter, Senetta Bancroft, an assistant professor in the School of Education, said her work with Smith "reveals a deep and consistent commitment to supporting the needs of students and faculty who interact with the chemistry undergraduate program."
"Smith's commitment to data-driven continuous improvement of the undergraduate student experience is always informed by the needs of SIU's students," she said. "His commitment to meet the needs of students extends to his support of faculty who teach chemistry and biochemistry courses."
Smith earned his Bachelor of Science degree in chemistry in 1997 at the University of Southern Indiana, Evansville. He attended graduate school in chemistry at SIU, studying 1997-2002, with a research emphasis in organic charge-transfer crystals and mixed metal copolymers.
Smith said he is honored to receive the award and that it makes him reflect on the roles that others have played in helping him craft his teaching approach.
"My approach comes from pieces from my undergraduate professors, graduate mentors, chairs that I have worked with, faculty that I have worked with, and students that I have taught. The best parts of all of them helped form my teaching philosophy."
Smith said he naturally hopes to teach each student to be competent in the level of chemistry they are studying with him. But that's just one of his two main goals.
"First and foremost, I hope to have improved their ability to learn, their ability to solve problems," he said. "I tell the students on day one that I don't expect them to be a chemist when they finish my course, but I do want them to be able to think through a problem regardless of whether it is science, business, personal. Look at the initial information, look at the end goal, find the path, find the tools to solve the problem in front of you."