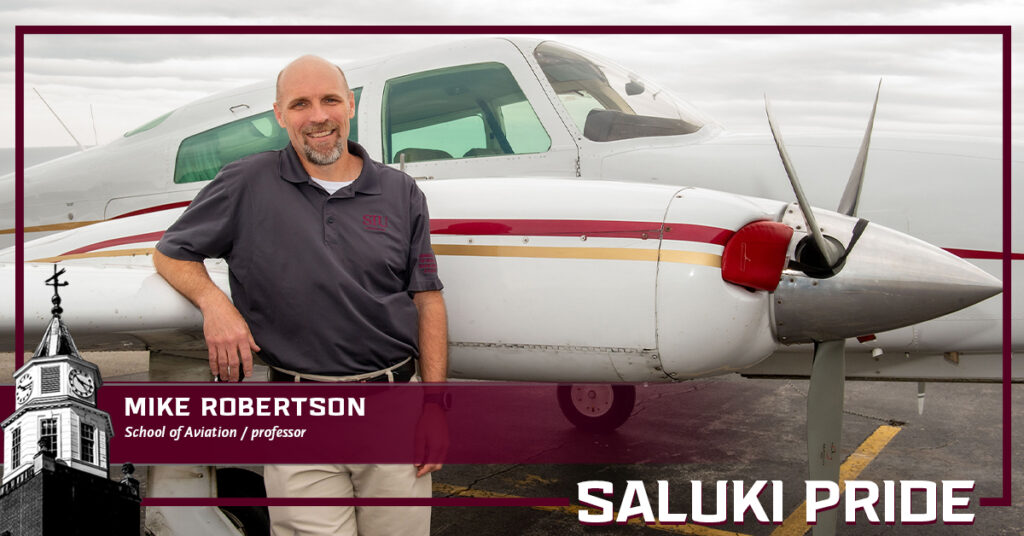 Mike Robertson's fascination with flying began when a family friend took him on his first small airplane ride in Montana at 7 years old. Now a professor in aviation management and flight as well as safety officer in the School of Aviation, Robertson shares his insight in preparing students for their own journeys.
In nominating Robertson, School of Aviation Professor José Ruiz said his colleague's work includes creating and organizing safety management systems and unmanned aircraft systems workshops that draw participants from through the United States. Robertson is also carrying on a family tradition: His father, Philip Robertson, was a professor in plant biology at SIU Carbondale from 1969 to 2003.
Get to know MIKE ROBERTSON
Name: Mike Robertson
Department/title: School of Aviation / professor
Years at SIU Carbondale: 23 in September.
Give us the elevator pitch for your job.
I teach safety related courses and human factors for pilots. I conduct check rides for every level of flight student. A check ride is a 3- to 4-hour practical exam involving an oral and flight evaluation, usually to earn an FAA certificate or rating. I am also the safety officer and aviation management program coordinator.
What is the favorite part of your job?
I love most aspects of my job. Whether I am teaching in the classroom or in the airplane, I feel like I'm helping others achieve goals and prepare them for work and for life. I have always tried to incorporate my research and service into my teaching so I can give the students the best education possible.
Why did you choose SIU?
I went to school here from 1991 to 1994. I was flying skydivers at a local airport and a student from SIU told me that SIU was hiring flight instructors. I applied and enjoyed the work as a full-time flight instructor immediately. I later went down the path of tenure track and have since earned a Ph.D. and recently made promotion to full professor.
What got you interested in aviation and teaching?
I took my first small airplane ride when I was 7 in Montana. The pilot was a family friend who let me fly. At the time, I thought it was so cool, and since then, I always was fascinated by flight. Teaching happened organically. I never pictured myself as a teacher and surely not one with a Ph.D., but since joining SIU, I have grown personally and professionally in ways I never imagined for myself. I am always trying to improve as a person and as a teacher.
What are three things you cannot live without?
Aside from my family and friends, I would say running, the mountains and solitude.
My favorite activity away from work is …
Running. Although I am in aviation, traveling by foot is a great way to explore your environment as well as set goals for yourself and find your limits both physically and mentally.
Know a colleague to feature in Saluki Pride? Simply fill out this form.