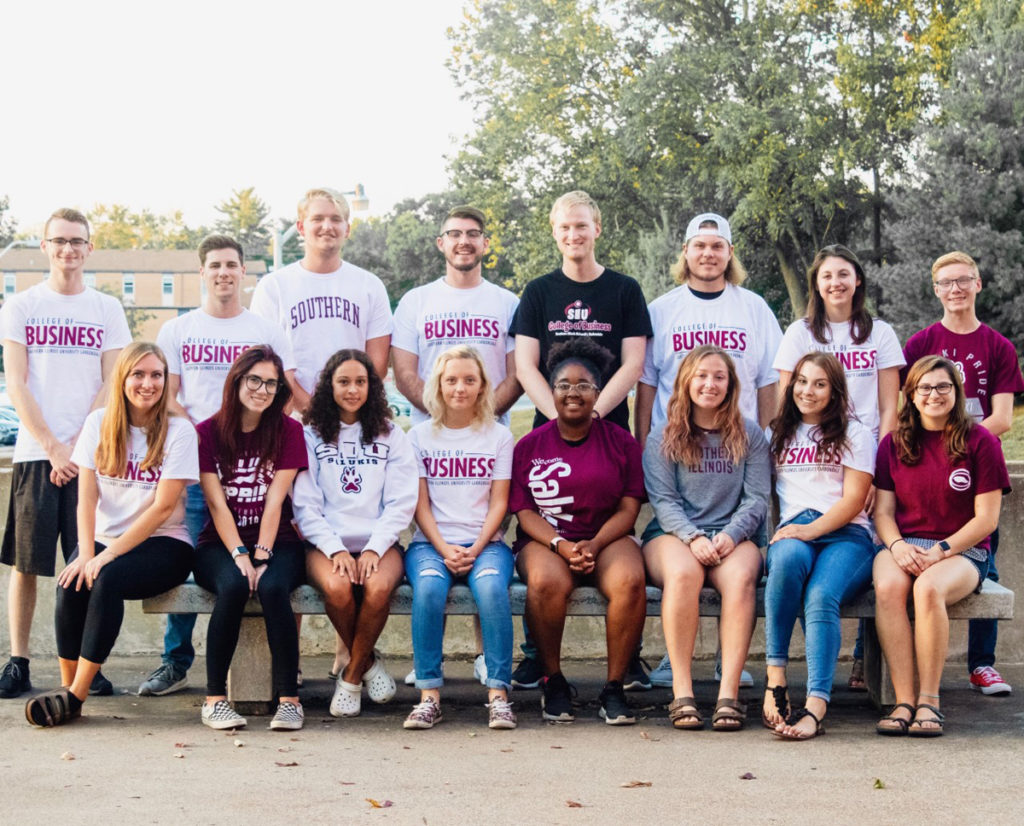 A team of Southern Illinois University Carbondale students earned national recognition recently in the American Marketing Association Collegiate Case Competition as part of a yearlong nationwide challenge helping a business tackle a real marketing problem.
"I am so proud of these students," Christie Mitchell, SIU AMA co-adviser, said. She and Thomas Becker, coordinator of the College of Business and Analytics Business Placement Center and a former SIU AMA member, are co-advisers for the chapter.
"This isn't something they are required to do," Mitchell said. "They did this on their own. They set their own goals and they achieved them. These students are ambitious, determined, hard-working and brilliant. They should be very proud of themselves and they make me very proud to be their adviser."
Stiff competition
Throughout the year, about 150 teams from universities across the country worked on a marketing research and strategy project sponsored by Cotton Incorporated. The goal was to increase awareness, said Daniel Merdian, the team's project manager and a 2020 marketing graduate from Chillicothe, Illinois.
SIU's team began with just a handful of returning members and Mitchell as a new sponsor, but there were still big goals and a willingness to work hard, Merdian said. Some teams work on the project for in-class credit and others have perhaps 100 or more members, but Merdian and his teammates remained undaunted.
The 16-member SIU squad met once or twice every week and used online project management systems to keep moving forward. The work included:
Creating a focus group with teenage children of faculty, staff and friends.
Conducting extensive surveys, reaching 450 people in one week.
Viewing new and old commercials and taglines, and questioning teens about them as well as their individual purchasing behavior and influences.
The students then compiled their extensive data, interviews and reports, and created visions and recommendations.
The collaborative effort also utilized the Saluki AdLab for graphic design training and advice. The team's final plan for the sponsoring company included marketing suggestions and a new tagline they believed would resonate with teens.
Commendable
After spending countless hours working on the project over the course of the year, the results were announced. SIU earned a spot on the "commendable" list.
"I was ecstatic, on Cloud 9," Merdian said. "For just the second year we've had a team and having so many new members and a new adviser, this is an awesome thing. I've very pleased. We have a great batch of people who are very dedicated and very good. Having Christie as our new adviser is great, too."
He said he was especially proud to see the SIU team's overall score climb 17 points from the previous year's score.
Many lessons learned
In addition to earning honors, the project also benefitted students in other ways.
Brett Buehler, a spring architecture graduate from O'Fallon, Missouri, said the experience and attending the AMA conference "gave me a lot of wisdom on how to properly run an organization and how to better network myself. I learned how to properly ask for help from a superior and the correct routes to take to move up in a company."
Sydni Neabuhr, a sophomore management major from Centralia, also found the competition and conference exciting as well as offering a chance to experience a new culture.
"The lessons they learned during this process and the strategies they applied to the case are exactly the kind of out-of-the-classroom experiences that will help them become successful in their careers," Mitchell said.
Merdian said his experiences when interviewing this spring for internships and jobs most definitely prove the veracity of Mitchell's comment. He said he found interviewers were impressed with the practical experience and the successes he gained from the project.
"The recruiters were especially impressed that we did so well, especially against such tough competition," said Merdian, who served an internship at Banterra Bank in Marion. He will begin a full-time position in small business sales at CDW in Chicago.
The team
The SIU AMA team members, listed by hometown along with their majors and year at SIU during the 2019-2020 academic year, are:
Alhambra
Austin Reinhardt, business management and accounting, senior.
Bolingbrook
Dyman Jenkins, hospitality management, sophomore.
Centralia
Sydni Neabuhr, accounting, sophomore.
Chicago
Chastity Serrano, marketing, junior.
Chillicothe
Daniel Merdian, marketing, senior.
Crystal Lake
Michael Dishman, marketing, senior.
Lawrenceville
Nicole Gray, accounting and marketing, sophomore.
Libertyville
Daniel New, marketing, senior.
Mt. Zion
Faith Allison, marketing, sophomore.
Murphysboro
Scott Hickam, marketing, junior.
Naperville
Jocelyn Biondo, marketing, sophomore.
Oak Lawn
Kailey Cameron, human resources management and marketing, senior.
Schaumburg
Dustin Pawelek, finance, senior.
California
Los Angeles
Rebecca Singer, marketing, junior.
Missouri
O'Fallon
Brett Buehler, architecture, master's.
Jordan
Al-Shoubak
Seif Eldeen Mohammad Dahiyat, marketing, senior.