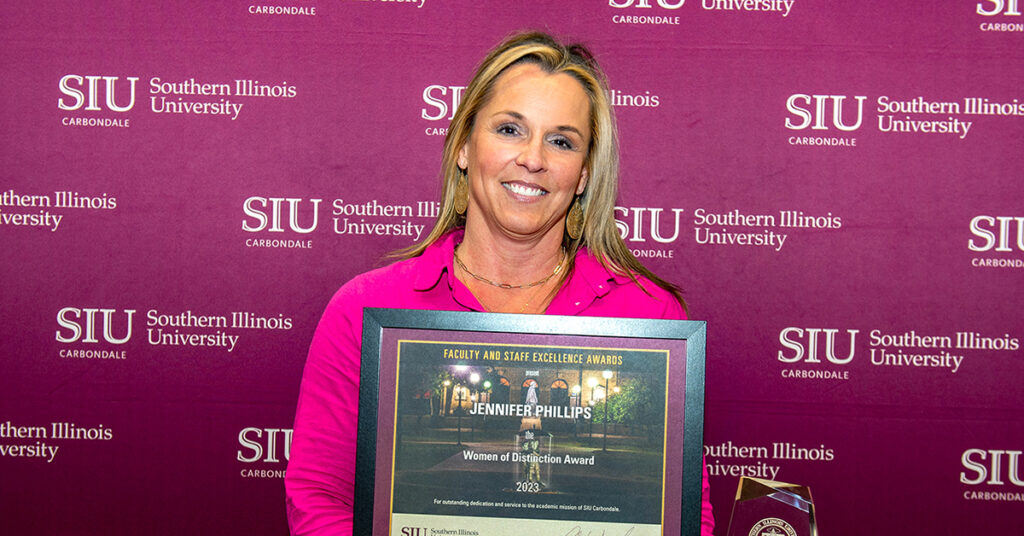 Jennifer Phillips, director of New Student Programs, is a double alumna of SIU, and in her nearly four years as a staff member, she has already made quite an impression on colleagues and the student families she works with.
"Jen Phillips is a leader who creates opportunities for learning with all those she encounters," said Jeffery T. Burgin Jr., vice chancellor for student affairs. He said she is also a role model, a team player, and a very kind and sincere person.
"Jen always does more than her share of the work on projects and often takes the initiative to get things started when things are going slowly," Burgin said. "I know her commitment to education, service and leadership strengthens the bond of her colleagues and creates a better learning environment for our students."
For her dedication and efforts, Phillips was recently presented the university's Women of Distinction Award, one of eight Excellence Awards given to recognize faculty and staff for superior scholarship and creative endeavors, teaching and service. The award goes to an SIU employee who demonstrates excellence and sustained commitment to women and inclusive excellence issues via leadership, vision and/or actions or through service while seeking to create a more equitable campus and improve people's understanding of one another.
"I am extremely humbled to have been nominated for this award," said Phillips, who previously served as SIU's associate director of freshman recruitment and in other education roles outside of the university. "I feel incredibly fortunate to get to do a job that I love, and to be recognized for doing that job is just a bonus."
Get to know JENNIFER PHILLIPS
Name: Jennifer Phillips
Department/title: director, New Student Programs
Years at SIU Carbondale: 4 as an employee; also earned a bachelor's degree in psychology and master's degree in rehabilitation counseling at SIU.
Give us the elevator pitch for your job.
My job is to lead the New Student Programs department, which consists of planning and executing the new student orientations for all incoming students in conjunction with the summer/fall recruitment cycles. I also plan for the Saluki Startup, Weeks of Welcome and Family Weekend activities.
What is the favorite part of your job?
The best part of my job is being able to feel the energy and excitement of the students and their supporters when they come to campus. The excitement is contagious. It is hard not to do this job with enthusiasm as it is so much fun!
Why did you choose SIU?
In 1994, I transferred to SIU because I fell in love with the beautiful campus and the student population. I immediately felt at home within the first few weeks of transferring.
What is your favorite meal and why?
I have loved pizza for as long as I can remember, and one of my favorite memories as a child was getting to go to Pizza Hut and using my book coupon to get my very own personal pan pizza and a soda. Really about the only time I got to have soda as a kid was when eating pizza, which made the pizza even that much more special.
What was your first car, and would you like to have it again?
My first car was a 1989 Ford Mustang. I absolutely loved that car and would love to have it today – only to drive for fun though. It was a 5-speed and learning to drive it at the age of 17 really taught me a lot about how the engine of a car works.