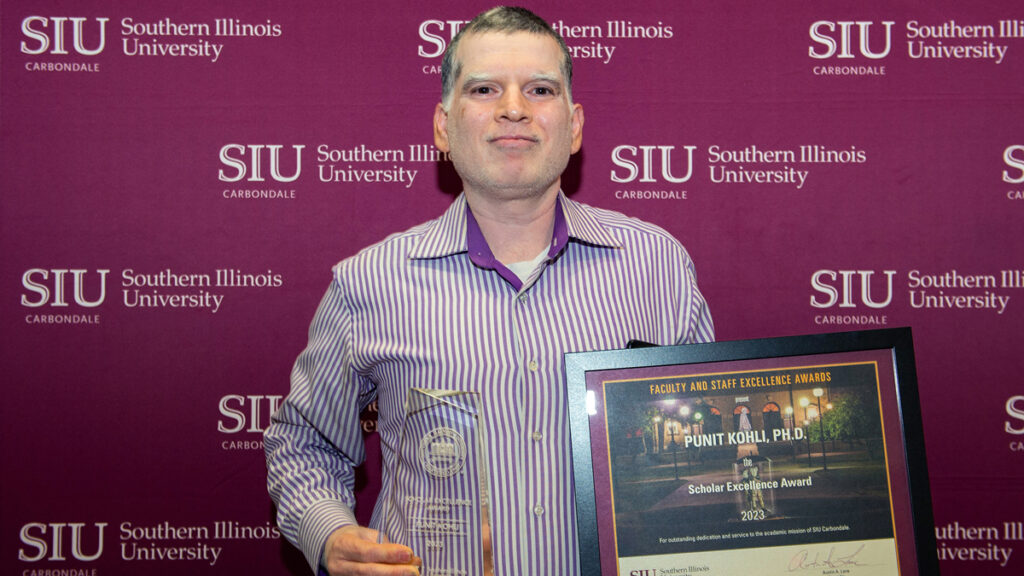 Punit Kohli, professor in the School of Chemical and Biomolecular Sciences, is this year's winner of the university-level Scholar Excellence Award at Southern Illinois University Carbondale.
Costas Tsatsoulis, vice chancellor for research and dean of the graduate school, said Kohli's work in nanomaterials for lithography, optical devices and imaging earned him the 2023 award, which recognizes and promotes outstanding research and creative endeavors.
"His work, sustained over almost two decades at the university, is truly exceptional and clearly deserving of the recognition that this award bestows," Tsatsoulis said.
The award, given only to those who have made outstanding contributions to their discipline and become widely recognized for their achievements by other scholars in the field, is a testament to the contributions of scholarship and artistic activity, which are essential to the life of the university.
Kohli, who also serves as director of the Integrated Microscopy and Graphics Expertise Center (IMAGE Center), joined SIU in 2004, after earning his doctorate at Michigan State University. His research has brought in more than $7.4 million in external grants to SIU. He teaches courses in general chemistry, chemistry for non-science majors, materials synthesis and characterization, among others.
Get to know PUNIT KOHLI
Name: Punit Kohli
Years at SIU: 19
What do you enjoy most about your work at SIU?
I love working and collaborating with students and colleagues to get research done. Helping our hard-working students is one of the best parts of my job. I also think it's important to encourage co-workers.
I'm happiest when I am …
Spending time with my family and doing something productive is also enjoyable and important to me.
At the top of my "bucket list' is to …
I would love to visit all the country's national parks. I love the outdoors.
My favorite activity away from work is …
I know I'm having fun whenever I'm staying close to nature, gardening or playing pickleball and racketball.
What are three things you cannot live without?
Being out in nature, being able to think freely with good company, and enjoying meals with friends and family.