For Tom Edgar, a freshman at Southern Illinois University Carbondale, the sky is hardly the limit. SIU is a place where he can find ample accomplishment in front of a piano, along with the cockpit of a plane.
The piano performance and aviation double major from the Chicago suburbs (St. Charles) recently won the 2020 Student Composers Competition of the National Association for Music Education and European American Musical Alliance. He received a monetary award and will attend the All National Honor Ensembles concert in January 2022.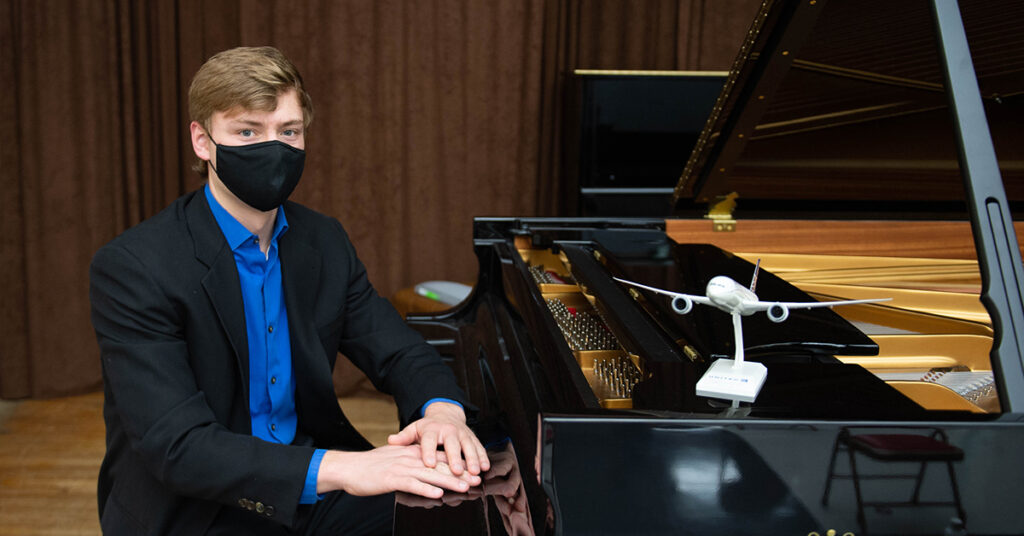 It's easy to see why "Spring Awakens," his piece inspired by the conclusion of winter and having a catchy opening and great transitions, was a hit, earning the fledgling composer a trip to San Diego. And it's easy to see how Edgar, who earned his private pilot certificate last summer, wound up with a jam-packed schedule in Carbondale: Ebony and ivory … and altimeter.
"I've always wanted to do both, and I knew that it could be done at SIU," Edgar said. "Flying and playing piano both take a lot of attention to detail and practice, and the faculty here can help me accomplish it. Plus, the environment is great for both. Very peaceful all around."
Yuko Kato, associate professor of piano, is glad to have Edgar as a student.
"Tom is very inquisitive and such an overall good student," she said. "I think he feels like SIU is a great fit, and we're fortunate to have him here."
When Edgar was a high school senior last spring, restrictions to mitigate the spread of COVID-19 cramped most intentions of visiting campus. But Edgar already had SIU connections through an uncle who studied the highly regarded aviation program (and is now a commercial pilot) plus having grandparents who have a farm in the vicinity of SIU.
"I knew it was really beautiful here," said Edgar.
These days, he is taking in-person classes for piano and flight training and consistently transitions between a studio class in the heart of campus (Old Baptist Foundation Building) to aviation classes about 6 miles west at Southern Illinois Airport.
Around training in a Cessna 152 and playing a Steinway, Edgar has taken plenty of time to coast around SIU's 2-mile Campus Lake Trail and the community's surrounding outdoor-space gems.
"I love to run and bike," he said. "It puts me in the right frame of mind around a busy schedule."
And his classroom in the clouds is ideal, too.
"Plenty of airspace," Edgar said. "So I can get a high volume of training here."