For Kevin Barrett, the chance to chronicle people and events in an unincorporated southern Illinois community this fall has proven to be a lesson in patience.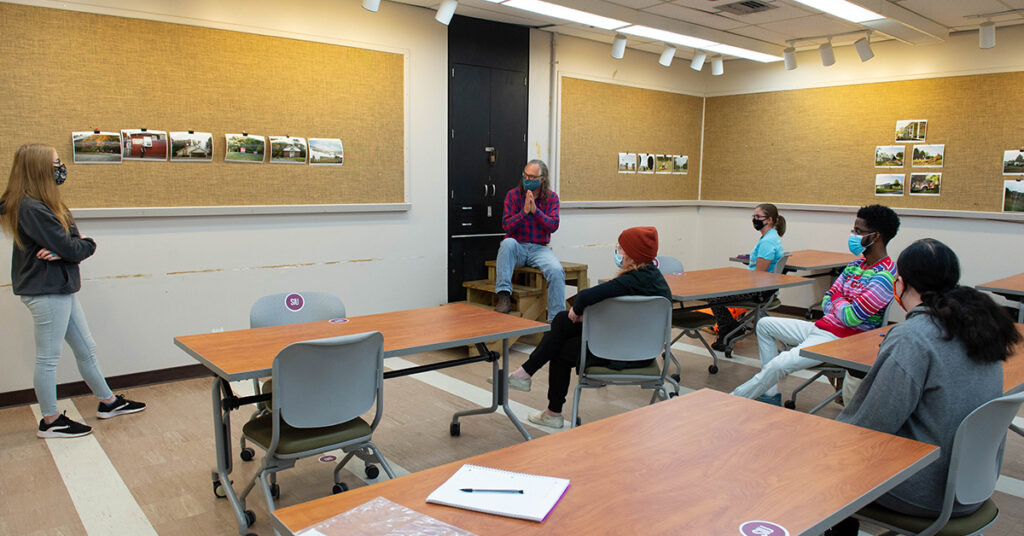 Barrett and nine other students in Southern Illinois University Carbondale Professor Dan Overturf's biennial Small Town Documentary class trekked into local towns to capture communities' spirit through photographs with the usual initial obstacle: an unknown student who wants to take photographs. There was the added twist this fall of working through a pandemic.
The students' work is available via a Small-Town Documentary page on Facebook and Flickr. In addition, SIU Carbondale and class alumnus Adam Holbrook is setting up a Small Town Documentary website that chronicles the class history. Students are working on their portfolios; the last in-person critique was Thursday, Nov. 19, with the final print portfolios due the next day. There will also be a week of online classes after the Thanksgiving break, along with finals week.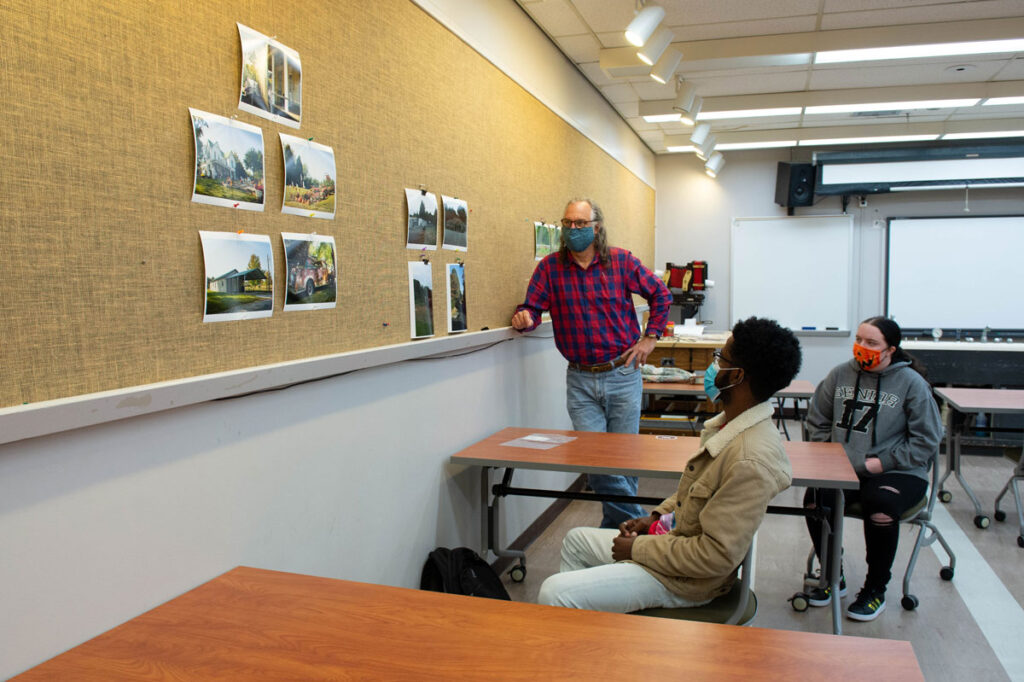 Learning patience
Barrett, who is from Zionsville, Indiana, selected Villa Ridge, about 50 minutes south of Carbondale.
"The most interesting part of this assignment has been the ability for me to see a new place with fresh eyes and being able to capture this place the way I see it," he said.
After a few visits to Villa Ridge, Barrett said, he realized he would need to "change my approach, be patient and realize that not everything is going to happen right off the bat.
"I realized that I needed to be patient, have fun with this project, and while doing this, these other things would come and I would find the content that I was 'looking' for with my project."
Connecting with others
Nicole Tillberg, a senior from Moline, said she enjoyed meeting small-business owners in Omaha, a Gallatin County village of about 300 people and about 58 miles from Carbondale. She enjoyed listening to fascinating stories from lifelong residents.
During a recent class, she noted a brief conversation with one person led to meeting others, creating a "snowball effect" where she was able to learn the town's history. The experience has allowed her to come out of her "comfort zone."
"I am an incredibly shy person, and then I signed myself up for a class where I must drive over an hour away to a town I have never been to before and talk to people who I have never met," Tillberg said. "It's a scary experience, but it has taught me so much about communication with others and how to feel confident with strangers and a camera in an unfamiliar environment."
Capturing a time in history
Overturf's first class was in 1996. The class has been held every two years since 2000 during fall election cycles, in part, due to interesting imagery that students find, Overturf said. During class in early October, students noted that there were more signs for President Trump than the Democratic nominee, Joe Biden.
Overturf views this year's 10 students having the opportunity to present an "incredible time capsule" with the election and pandemic. With the start of class in August, now in its 12th edition, Overturf said he knew the student portfolios "would reflect an incredibly specific time in history and thus in their towns."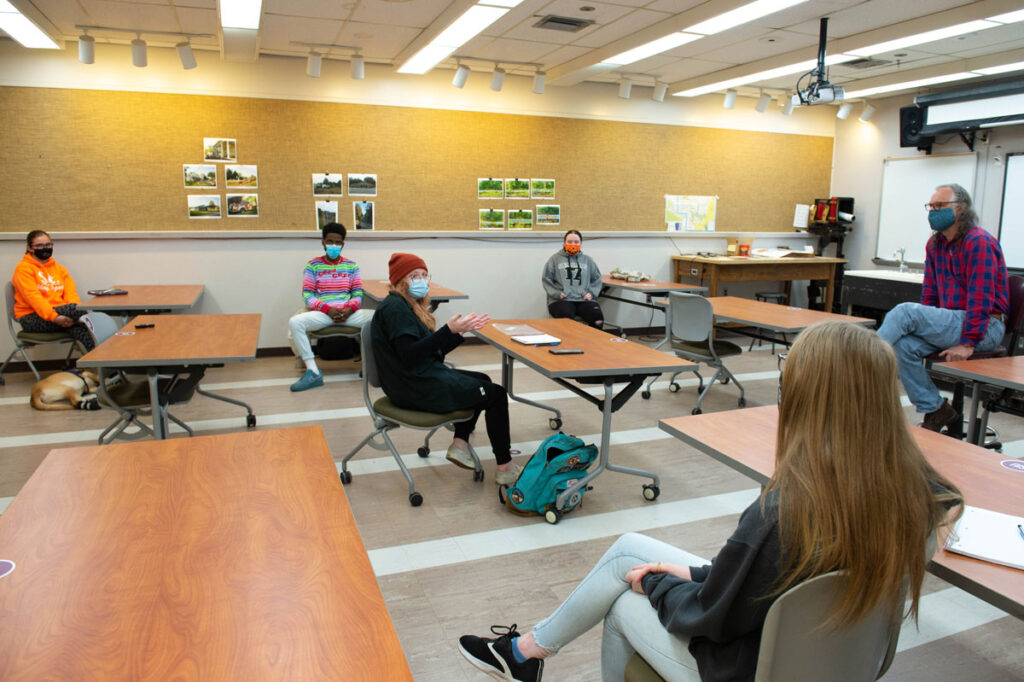 Challenges like never before
While the class might not have realized the unique challenges they faced, the differences are not lost on Overturf. Space limitations in rooms meant the class was both virtual and in-person, with the in-person critiques broken down to five students each every two weeks.
"I can assure you that these 10 students have had challenges like never before," he said.
So many events have been limited or simply canceled. There are no football games. No homecoming events. Restaurants and bars have either closed or drastically altered in their approach to serving their towns. Schools are extremely different and restricted.
Overturf emphasized to students the need to wear masks while shooting their projects. The students, however, observed instances where mask use was sporadic or masks were not being worn at all.
During a class earlier in the semester, Barrett said he was much more comfortable walking up to people he didn't know before the pandemic. He was more conscious now on how close he was to someone and said mask wearing factored in. Tillberg said she also felt that wearing masks formed a "divide" and initially made it more difficult to approach people.
"People are just generally more careful about new faces – masked faces – arriving in their town to document, which is completely understandable," Overturf said.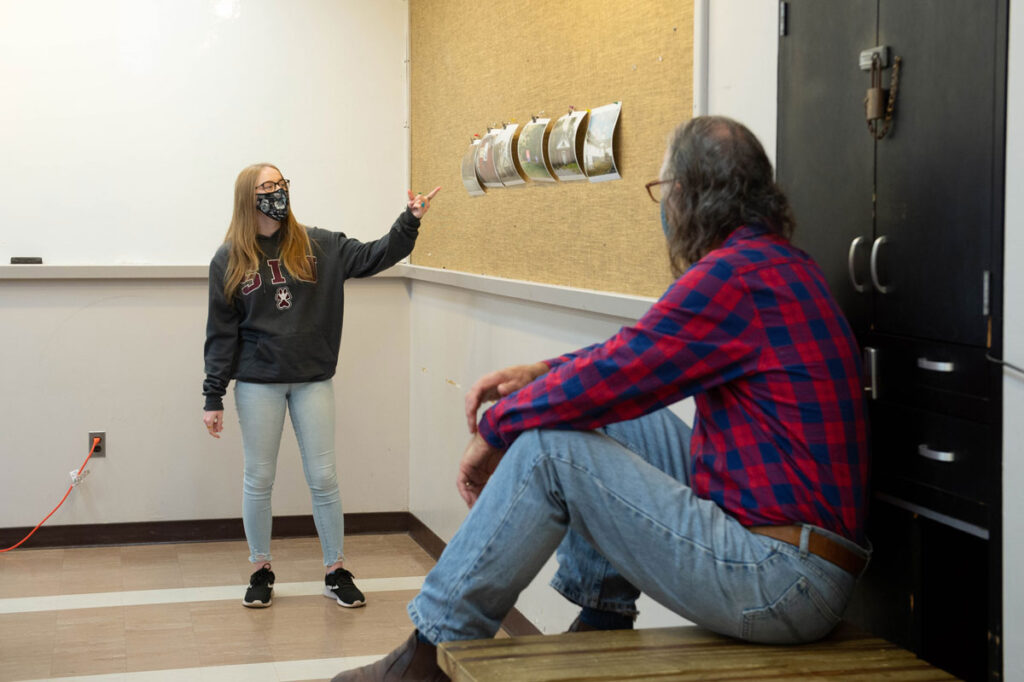 Climbing out of a shell
During one of the early in-class discussions, Anna Connolly, a junior from Palmyra, Illinois, showed photos from Ozark featuring a barbecue business and a couple of churches, and she mentioned she had plans to return for services. She later attended services in both churches and was able to connect with several people. Ozark is an unincorporated community in Johnson County, about 40 miles from Carbondale. In addition to numerous horse trails, Ozark is also home to Camp Ondessonk, a Catholic youth camp.
"All of the people I met were very nice and willing to help me with anything I needed," she said. "I like learning about the history of the town and how much it has changed over the years and the different people living there."
In addition to discussing the latest prints students bring to class for discussion, Overturf also asked myriad questions about people photographed and what students were learning as they immerse themselves in history, sociology, geography, the community and other topical dimensions. He told students that photos of people doing "everyday activities" such as raking leaves or working on their car in a garage also were important in telling a town's story and getting into their subjects' lives.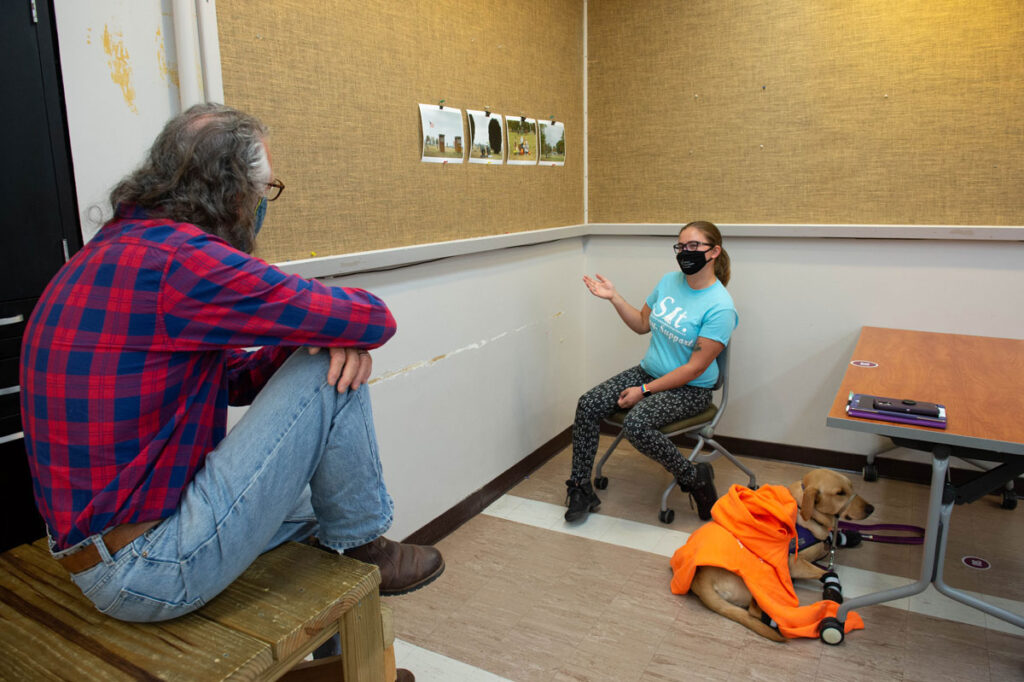 "Perhaps most importantly, students learn that their use of photography can be a method to open them to other worlds, to other peoples' existences," he said. "Photography is a way through learning about people other than themselves. So many students learn how to climb further out of their own shells and work toward understanding other people."
Tillberg agrees, noting it is "more than just a photography class."
"If anything, the photos are just a byproduct of the class. Really this class is putting people into the deep end on their own to observe something they have never experienced," she said. "The world of small towns was foreign to me, but the people I have been able to meet have opened my eyes to this different way of life."
Students participating in the project, by hometown, year in school, major, and their chosen communities, shown in bold, are:
ILLINOIS:
Auburn: Amber Newingham, senior, cinema and photography, Pomona.
Effingham: Katie Smith, senior, zoology, Vergennes.
Fairfield: Cheyenne Bruce, senior, cinema and photography, Tamaroa.
Highland: Leah Sutton, senior, cinema and photography, Belknap.
Moline: Nicole Tillberg, senior, cinema and photography, Omaha.
Palmyra: Anna Connolly, junior, cinema and photography, Ozark.
Waverly: Jared Treece, junior, cinema and photography, Ullin.
Zion: Idalys Rios, junior, cinema and photography, Buncombe.
INDIANA
Zionsville: Kevin Barrett, junior, cinema and photography, Villa Ridge.
MASSACHUSETTS
Medfield: Erik Pedersen, junior, automotive technology, Orient.