Celebrating SIU's Saluki TRADITION, Saluki PRIDE and Saluki PROMISE for SIU's 150thAnniversary, This Is SIU is publishing a monthly feature detailing the past, present and future of notable places, events and people on campus.
When nationally recognized legal scholar Hiram H. Lesar came to Southern Illinois University Carbondale in 1972 to piece together the beginnings of the SIU School of Law, a clear mission was improving the available legal services and attorney access in the region.
As 86 incoming first-year law school students settled in last month as part of the law school's 47th graduating class in 2022, the original objective remains. But the law school's trademark for experiential opportunities continues and its mission has expanded beyond the Southern Illinois region since the law school's founding.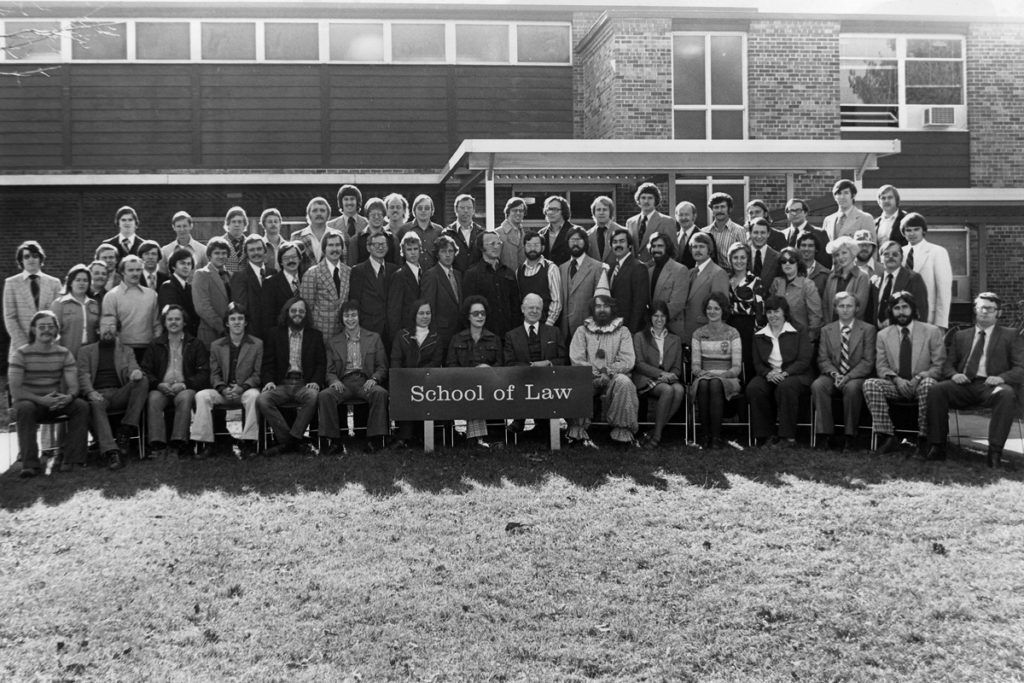 Nicole Walas spent this summer with a clerkship for a personal injury firm in West Frankfort and this fall is an intern with the Williamson County State's Attorney office. A third-year law student from Austin, Texas, now living in Pinckneyville, Walas is also president of the law school's Student Bar Association.
"I really enjoying getting the hands-on experience," she said. "Not only shadowing an attorney who is working on real cases, but also helping out in research and drafting" court filings.
Established initially in the public interest
A chapter on the law school in "Southern Illinois University at 150: Growth, Accomplishments, and Challenges" notes an early proposal for a law school in Southern Illinois came early under the umbrella of Southern Illinois Normal University.
The school failed to launch in the early 1870s because of low enrollment. Through the next century, the need for a law school south of Champaign-Urbana became more evident based on a shortage of attorneys in the region, said Thomas C. Britton, whose five-decade relationship with the law school began as a member of the inaugural class in 1973.
While there were a number of proposals on curriculum structure, Lesar, a Thebes native who returned to Southern Illinois from Washington University School of Law in St. Louis, insisted on a traditional approach. Once the school was established, Lesar encouraged innovation and service, Britton said.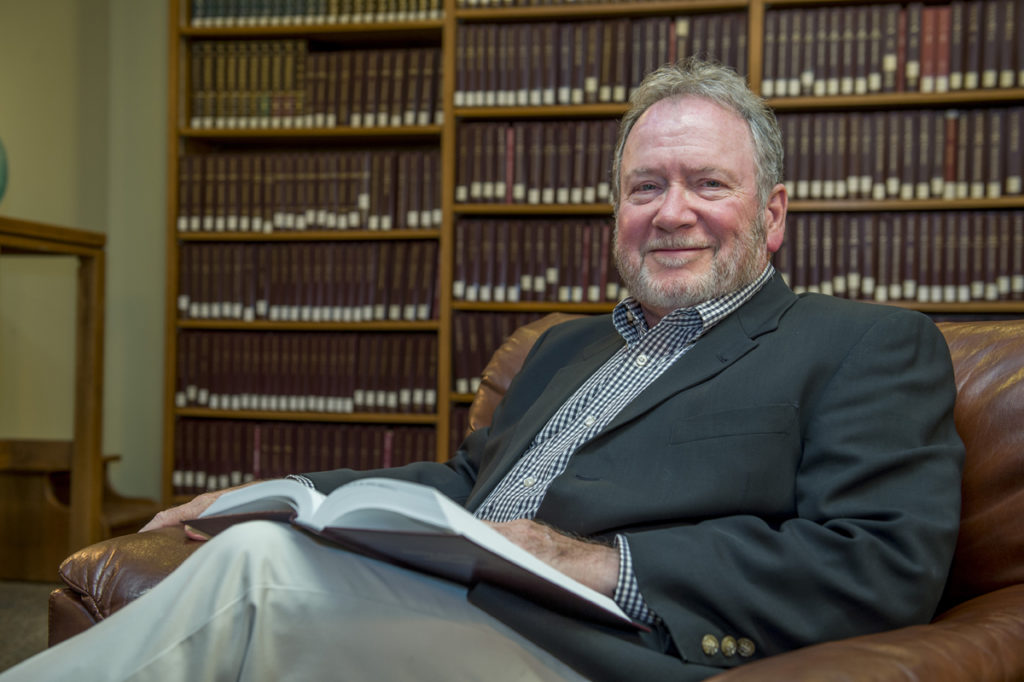 Meeting with Lesar sold Britton on accepting the challenge
Britton said his meeting with Lesar "really influenced" his decision to be part of the inaugural class. Britton had offers from established law schools. But it was Lesar's candid and simple responses to Britton's questions that sold him on SIU. Thus began Britton's five-decade relationship with the law school and university.
The fledgling law school would have only one classroom in its first year and at that point was unable to provide any scholarship money. But Lesar's vision kept Britton on board. He would become a three-degree graduate of SIU and retire as emeritus law professor in 2016.
Asking Lesar why he should attend a brand new law school, Britton recalls Lesar hesitated a moment to the question, looked at the potential student and said, "You will be part of something special. There is only one first class."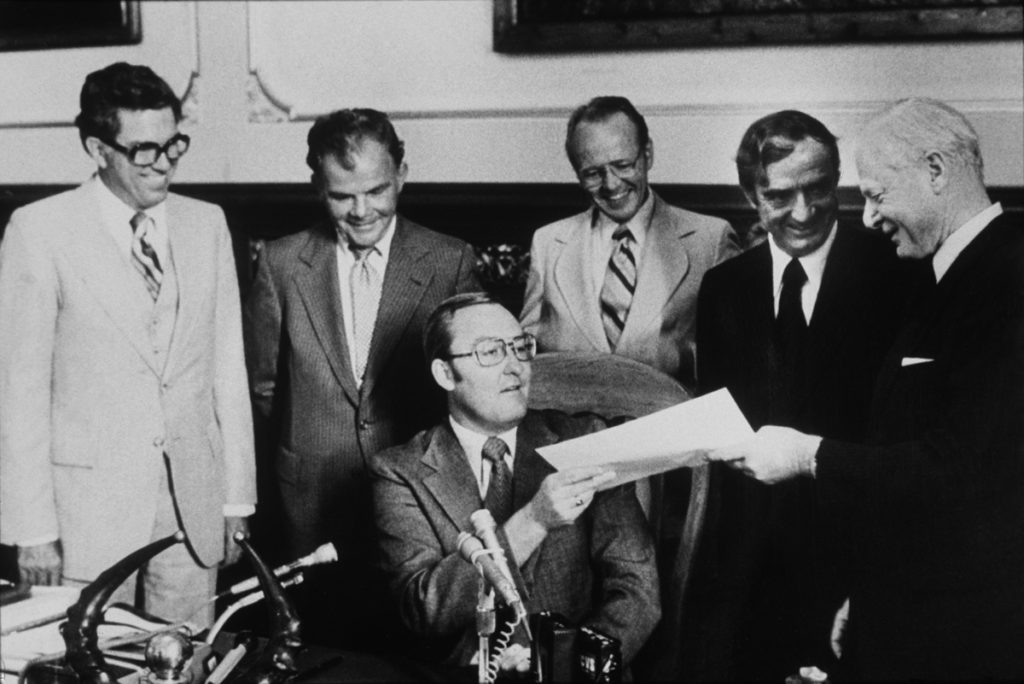 Experiential learning, pro bono requirements are law school trademarks
The law school was the first Illinois law school to create a pro bono requirement. Students must complete 35 hours of approved pro bono work prior to graduation, meaning the work is law-related, uncompensated, supervised by an attorney, and not for academic credit.
"Pro bono" is a shortened form of the Latin phrase "pro bono public," which means "for the good of the people." The term typically refers to legal work performed as a public service and free of charge or at a reduced fee.
Jake Yates, a May 2019 graduate, self-reported 683.6 hours of pro bono work for Land of Lincoln Legal Aid in Carbondale over a 15-month period; the second highest among graduating students in records dating back to 2015.
In addition to increasing the general public's ability to access an attorney in a reasonable amount of time, the law school provides a great deal of pro bono and free legal services through clinics and other programs, Dean Cindy Buys said. The four clinics that students have an opportunity work with licensed attorneys are:
"The faculty who teach in our clinics are absolutely devoted to their clients and take on as many cases as is physically possible," she said. "Most of them have been working in the clinic for many years and have provided countless hours and dollars of service to the local community."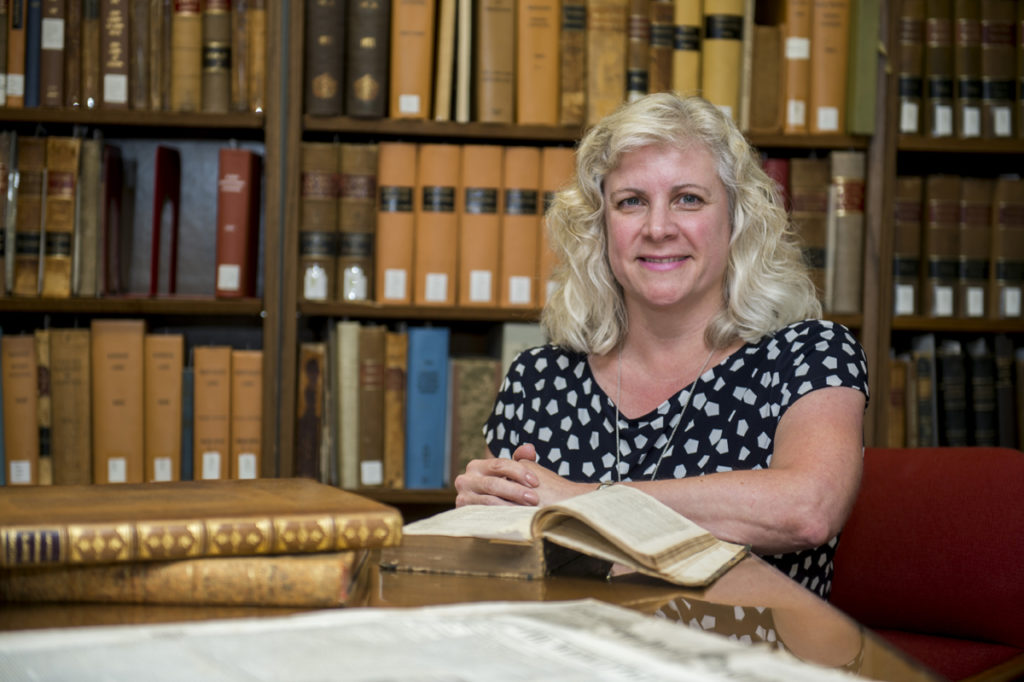 The law school remains very committed to outreach programs, which includes the immigration and detention project at the Pulaski County Detention Center in Ullin. Several times each year students volunteer and meet with immigration detainees and provide "Know Your Rights" presentations that include basic legal information. The students conduct intake interviews for further referral but do not provide direct representation.
"Each one of them gains a valuable educational experience every time they go into the detention center," Buys said. "They meet live clients and see the impact of the legal system on their lives."
'A sense of community'
Prospective students who visit the law school say the "sense of community" they perceive when visiting is a key selling point. Factors, including location, lower tuition costs and a close bond between faculty and students, are important.
"We provide access and opportunity for students who might not have the resources to go to school in Chicago or at private law schools," Buys said. "Tuition is generally quite a bit higher and there are added living expenses. For many non-traditional students, there also are family commitments that they cannot be that far away."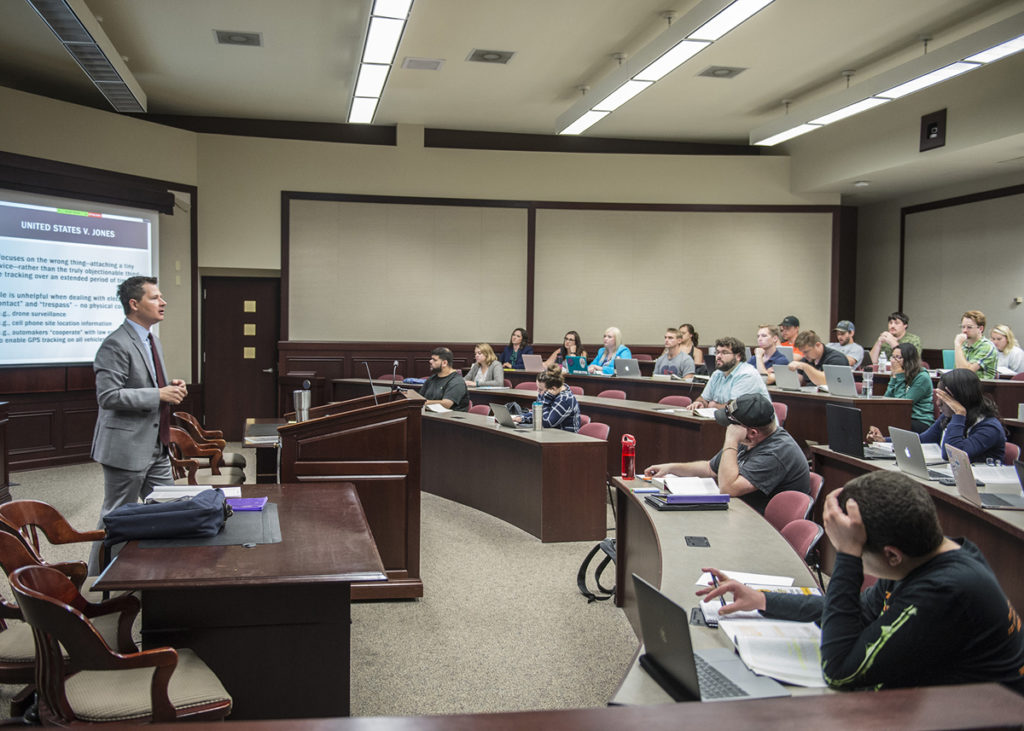 Enrollment expected to remain steady
With a student-to-faculty ratio of 9.6-to-1, Buys believes the number of students at the law school will remain about the same in upcoming years. While a number of schools were reporting a drop in applications this year, at SIU there was about a 2% increase.
"We continue to be very competitive on cost," she said. "We are well-known in our region for producing good, competent attorneys. And we have alumni who speak well of the school and who encourage students to apply."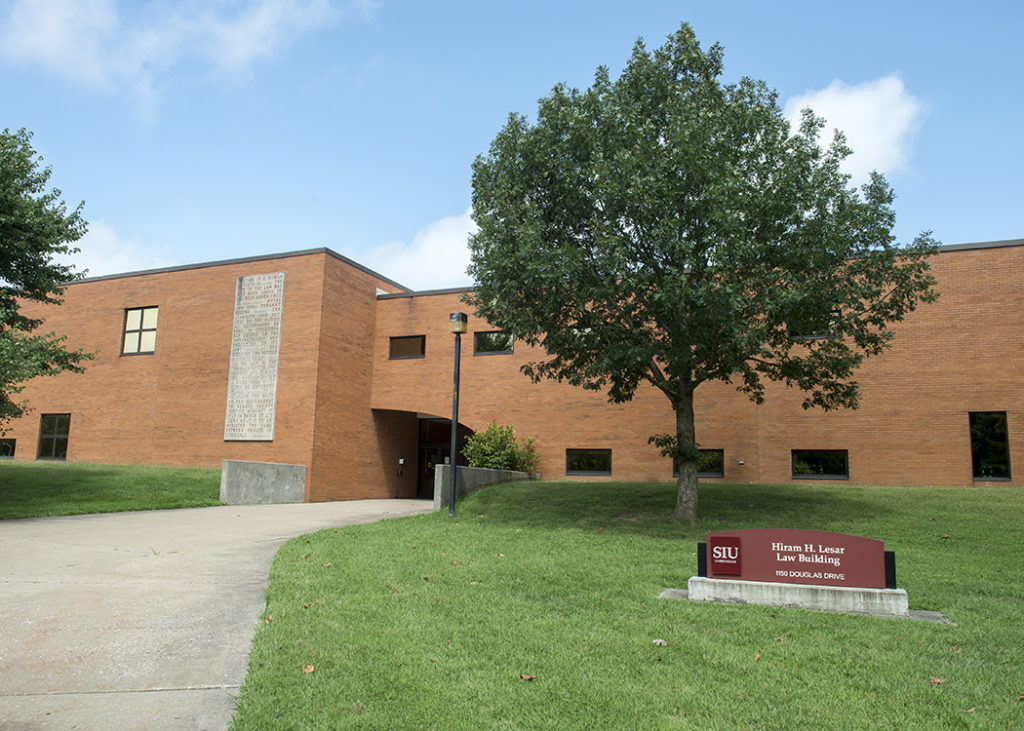 Adding components that focus on technology, online offerings
The law school is also adding more online offerings and emphasizing technology within the legal profession on a day-to-day basis. Illinois, for example, adopted a rule recently requiring court filings be submitted electronically.
The law school offers the opportunity for students to specialize a bit more in six specific areas: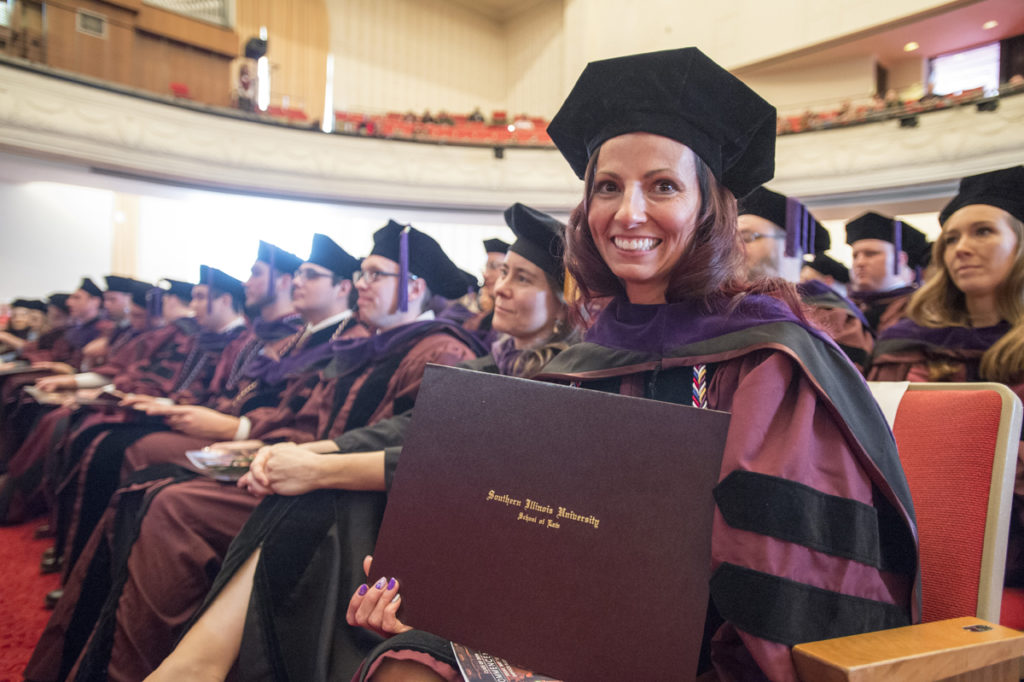 Faculty makes the law school a 'special place'
The size of the law school allows for strong interaction between faculty and students, Britton said. With specialists and national experts in all areas, the faculty are willing "to do the hard work of teaching a first-year law student how to construct a proper sentence," he said.
He noted the successful moot court teams and that faculty utilize evenings and weekends to prepare students.
"We have people who are really blue-chip lawyers who are willing to take students under their wings and teach them trial practice," he said. The personal attention where faculty and staff know, encourage and motivate students and the camaraderie with the students is hard to replicate at larger law schools.
'Truly prepares students to practice law'
Reona J. Daly, a 1994 graduate, was the first member of her family to attend law school. A native of Herrin, her parents and siblings all attended SIU Carbondale and, while she graduated from Illinois Wesleyan University in 1991, Daly said attending the law school provided her some familiarity.
Daly became magistrate judge for the U.S. District Court for the Southern District of Illinois in 2016. Prior to that, she was associate general counsel for SIU Carbondale, after she worked in insurance and medical malpractice defense as well as for the Illinois Attorney General's Office doing civil litigation.
She recalls professors who were more accessible than what she was accustomed to in college, noting students "basically lived at the law school" and professors were available. She continues to maintain contact with many classmates who are lifelong friends.
While she's not sure she appreciated the significance at the time, Daly notes the law school stands out in preparing students to practice law. Daly notes the law school emphasized practice aspects of legal profession when she was in school.
"There is no substitute for actually doing what you will be expected to do in practice," Daly said. "After graduation, I worked in a small insurance defense firm. No one asked me to recite the rule against perpetuities, but I certainly was expected to meet with clients, draft motions and discovery responses, and try cases."
Law school was 'perfect fit'
Walas graduated from Texas A&M University in 2015 with a degree in construction science and "always had the idea I would go to law school." She took two years off to work and see if law school was a good fit for her and took the LSAT. What she found at SIU School of Law was the perfect fit.
The small class size, the Carbondale community and welcoming faculty and staff were key factors in her decision, Walas said.
"I was able to see classmates walking through the halls talking to professors and everybody knew each other by first name," she said.
The long study hours can be a difficult transition, but Walas insists that it's a matter of discipline and time management and is not impossible to overcome.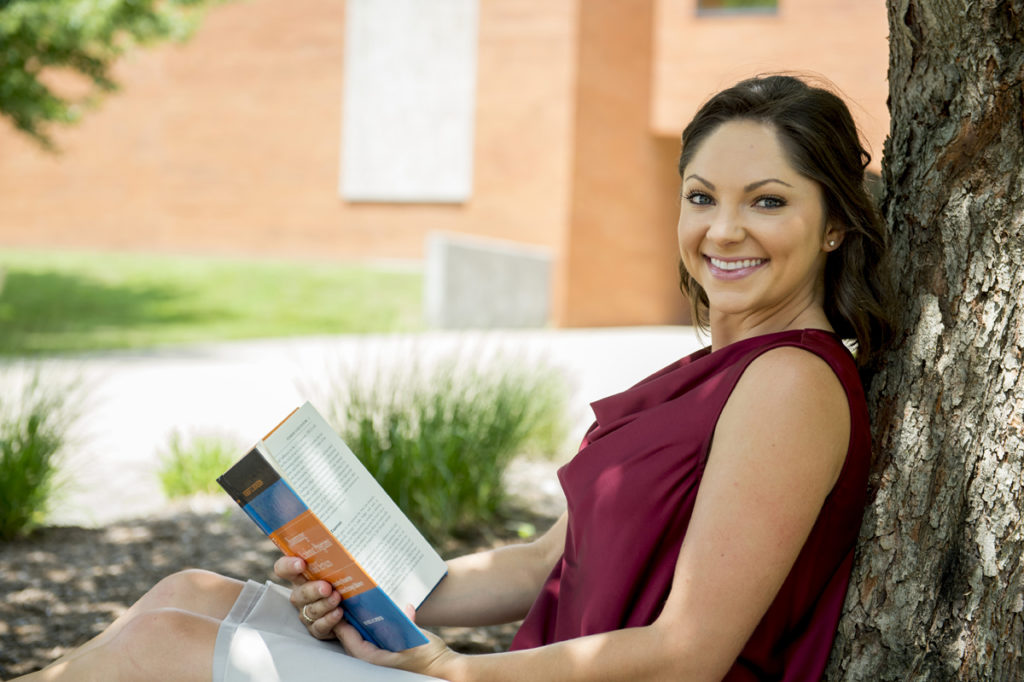 Plans to stay in Southern Illinois
Walas met her fiancé, who farms in Pinckneyville, while the two were both undergraduate students at Texas A&M. Soon to be a law school alumnus, Walas said she does feel some pressure to leave a legacy behind that will help future classes, connect alumni and keep a lasting impression.
"I'm very happy that I came to SIU for law school," said Walas. "I think that this environment was a perfect fit for me. It's very diverse and I think that no matter where people have come from and ended up at SIU that it's worked out great for everyone."
Faculty, alumni are invested in every student
Faculty and staff do not accept failure in any of the students and do their best to help them succeed. Students get the attention they need and sometimes might not even want. However, that will make students better attorneys, Britton said.
Britton believes virtually every prosecutor's office in every county in Illinois has an SIU law school alumnus. In addition to more than 100 judges who are alumni, there are likely as many alumni practitioners south of Springfield as any other law school, he said. That alumni strength is a benefit to students, he said.
Daly agrees, noting that alumni involvement is vital to legal education.
"Perspectives from non-professors are key to gaining a broader understanding not only of the law but also of the requirements of the practice of law," she said. "Anything the law school can do to prepare students for life after graduation is key. The practice is demanding on many levels, and those demands are difficult to understand until one interacts with those who are currently engaged in the legal community."
Daly tries to stay involved in activities including judging moot court or speaking with classes when she can.
"I think we as alumni often forget or underestimate how much we have learned from our experience until we share it," she said, noting that each time she walks through the law school it feels like she was a student just yesterday.