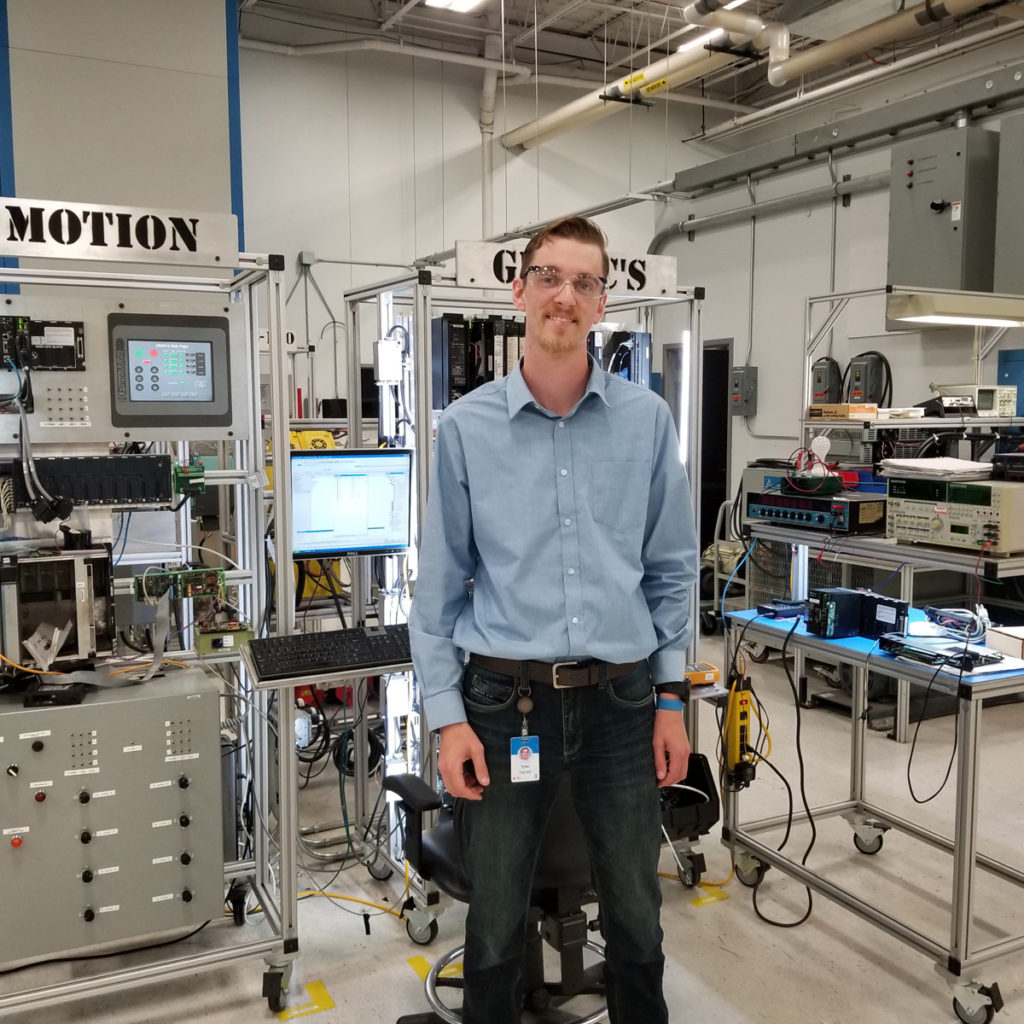 It doesn't get much more "real world" for up and coming engineers than working as an intern at Advanced Technology Services Inc. Two SIU engineering undergrads spent the summer doing just that as members of a leadership effort started by an SIU grad and a co-founder of ATS.
Two students get hands-on experience
Tyler Harrell, a senior in electrical engineering technology, and Ruben Moro Roman, a senior in mechanical engineering, are both members of the Leadership Development Program at SIU. Based in the engineering degree program the LDP is designed to mold students into future executive leaders in a STEM field (science, technology, engineering and mathematics) by providing leadership training, mentoring and community service opportunities.
Students in the program also get opportunities to complete a summer internship with corporate sponsors, a major boost to starting their post-graduate career in the working world.
Company founder started LDP at SIU
Harrell and Roman both took advantage the opportunity to intern at ATS, which was started by SIU alumnus Dick Blaudow. Blaudow, along with his wife, Brigitte, established the LDP program at SIU as a way to help develop the next generation of America's technical leaders.
The goal of the internship program at ATS is to provide an exciting and challenging work experience. The program allows interns to apply what they learn in the classroom through a hands-on experience that benefits them throughout a lifelong career. Interns also get the opportunity to enhance professional skills by working directly with members of the ATS leadership team.
Variety of experiences
Harrell said he spent his time at ATS in a variety of positions, rotating through five different repair areas and helping complete them. He said he enjoyed his time and learned a great deal about real-world manufacturing and the machines that make it possible.
"My role was an electronics technician," he said. "I repaired a large range of electronic industrial systems and other devices. These repairs ranged from things like PLC cards and components, IR LED light bars, to large industrial monitors and variable frequency drives."
Harrell said the experience helped him take the information from the classroom and apply it to different jobs.
"I was able to use this information to help troubleshoot different devices and figure out what was not working on the device. Based off of that, I was able to take proper steps in repairing it," he said.
Classroom meets real world
Doing so required him to use classroom-based theory melded with on-the-ground know-how to solve complex problems.
For example, if a resistor on a machine burned out, the work order might simply read that it was not working. At that point, Harrell had to use his knowledge of electrical circuit theory to trace the circuit back from the input or output of the device, understand how the components operated along the way and eventually reach the resistor that was not working, and repair it.
"It also helped to have experienced people working alongside me to refer to when things got tough," he said.
Roman said he spent much of his time in the testing area, working with the large and medium engine teams keeping track of the work going in and out of the test cells. He also conducted troubleshooting, scraping and inventorying and attended meetings where the team got updates on issues and progress of test cells.
Valuable experience for the future
"I believe it was a great experience," Roman said. "I was able to work with the team and got to see a larger scope of the work being done rather than just running a test cell."
Roman said the LDP program at SIU has helped him learn to prioritize and plan his daily approach to being a student and becoming a professional.
"It has made me want to go and talk to people and get to know them and recognize their accomplishments," he said.
Harrell agreed, saying LDP helped him succeed at the internship by developing leadership skills as well as "soft skills" that helped him form good relationships with his teams.
"I was able to be a good model of the work ethic that the LDP program instills, and I was able to use a myriad of problem-solving techniques I have developed in the program to overcome difficulties I ran into," he said. "All in all, the program helped me become a more well-rounded person, and I am truly grateful to them for that."