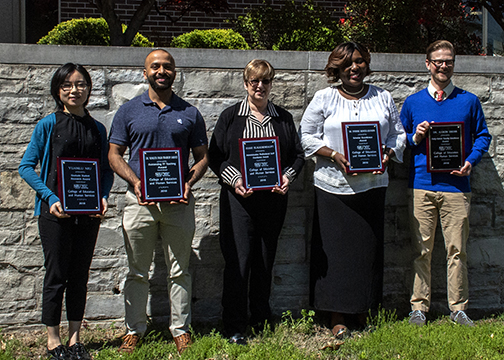 The College of Education and Human Services wrapped up the 2017-18 academic year by presenting Excellence Awards to outstanding faculty and staff. Each received a plaque and special recognition.
The winners, shown left to right in the photo and listed by their awards, along with their position at the university, were:
Graduate Student Research Award – Yuanlu Niu, a doctoral student in workforce education and development.
Outstanding Tenured/Tenure-Track Teacher Award – Venkata Naga Pradeep Ambati, assistant professor of kinesiology.
Administration/Professional Staff Award – Jessie Slaughenhaupt, workforce education and development off-campus academic adviser.
Scholar Excellence Award – Yvonne Hunter-Johnson, workforce education and development assistant professor.
Early Career Faculty Award – Aaron J. Diehr, public health and recreation professions assistant professor.
Winners not available for the photo were:
Outstanding Non-Tenure Track Teaching Award – Kristiana Feeser, kinesiology teaching assistant.
Civil Service Staff Award – Julie Rottschalk-Bird, Office of Teacher Education office support specialist.