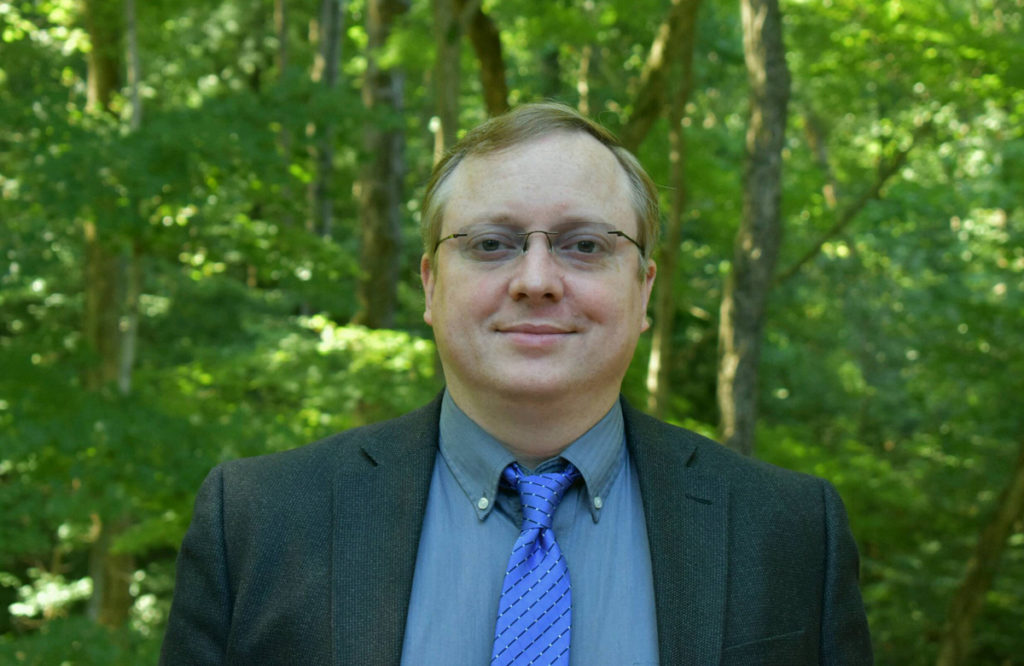 This is one in a series featuring the university's 2020 Faculty and Staff Excellence Award recipients, who are being recognized for outstanding teaching, significant scholarly and artistic contributions, and dedication to furthering the mission of the university.
Science can be viewed as a high-powered rocket, taking humans to vistas never imagined during the relatively short time it has been around.
Boyd Goodson, a top researcher at Southern Illinois University Carbondale, likes to go along for the ride.
"I admit that I don't set too many long-term goals, I just like to see where the science takes us," said Goodson, the university's 2020 University-Level Scholar Excellence Award recipient. The honor recognizes and promotes outstanding research and creative endeavors and is given only to those making outstanding contributions to their discipline and who are widely recognized for their achievements by other scholars in the field. Goodson also earns the title Distinguished Scholar.
An impressive body of work
Goodson, a professor of chemistry and biochemistry, said receiving the award is an amazing honor and a fantastic recognition of his laboratory's entire body of work.
"Not just my work, of course, but that of scores of student researchers over nearly 20 years, as well that of over a dozen collaborators, both here at SIU and around the world," he said. "It means a great deal to me, because it reflects the high esteem that my colleagues at SIU have for what we have achieved, as well as the support I have from my peers elsewhere around the world. I'm very proud to represent SIU as one of our campus's major research faculty."
Goodson earned his bachelor's degree from Princeton University and his doctorate from the University of California, Berkeley. He was a post-doctoral scholar at the California Institute of Technology prior to coming to SIU as an assistant professor in 2002.
Goodson's works focuses on the fields of optical and nuclear magnetic resonance (NMR) spectroscopies. He has published nearly 80 peer-reviewed papers and invited chapters in high-impact journals. He has five patents in the field of MRI contrast-agent development and his work has been cited more than 4,300 times.
Students remain his top priority
Since he joined SIU Carbondale in 2002 Goodson's research has received federal grants totaling more than $6.2 million as principle or co-principle investigator. In a nomination letter, Lichang Wang, a professor in the department, noted Goodson's international reputation, adding that Goodson's large number of invited talks in the U.S. and Europe support that statement.
Wang also cited Goodson's integral role in involving and supporting his students in research. Many former graduate students have gone on to high-profile jobs and undergraduates have gone on to doctoral programs.
"(Goodson) has been a tireless advocate for student participation in research on this campus and its role in fostering student career development," Wang wrote.
"I think I love most working with students, teaching them, and helping them discover something new," Goodson said. "One thing I really love is seeing what my former students can achieve, particularly if it's something that's beyond my own expertise. That makes me extremely proud."
Rising from the ashes
It's not been without adversity. Although there were no injuries, a 2010 fire in Goodson's lab destroyed almost everything. Wang said what followed was a "true story of the rebirth of the phoenix from the ashes."
"The disaster injected Boyd and company with energy and determination," Wang wrote. "With vision and love of his research and his students, Dr. Goodson has persevered and miraculously turned his devastated research program into the vibrant one with national and international recognition that we see today."
Boundless explorations ahead
Goodson said he enjoys getting out of his research comfort zone and hopes to see some of the hyperpolarized MRI contrast agents and technologies developed in his lab enter direct use not only in clinical research but ultimately in FDA-approved tests and treatments.
Lately he has become involved in some hard-core, international physics experiments as part of a large effort investigating the use of neutron scattering techniques to look for new physics beyond the Standard Model.
"It sounds pretty crazy when I think about it, but I'm not afraid of getting out of my depth," he said. "Our lab's research is always going in exciting new directions and I don't always know what those directions will be."