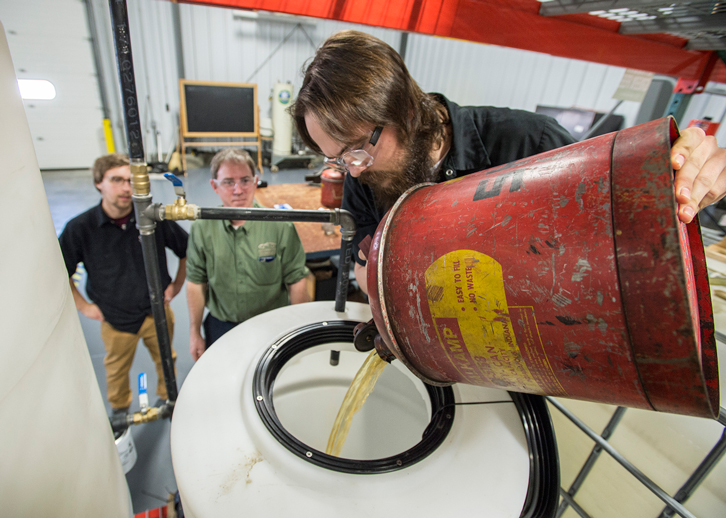 An institution as big as SIU is going to have some environmental challenges.
Think of its vehicle fleet alone. Even though the university makes great use of electric vehicles wherever it can, the oil it uses to keep cars, trucks and lawn equipment running smoothly can present an issue, and requires a substantial expense in disposal fees.
But a faculty member in the Department of Automotive Technology is working with undergraduate students and a grant from the university's Green Fund to find a way to reprocess the waste oil into a useful fuel, cutting costs and increasing efficiency in the process.
Early results show promise
Assistant Professor Blaine Heisner is investigating environmentally and economically responsible methods of utilizing waste motor oil into a useable fuel for vehicles.
Heisner and his students collect the oil, allow it to settle, and filter and clean it before blending it with other petroleum products in an effort to match the characteristics of diesel fuel.
So far, Heisner and his students have shown they can burn the oil as a blended diesel fuel, in some cases at rates exceeding 70 percent.
"We are entering into the testing slowly though," Heisner said. "Most of our vehicles are using less than 50 percent waste motor oil as fuel at this time."
SIU Green Fund gets program off the ground
Using waste motor oil and other substances, such as cooking grease and transmission fluid, as a fuel blend is not a new idea. Heisner routinely teaches the concept in his Alternative Fueled Vehicles class, and he began fueling his personal diesel vehicle with a waste motor oil blend almost a decade ago.
"I found some encouraging results; more research was needed," Heisner said. "I have lectured on the process in class and had multiple students who were motivated to perform testing on their own vehicles. Multiple students and years later and we are now in a position to perform active research on this topic."
But creating a reliable program for a large institution such as the university is a daunting challenge. Heisner wrote a grant proposal for the SIU Sustainability Office, which answered with an award from its Green Fund in April 2017.
Working with undergraduate students, including Dustin Nance and Tyler Frascone, both seniors in automotive technology, the group has since purchased the needed equipment and so far collected almost 1,000 gallons of waste motor oil, saving the university more than $750 in disposal fees.
Sustainability saves money
The group continues to refine the process and is receiving encouraging results. Testing so far has been confined to three personal vehicles, but they hope to reach a point where they can begin using the fuel in university vehicles, which increases the savings to SIU even further, Heisner said.
"We have used over 100 gallons of waste motor oil-based fuel at this time, and that number grows daily," he said. "We have an agreement with University Farms to provide a barrel of fuel for use over there, and we will be providing that very soon.
"In the future, we hope to write an external grant to purchase another diesel vehicle which could be driven longer distances and to test the performance in a more modern engine design," he said.