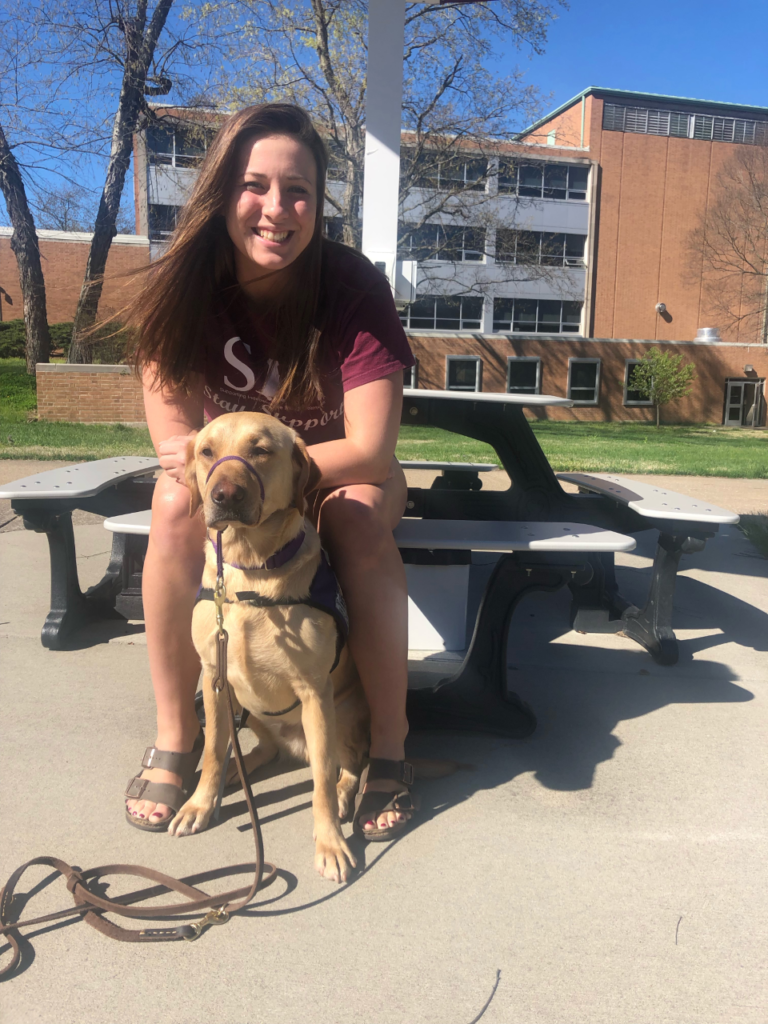 From providing a little extra love in times of stress to assisting those with disabilities, dogs offer incredible support for people in various stages of life. That is why senior Olivia Farmer, and students from all over the Southern Illinois University Carbondale campus, are joining Saluki Service Dogs to ensure more dogs are trained and available when needed the most.
Integrating the dogs to society
Growing up, Farmer, a physiology major with minors in chemistry and psychology, spent a lot of time in middle school and high school working with people with special needs at a therapeutic riding farm. When she came to SIU, she knew her passion stayed with both animals and helping people in need, which allowed her to stumble upon the Saluki Service Dogs organization and quickly fall in love with the mission.
An outreach program of SIT Service Dogs in Ava, Illinois, Saluki Service Dogs is a student organization within the college of agricultural sciences, and is devoted to giving students hands-on experience with dogs in training, promoting disability awareness in society and assisting the puppies with further socialization.
Five days a week, the owners of SIT Service Dogs bring the pups to the agriculture building, where certified students pick them up. Thanks to the American Disability Act, the service dogs can go with students as they run errands, attend classes, study in the library or simply go about their normal lives. The students start with a semester of training and certification, and then fit in as many hours of hands-on time with the dogs as their schedule affords.
Motivated by the desire to help those around her, Farmer has spent several years working with a variety of dogs to better integrate them into human society and prepare them for their eventual life-long human companion. For Farmer, the work is a simple way to spend more time with the lovable animals, while also giving back to those who are struggling.
"I fell in love with this work," Farmer said. "I have always loved animals, and I love training animals. I also really enjoy working with people with special needs, and this is such a great way to help others."
Training the dogs for service
Specifically bred for this purpose, the Irish Labrador puppies usually begin training at just three days old, and often start making outings with trainers at as young as eight weeks old. Using neurostimulating techniques developed by the military, program directors Lex Dietz and Daniel Bradley, along with a host of volunteers, train each dog specifically to fit the needs of their future companion. By starting training early, the dogs are usually ready around 24 months to start working with adults and children who struggle with medically complex issues.
Each semester, an average of 40-60 students join Farmer and the Saluki Service Dogs at weekly meetings, along with hands-on time with their assigned dog. The goal is to provide the dogs with exposure to public life by teaching them to block out distractions such as food, traffic and other people. At any given time, 12-15 service dogs are usually on campus with the students.
The students also work with the dogs on client-specific objectives, such opening doors, picking up items or pushing buttons to call for help. Each dog focuses on learning practices that best help their human companion.
"Generally, we train the dogs to work with people who have traumatic brain injuries or other mobility struggles, such as those who are in a wheelchair or need help getting around," Farmer said. "We also do seizure response, diabetic alert and autism support."
As treasurer of the student organization, Farmer is always ready to jump in and help her fellow members when they have questions or concerns. From Dietz's perspective, the comradery and support allows the students to grow in their training skills and their interpersonal relations.
"Anyone who knows Olivia knows she is hard-working and dependable," Dietz said. "But, what really makes her stand out is the way she helps the other students in a really constructive way, and deeply cares for the dogs she works with."
After graduating in May, Farmer plans to continue her education at SIU in the physician assistant program.
Reducing stress and empowering individuals
While Farmer's main motivation is to train the dogs so they can transform someone's life, her secondary goal is to raise awareness about service dog etiquette. Many people do not understand why they can't pet service dogs or interact with them in public, Farmer explained. When people understand the importance of these animals and know how to treat them, the dogs are able to do their work much more effectively.
In addition to providing help and support to those with disabilities or special needs, the dogs offer care to the students who train them, Dietz explained. Working with the animals is often a big stress reliever for the students, and gives them a purpose and a goal. Puppies also come to campus during finals week to offer a little extra care and comfort during the stressful periods.
While the process of training the dogs involves time and commitment, a very high percentage of the students come back year after year to work with the dogs and prepare them for a life of invaluable service. After graduating, students can continue working with SIT Service Dogs in one of their weekend or summer programs that are open to local community members.
For more information about joining Saluki Service Dogs, contact Lex Dietz at ldietz@sitservicedogs.com.