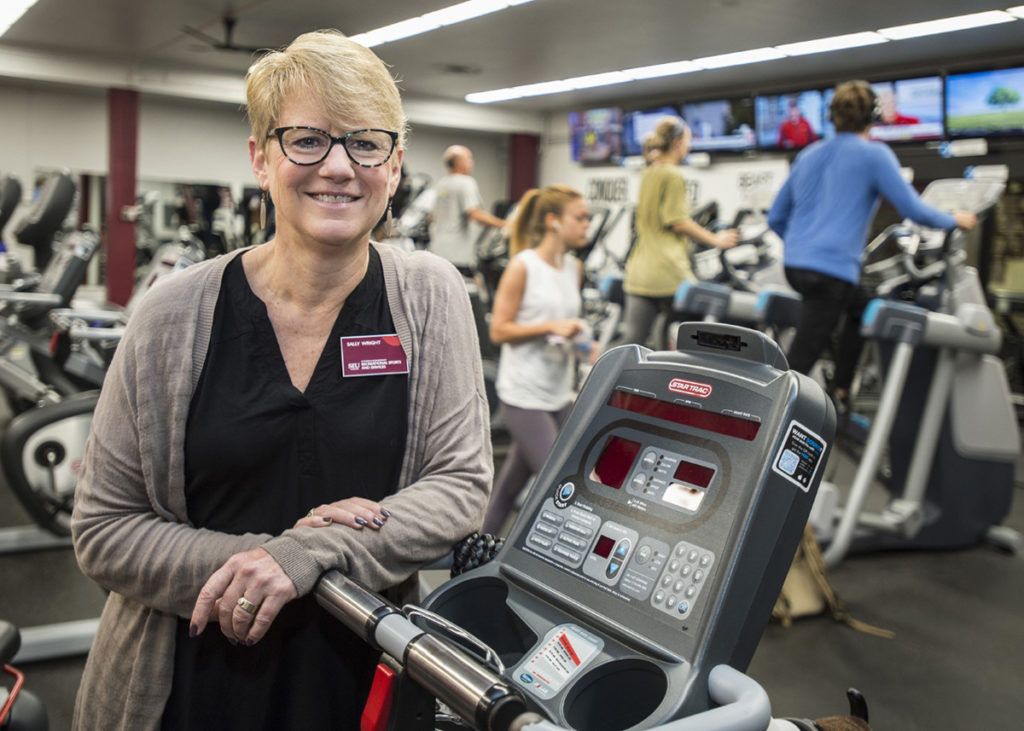 Leading the Pack is a regular feature that highlights faculty and staff members who go above and beyond to fulfill SIU's Mission. If you would like to nominate someone to be featured, fill out our nomination form.
Interacting with people and having a positive impact on their lives – that's what Sally Wright loves most about her job with SIU's Recreational Sports and Services.
"I like the ability to work with a group of people, creating an experience, helping them see it through to complete a program and feel the outcome," she said. "I also enjoy the personal connections I make with people."
It's something she's been committed to for nearly 15 years, and yet her enthusiasm is still apparent day after day. Originally hired in June 2004 as assistant director, Wright was later promoted to her current post as associate director.
Her roots at SIU run deep
Wright's connection to the university goes back much further though.
Her father, Lawrence "Rick" Erickson, was a longtime faculty member, teaching in the curriculum and instruction department from 1984 to 2001. After completing her bachelor's degree in parks and recreation at Slippery Rock University in Pennsylvania in 1985, Wright joined her parents, who had moved to the area from West Virginia. She completed her master's degree in recreational administration at SIU in 1988 and was employed by the Carbondale Park District for a time before getting the position with RSS.
Meeting the needs of thousands
Students, faculty, staff and community members log about 1,400 visits each and every day at the Student Recreation Center, and Wright is in charge of all of the programming. She handles program development and coordination for the Rec Center and she's always on the lookout for new and different things to add to the lineup.
She sometimes worries about whether or not she's got the right offerings in place and the right instructors on board, but said it seems that just when she thinks it's not going to work out, "almost magically" someone appears with the right skill set to bring it all together.
For instance, one year RSS was able to offer an Irish Celtic dance class thanks to a visiting Fulbright Scholar from Ireland. Another time, a graduate student's expertise was demonstrated while teaching a West African dance class. Wright takes the time to try the classes herself, even when they are admittedly out of her comfort zone.
"That African dance class was one of the hardest classes I've ever taken. I found muscle groups I didn't know I had," she laughs.
New programs proving successful
Recently, she's been able to re-establish scuba diving certification classes, and coordinate the new Rock Steady Boxing program, designed to help people with Parkinson's disease. There are currently about 20 people in the boxing class, established thanks to a mini-grant from Southern Illinois Healthcare, and the results have been quite positive, she said. Moreover, student volunteers assist with the program, gaining practical experience and skills for their resumes while helping other people, she noted.
"I enjoy the creativity aspect of my job and giving people what they want," she said. "I like to give them the chance to do something they've never done before."
Connects with students
The center employs about 200 students, and Wright really enjoys mentoring and working closely with them, seeing them grow and succeed, bouncing ideas off of one another.
"I like to think we're providing a big part of the campus life experience for students – contributing to their personal well-being, fitness, and life balance through recreation. Students who work here also learn very transferable skills. Regardless of their major they gain insight and experience that's beneficial to them whatever career they pursue," she said. "I enjoy those personal connections and staying in touch with the students, even after they graduate, too."
Corné Prozesky, director of Recreational Sports and Services, said he's had the pleasure of working with Wright since she was hired and has seen first-hand her positive attitude, dedication, work ethic and the effect she has on those she works with, as well as with Rec Center patrons.
"Wow! She is such an awesome human being. Her dedication to our students is an example for all to follow," Prozesky said. "She demonstrates our departments' mission on a daily basis by providing dynamic programming opportunities to enhance the quality of life for our students and other people. Through hard work and a positive attitude, Sally has earned a huge amount of respect from all her employees and peers. I am fortunate to call Sally my colleague and friend."
Team player
Wright is quick to give credit to her co-workers – both staff and students.
"I love the team of people I work with. When the going gets tough, together we are able to pull together and accomplish much," Wright said. "We operate from a 'can-do' perspective and are able to overcome obstacles to provide our patrons with the best possible experience."
As she walks up to the doors of the building each morning, it's with a sense of excitement and anticipation.
"I'm always wondering what today will bring, because every day is so different," she said. She may be solving problems, overseeing the Access Inclusive Recreation programming for individuals with differing abilities, helping people find just the right program for them, brainstorming new programming, resolving conflicts, or matching student workers with duties that match or expand their skillsets.
"I get to meet so many people here from so many walks of life; students, faculty, staff, retirees, children, community members. It's kind of like a microcosm of a global society right here and I love it," she said.
Campus collaborator
Wright is also proud of the ongoing collaborations with other units and academic areas on campus. RSS teams with Touch of Nature Environmental Center for the Rocky Ledges Train Run and other activities, with New Student Programs for Light Up the Lake, with Student Health Services for suicide prevention programs and more, as well as with academic units such as kinesiology, recreation and sport administration for program development ideas and assistance. She's also excited that the Rec Center is involved in campus-wide efforts to become more sustainable.
Wright's foray into her chosen field actually launched at the age of 15 when she got a lifeguarding job. Since then, she's worked in the public, corporate, nonprofit, private and now higher education arenas and she's worked with all ages and abilities but her goal has always been the same: "to help people improve their quality of life."
Enjoys recreation on and off the job
She an avid recreation fan outside of work as well, enjoying "all things outdoors." She seldom passes up the chance to hike, camp, swim or kayak, and she's all about the "blue mind."
She and longtime husband Mike have three cats and a dog, and the family loves exploring all Mother Nature has to offer.
Their son, Jeff, will complete his master's degree next month. It's in geography and environmental resource management, just as his SIU undergraduate degree was. Jeff and wife Dawn also enjoy outdoor activities.
Whether indoors or out, Sally Wright is a dynamo – staying active virtually all of the time.