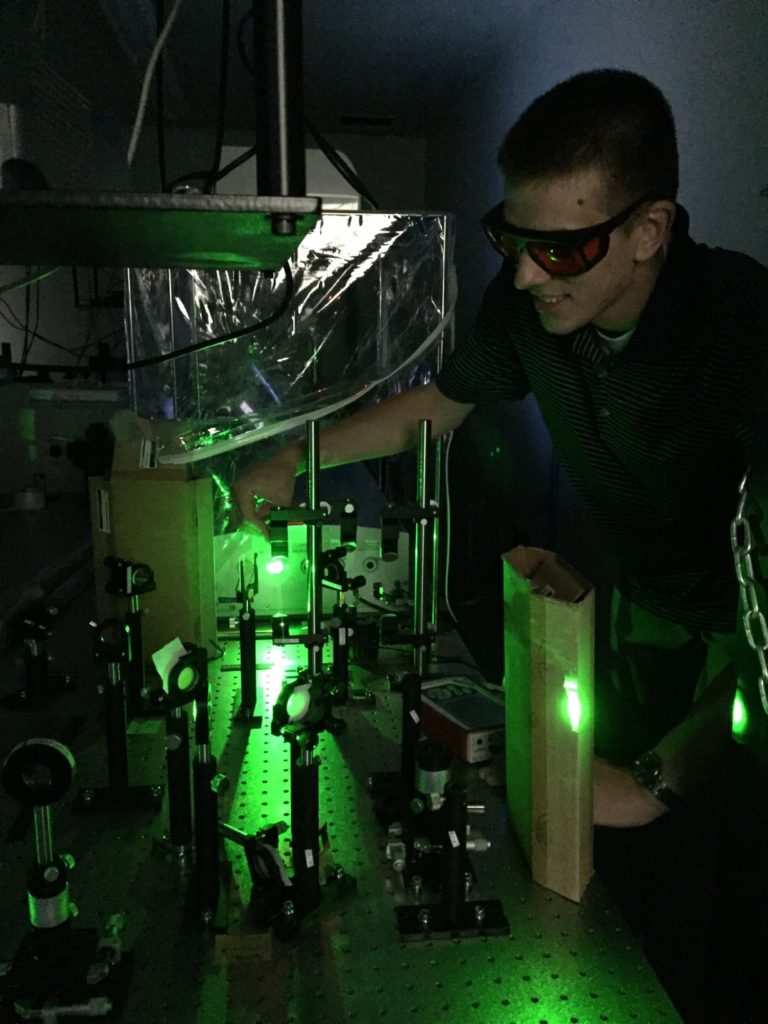 Ask Lincoln Weber what he'll be doing in Japan this summer, and the Southern Illinois University Carbondale student is happy to tell you.
"For my spectroscopy project, I'm basically testing the terahertz radiation-emitting properties of carbon nanotube films," he said. "This film sample replaced what would be a typical terahertz emitter, such as low temperature-grown gallium arsenide, and then by running a normal pump-probe experiment I could measure the strength of the radiation it emitted."
Easy for him to say.
But then that's why his skills as an undergraduate researcher will be taking him on his second trip to the land of the rising sun in as many years. Weber, who works at SIU under the guidance of Saikat Talapatra, chair of the physics degree program, will work this summer at the Okinawa Institute of Science and Technology Graduate University. There, he will work with Keshav Dani's research group doing terahertz spectrometry using crystal structures known as perovskite materials.
Second trip to Japan
Last summer, Weber went to Osaka University for three months to do research in a lab at Osaka University. There, he worked in Masayoshi Tonouchi's research group also doing terahertz spectroscopy of aligned carbon nanotube films.
The fellowship was part of the Research and International Experiences for Students program, which connects undergraduates with the best of science and engineering research in the United States or Japan.
Fellows from the United States spent up to 13 weeks in Japan from mid-May to mid-August. Their training included a two-day pre-departure orientation at Rice University, a three-week Japanese language, culture and society orientation and introduction to research in Tokyo. The fellows spent nine weeks doing hands-on science or engineering research before returning home for a three-day re-entry program at Rice University, with the capstone being the presentation of a research poster at a Rice University research symposium.
When he finished that fellowship, Weber had this to say about the experience:
"The biggest takeaway … was my realization that different people from different places work, live, and behave differently, but they can still collaborate effectively to do great things, especially in the context of physics research," he said. "I feel very lucky that I have been able to see both the Japanese approach and the American approach to research, and I'm sure that will help with international collaborations during graduate school and during my career."
Nano-scale technology could pack big punch
All the work is done at the nanoscale, where structures and "nanotubes" are measure in the billionths of meters. The work is aimed at learning more about the dynamics of charge-carrier movement in crystalline materials. Such materials are hold great promise for making smaller and smaller electronics, such as semiconductors, and already are being used in a variety of real-world applications, such as transistors, medical technology and solar cells.
"Investigating crystalline layered materials' electronic properties on the nanoscale is one area of research that will be developed greatly in coming years," said Weber, a double major in both physics and the mechanical engineering degree program.
Practical applications could have major impact
In the team-based environment, Weber's job is to characterize these tiny, nano-sized structures, using spectroscopy to determine how various materials might behave under different conditions. It's fundamental research, and it's difficult to say where it exactly in might lead, Weber said, but the potential gains are enticing.
"It wouldn't be wise to speculate specifically about what commercial applications my research may be used for in the future," he said. "But if I can create a new, better semiconductor device, for example, it could have far reaching applications in a wide variety of areas, such as the energy industry, consumer electronics and sensors."
Undergraduate research a staple at SIU
But Weber doesn't have to go to Japan to work with top-notch research teams. At SIU, he works on experimental condensed matter physics research in Talapatra's lab, where he focuses on semiconducting nanomaterials. Currently he's involved in several projects involving the synthesis and characterization of materials including carbon nanotubes and two-dimensional layered materials.
All of this as an undergraduate. But at SIU, undergraduate researchers are heavily supported and encouraged. Weber, a second-year student but already a senior by virtue of the credits he has earned, specifically has benefited from SIU's Energy Boost Scholars program, as well.
"Undergraduate research has been very important to me as far as education outside the classroom and satisfying my curiosity goes," Weber said. "Many of the topics I learn about in the lab aren't mentioned until senior year of a typical physics track, and lecture classes really aren't as investigative as research is."
Weber has definite ideas about his future plans, which include earning a doctorate in materials physics and aiming for a post-doctorate spot at a national laboratory.
And of course, doing lots of research, especially at the nanoscale.
"Eventually I would like to have a full-time position in a national lab, perhaps somewhere like Oak Ridge National Laboratory," he said. "Generally I am interested in research because it's rewarding, creative work that I don't get to do in the classroom, and I enjoy nanomaterials research because I think it's pretty crazy that researchers can manipulate and characterize materials at the atomic scale. I want to be a part of the surge of research in this field."