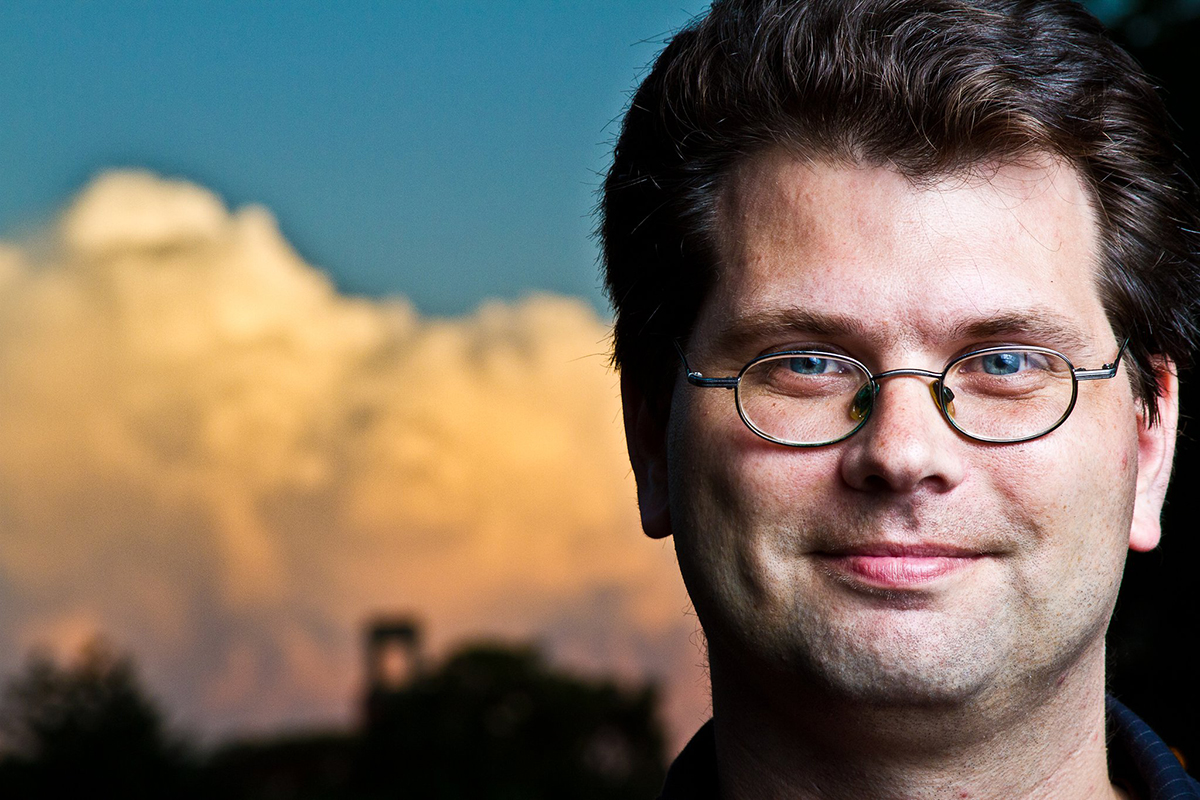 Leading the Pack is a regular feature that highlights faculty and staff members who go above and beyond to fulfill SIU's Mission. If you would like to nominate someone to be featured, fill out our nomination form.
Growing up, Jacob Juntunen didn't know exactly where life would take him, but academia was not on the top of his list. That is, until he stumbled upon the world of playwriting and suddenly found his calling.
Now, as associate professor of dramatic theory, criticism and playwriting at SIU, Juntunen is focused on mentoring students and encouraging the next generation of theater professionals.
In his perspective, understanding performance is not just about theater; it transfers into every area of life, from understanding politics to understanding media. That philosophy motivates Juntunen to guide his students toward their best futures.
Mentoring students for future success
For Juntunen, students learn most effectively when actively engaged with the material. That's why he started a unique event, Big Muddy Shorts, to showcase the work of his playwriting students.
Once a month students write, cast, rehearse and perform a five-minute play in public. The students only hear the theme a week in advance, and must work quickly to organize all of the pieces.
While Juntunen doesn't expect masterpieces to develop from this format, his goal is to push students to hone their skills in an active learning process.
"Part of the exercise is seeing that if you try something, especially if you try something difficult, and it doesn't work, it's not the end of the world," Juntunen said. "In fact, you might get a lot of knowledge out of your failure. You might learn more from a failed play than a successful play, in some ways."
Juntunen also serves as faculty advisor for the student organization, New Play Lab. The group is open to students across campus, but specifically focuses on new play development and production.
One event the RSO sponsors is the 24 Hour Project. Every year the students break up into teams, and then have 24 hours to write and produce a public production. The annual event is a fun way for students to expand their limits and try new things, while also gaining valuable writing, acting, directing and producing experience.
World premiere of Juntunen's play this weekend at SIU
After dropping out of high school at 16, Juntunen might not have seemed like the usual candidate for a life in academia. However, after returning to community college, and then completing BA, MA and PhD degrees, his unique journey prompted him to ask deeper questions about the norms of academic life.
In 2011, Juntunen began work on a play outlining the real pressures students face at university settings. After receiving recognition across the nation while still in its written form, "In the Shadow of His Language" is set to premiere live on the Southern Illinois University Carbondale Campus this weekend.
SIU theater students will do the acting, with directing by J. Thomas Kidd, chair of the SIU theater degree program. Performances are 7:30 p.m. on Thursday, Friday and Saturday, and 2 p.m. on Sunday. Juntunen will be part of a pre-show chat open to the public at 1:30 p.m. on Sunday before the show. Productions will be held at the McLeod Theater, with tickets available at the SIU Arena or McLeod Theater, or online at events.siu.edu.
For Juntunen, the message of the play speaks to first generation college students who are struggling to find their way through the unspoken codes of academia, as he once did. Juntunen also hopes the play gets the conversation started among professors and university administrators as to what can be done to recognize and assist these students.
"I hope first generation students can relate to this play and it gives them some comfort and hope that they are not alone," Juntunen said.
Research, writing and family keeps Juntunen busy
Work tends to blend with family and fun for Juntunen, as he is currently working on multiple research and writing projects, including editing an anthology of scholarship on East European theatre and performance with his wife and distinguished historian, Meghann Pytka.
The couple often travels back and forth from Poland with their 3-year-old daughter Zocha, speaking at universities and continuing their research.