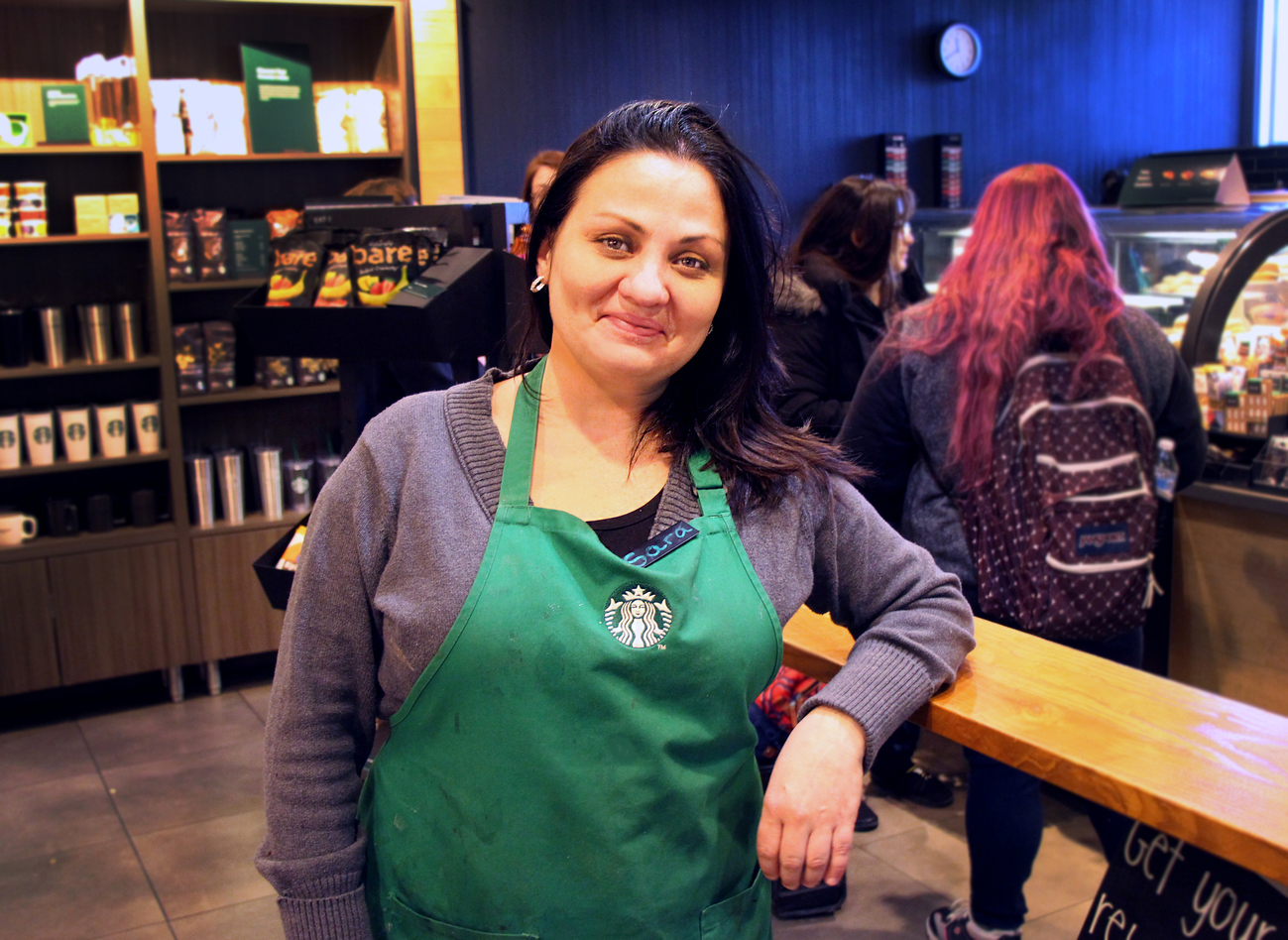 Leading the Pack is a regular feature that highlights faculty and staff members who go above and beyond to fulfill SIU's Mission. If you would like to nominate someone to be featured, fill out our nomination form.
When Sara Wright first started working at the Student Center Subway in 2005, she had no idea it was just the start of her journey on the SIU campus. Now, after many years working in a variety of catering and food service positions, she has found her home making people's favorite drinks at Starbucks and finding little ways to connect with the hundreds of people she serves.
Using little moments to connect with students
After 12 years at Starbucks, Wright has picked up a thing or two about not only coffee, but also the value of connecting with each student who orders a drink. Whether it is a simple smile or kind word, Wright believes the little things can make a big impact.
"I take a lot of pride in remembering the student's names and their drinks," Wright said. "Somehow those small things can really make a difference in somebody's day."
Wright doesn't stop with just remembering people's names and their favorite coffee, she also chats with students about their families and various other details about their life on campus. Remembering the little details is Wright's way to connect with the students and offer them a little encouragement in their day.
Recognized as a devoted and dependable worker among her co-workers and supervisors, Wright is always quick to help wherever she can. For Drew Arnone-Hillis, store manager, Wright is the one to make Starbucks feel like home every semester.
"Sara is a cornerstone of the SIU Starbucks experience," Arnone-HIllis said. "Having been here for the last 12 years, she constantly encourages students throughout their academic careers. Her ability to remember everyone's name and drink brightens the days for the students and visiting alumni."
While creating each person's favorite blend and listening to them talk, Wright feels like she also gets a taste of new places, cultures and ideas.
"Every day it seems like the whole world comes to me," Wright said. "I have made a lot of memories and it has been really fun."
Mentoring students
As a shift leader during the weekday hours, Wright manages about five student workers at a time. Many of these students have no previous work experience, which gives Wright a unique opportunity to mentor and encourage the young people along their career journey.
"This is the first time for many students to deal with things like time management and prioritizing," Wright explained. "I try to stress the importance of punctuality and dependability."
These qualities are vital for the students to be prepared when they graduate and go out into the world, Wright explained. When lines start to back up and people get flustered, that is when Wright likes to offer gentle guidance to help the student-workers adapt and stay concentrated on one task at a time.
"I really try to keep good morale here," Wright said. "It can get challenging when we get busy, especially for kids who don't have a lot of prior work experience. My goal is to help them keep a good attitude and stay focused on their job."
Building an SIU family
For Wright, SIU isn't just a place to work; it has become her family. While she keeps busy with her 15-year-old daughter and working part-time at Dollar General in Desoto, she also makes it a priority to stay connected with those she has worked with over the years.
"I form some really close and long-lasting relationships with a lot of the students who work here over the years," Wright said. "Some of them haven't been here for five or six years, but I still talk to them and stay in touch."
After so many years chatting with people on campus and working as fast as she can to keep customers happy, Wright feels that SIU is home. One day she hopes to pass that love on to the next generation.
"I would love for my daughter to go on to something at SIU and become a Saluki one day," Wright said.