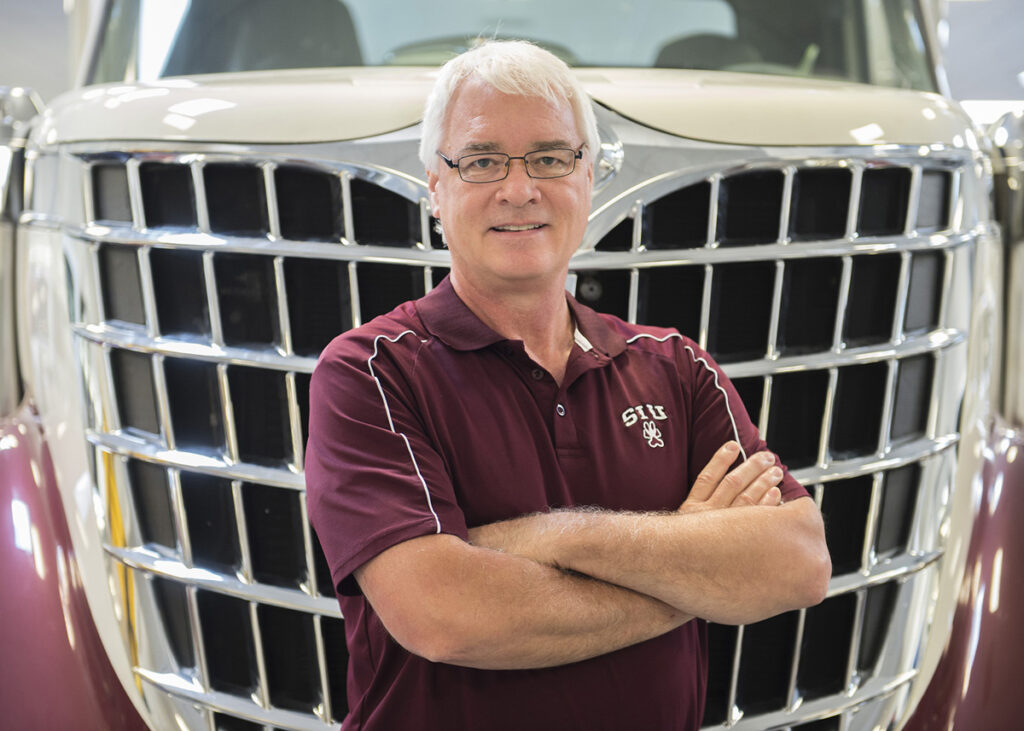 Jessica Suda knew that Southern Illinois University Carbondale's Automotive Technology program was in her destiny during student move-in day in August 2008, when she noticed now-department chair Michael Behrmann carrying a large stuffed lion from her dad's truck up into her University Hall residence hall.
That "shameless kind act" still brings a smile when Suda, who herself is now an assistant professor in the program, recalls the moment. Whether it's carrying stuffed animals, making sure students understand course material, hauling vehicles to car shows, or meeting with industry partners to secure nearly $500,000 in donations annually, Behrmann "is the consummate ambassador for all of SIU," according to another colleague.
That dedication puts Behrmann in the spotlight as the 2020 recipient of the E.J. and Mary C. Simon Distinguished Faculty Award for the College of Applied Sciences and Arts. E.J. Simon was dean from the college's inception in 1951, until his retirement in 1970. Both he and his late wife, Mary C. Simon, remained strong supporters of the university and the college.
The Simons' left a "powerful imprint at SIU" and the award carries with it "responsibility in continually accelerating forward," said Behrmann, who donated the award monies to SIU for student support.
"It touches me for being selected amongst so many exceptional people. In earning the award, I look back to those that came before me and gave so much. It is because of them that I even had this opportunity," Behrmann said. He added he could not have the fulfilling career he's enjoyed without the understanding, support and love from his wife, Chris and daughter, Jill.
Commitment to the program
Suda nominated Behrmann and said the "strong impression" of Behrmann deeply caring for each student success both in and outside the classroom continues to resonate.
Arthur Ross, a May 2020 automotive technology graduate, was involved with the Automotive Technology Organization while on campus. He noted Behrmann took time even while program director and associate dean of academic affairs to drive the club's truck, trailer and race car to an event in Springfield, Illinois or attend club racing events, even in other states.
Ross noted that Behrmann is regularly recruiting students to the program and works late nights, early mornings and weekends in the Transportation Education Center.
"Every time he is in the building his office is open, for whatever you need," Ross wrote.
Behrmann said many people have helped him during his time at SIU and that "even the smallest thing can make a big difference."
"Here in automotive, everyone works together, students, instructors, and staff alike," Behrman said. "Whether it be helping students move in, face a new challenge, or just day-to-day activities, we all help when needed. Each of us realizes the importance of supporting, mentoring, and taking the time to give guidance."
Take advantage of opportunities
Behrmann said he expects students to take advantage of the opportunities that SIU offers.
"Their short time with us has the potential to setting the foundation for the next 35 years of their career," he said. "Work hard, learn as much as you can, seek new opportunities, and take pride in being an SIU Automotive Saluki."
Three-degree alumnus
Behrmann has been department chair since 2010 and spent more than 35 years with the nationally recognized automotive program as a student, instructor, and assistant and associate professor. He earned an associate degree and bachelor's degree from SIU and followed with a master's degree in Workforce Education and Development. He also has more than 2,000 hours of automotive industry certified training.
Behrmann said his move toward education after graduation resulted from helping faculty members prepare laboratory experiments for their classes. As he prepared to enter corporate life, Behrmann said several faculty members asked if he had thought of entering the teaching profession.
Returning for a semester allowed Behrmann to develop a consulting company, do contract work for major automotive corporations and also teach and share his industry knowledge with SIU students.
"I enjoyed that aspect of teaching and giving back. Over time, teaching for SIU took priority," he said.
Growing program
Eugene Talley, an associate professor, wrote that Behrmann continues to research any topic to make the program better and that his knowledge has been an "indispensable resource for myself and the growing number of faculty."
Since moving into TEC in 2012, the automotive program has grown from 140 students to more than 300. Talley notes that Behrmann continually meets with industry partners to secure additional funding. Without these donations, "the program could not stay on top of technology trends in the industry to uphold the high standards this program is known for internationally," according to Talley.
The importance of alumni and industry partners in supporting the program's mission is significant, Behrmann said. The support can come in "interesting materials or training for faculty, components or vehicles for labs, financial support for students, or even just time in helping to mentor a student," he said.
"Technology and industry business operations are continually advancing," Behrmann said. "Our students must be prepared to help lead some of the world's largest corporations, develop and grow small businesses, and be technically astute with today's sophisticated vehicles and mobility systems. Our students are intelligent in many different ways, but they all still contain the drive and thirst for knowledge and experiences."