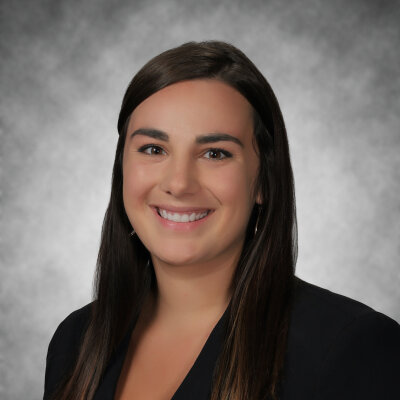 The opportunity for experiential learning is one of the significant components that SIU School of Law students receive.
Emily Kudek is one of the examples of taking full advantage of that opportunity. With a desire to one day become a prosecutor, Kudek, who is from West Bend, Wisconsin, worked more than 850 hours in district attorney's offices in two states during her three years at SIU Carbondale. The May 2020 law school graduate earned the law school's 2020 Pro Bono Award.
"Pro bono" is a shortened form of the Latin phrase "pro bono public," which means "for the good of the people." The term typically refers to legal work performed as a public service and free of charge or at a reduced fee.
"The thing that I enjoyed most about the pro bono work was being able to get comfortable in the courtroom, speaking to judges and other attorneys and just seeing how the daily operations worked in the office," Kudek said. "There's a lot of things about law a book in school won't teach you and the experience is something I think will really help me in the long run."
Busy in two states
Kudek said she began her pro bono work the summer after her first year of law school and completed it her last semester after finishing her hours needed for externship credit. She is now preparing to take the Wisconsin bar exam in July. The value of experiential learning is just as important as textbook material, she said.
"You can know all the laws in the world, but if you don't know how to apply them to real life, or how to talk to a judge, you won't make it very far," she said.
Working in both the Brown County District Attorney's Office in Green Bay, Wisconsin, and the Williamson County State's Attorney's Office in Marion, Illinois, Kudek explained she initially did a lot of behind-the-scenes work with research and reviewing police reports and observing court before obtaining her student practice license, or 711 in Illinois.
She then appeared on the record and participated in a variety of court hearings, including motion hearings, initial appearances and conducted two bench trials in Brown County. In Williamson County, she focused on conducting a few preliminary hearings, which are used to establish probable cause for prosecutors to move forward with a criminal case.
Possesses 'all of the qualities' to be a prosecutor
In Williamson County, Kudek worked in the office for one semester but returned a second semester for pro bono work in addition to her internship credit. State's Attorney Brandon Zanotti said. He noted Kudek always indicated a desire to return to her hometown area to become a prosecutor.
"Emily possesses all of the qualities I believe make a great prosecutor," Brandon Zanotti said. "She is intelligent, but humble. She is tough, but fair. She understands the need for public safety, but also has compassion to know when someone needs help versus punishment. She is wise beyond her years, and I am confident she will make a fantastic prosecutor."
Zanotti said he averages utilizing two to three interns from the law school each semester, including during the summer. He tries to tailor their internship experiences around "their respective and unique interests." For example, he noted some students love legal research and writing, while others desire to be in the courtroom "around the day-to-day action."
He was not surprised to learn Kudek earned the Pro Bono Award
"Once in a while you come across a law student that really shines bright in terms of intellect, passion, and dedication to the ideals of what being a lawyer is all about," Zanotti said. "Emily is that student, and I am confident she will go far in her legal career."
First in Illinois
The law school was the first in Illinois to include a minimum 35 hours of approved pro bono work as part of a graduation requirement; the work must be law-related, uncompensated, supervised by an attorney and not for academic credit.
John Erbes, the law school's Legal Clinic director, oversees the pro bono program. Most students do more than the required minimum, with about 20 percent of the May 2020 graduates completing at least 150 hours, he said. That Kudek completed more than 850 hours is "outstanding."
To put the number in perspective, if Kudek did most of the hours over the summer after her first or second years of law school, she would have averaged more than 30 hours of volunteer work a week for the entire summer. If she was a paid student making $15 per hour, her pro bono work value would be almost $13,000, Erbes said.
"The law school experiential courses stress the importance of doing pro bono work and a commitment to pro bono work is demonstrated by the large number of all our faculty who do their own pro bono work," Erbes said. "It is our hope that this will instill the value of pro bono work to our graduates who go out into practice and give of their free time to provide access to justice to those who otherwise would not have it."
Zanotti said he applauds the law school for requiring certified pro bono hours to graduate.
"The practice of law is truly about service; service to the public and service for the common good," he said. "Nothing helps instill this aspect of the practice of law into budding lawyers like meaningful pro bono work."
Good advice from dad
Kudek is the daughter of Gerald and Lisa Kudek. In December 2015, she earned a bachelor's degree in Democracy & Justice Studies with an emphasis in Law and Psychology December from the University of Wisconsin-Green Bay and worked for about a year before beginning to apply to law schools.
Her father attended SIU Carbondale for his bachelor's degree in Fire Science Management and mentioned the law school, Kudek said. After applying, getting accepted, and touring the campus and area, Kudek said it was the place where she felt like she belonged, even though it was "definitely a leap, packing and moving seven hours from my home to somewhere I didn't know anyone."
It was however, Kudek said, the "best decision I ever made."
"SIU really became my second home the last 3 years and I couldn't be more pleased with my decision to have attended there," she said.