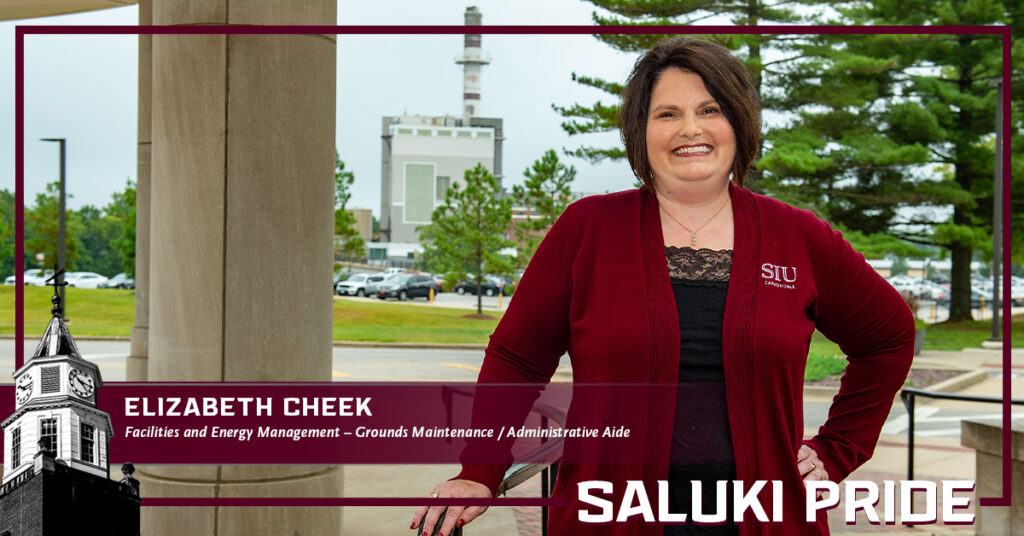 A veritable army of employees work together to keep the SIU campus in top shape and good repair. For two decades, Elizabeth Cheek has been an important part of that effort. Working in Facilities and Energy Management, Cheek has been involved in a wide range of campus maintenance efforts, including Building Services, Personnel and Payroll, and Grounds Maintenance, as well as SIU's Tree Campus efforts and its arboretum.
And as a two-degree SIU graduate, she is steeped in Saluki Maroon, with many family members either working for the university, completing degrees there or both. She also serves as the vice president of the Civil Service Council.
Cheek will move to a new position – administrative assistant to the director of undergraduate admissions – on Oct. 1, where she will continue her mission as one of SIU's caretakers.
Get to know ELIZABETH CHEEK
Name: Elizabeth Cheek
Department/title: Facilities and Energy Management – Grounds Maintenance/Administrative Aide
Years at SIU Carbondale: 21.5
Give us the elevator pitch for your job.
I am currently serving as an administrative aide for Grounds Maintenance. This position provides support to the superintendent of grounds, three maintenance laborer foremen, one automotive foreman, six maintenance equipment operators, 38 maintenance laborers, two grounds equipment mechanics and six extra help employees. Some of my duties include routing phone calls and messages to the correct foreman as they are out working on campus, calendaring, reviewing timecards for payroll, P-card review, records management, website updates, tracking equipment hours, inventory, signage and other various office work. With various events going on throughout the year on campus, this job is not the same every day, which is what makes it so interesting. This position also provides support to the Tree Campus Higher Education Advisory Committee and the Arboretum Advisory Committee initiatives on campus, including the campus tree inventory. This role places me in direct contact with our students as I am part of interviewing and hiring student workers. Interaction with the students is one of the best parts of this position.
What is the favorite part of your job?
I am very fortunate to work alongside very talented and motivated staff and students who make a difference every day. Interacting with staff and students as they come and go, and just watching them grow throughout their time here, is the most rewarding.
Working in various settings such as Building Services, Personnel and Payroll, and Grounds Maintenance within Facilities and Energy Management has afforded me a very diverse skillset, and it has allowed interaction with others across campus. I enjoy opportunities to work on initiatives such as Tree Campus Higher Education and the campus arboretum, which are both initiatives that highlight the beauty of our campus and share a more hands-on learning experience for the forestry students and the community.
I also serve as the vice president of the Civil Service Council, which is a group I have been a part of in various roles over the last 20 years. In this capacity, it is very important for me that each employee and student know how valuable they are to the success of our institution, but also the surrounding communities.
Why did you choose SIU?
I am a second-generation Saluki and the first in my family to hold two degrees from SIU, completing my second during a pandemic. My father graduated from SIU as did my brother, husband, and sister-in-law. Having grown up in the neighboring town of Pinckneyville, it was an obvious choice for school and employment for us. My husband, Ryan, is currently a second shift building service sub-foreman at the Glenn Poshard Transportation Education Center. Our oldest son, Ethan, is a junior in automotive technology at SIU, and he is employed by Mevert Automotive in Steeleville. Our second son, Evan, will be joining the Saluki family next fall, and we look forward to seeing where SIU takes him. We owe a lot to a university that has been so good to our family in many ways, and we take great pride in being a part of the Saluki family.
I'm happiest when I am …
I am the happiest when I am relaxing with family and friends. Add a beach location and I am set!
At the top of my "bucket list' is to …
I would like to travel to Hawaii and visit Pearl Harbor. My grandfather was stationed there, and it has always been on the top of my bucket list.
My favorite activity away from work is …
I currently work day shift for SIU and evenings and weekends remotely for the Jackson County Health Department, which means my spare time is very limited. However, I always find time for events my kids are involved with. I currently serve as the vice president of Pinckneyville Shooting Sports and am a representative for SIYSSA (Southern Illinois Youth Sport Shooting Association). I have been a part of these organizations since our oldest was in the fifth grade. Our second son, Evan, currently is a senior at Pinckneyville High School, and he also works for the Illinois Department of Natural Resources at the World Shooting Recreation Complex in Sparta and the Illinois Department of Agriculture in Du Quoin. While Ethan is shooting in competitions or coaching our team, you can always find Evan scoring, loading houses or working behind the scenes at WSRC. At 9 years old, Eli is our youngest son. He keeps us busy with travel baseball and basketball.
My favorite toy or item growing up was ….
This is tough because I had several. I loved my dolls mostly because my great-grandma made the clothes for them. However, I grew up with an older brother and mostly boys in our neighborhood. Our parents have a ranch style home with a long hallway by our bedrooms. My brother and I spent many hours running our Matchbox cars up and down the hallway and through ramps we had built. We may or may not have been the reason our parents had to replace the baseboard in the hallway. Ha ha!
I also grew up in a family that ran two florists and wholesaled to all of Southern Illinois, making flowers one of my favorite items. There were many late-night trips involving three generations traveling to Lambert Airport to pick up flowers for the Southern Illinois region and then returning to the warehouse to unbox, cut and place them in water to be sold the next day.
More than anything these toys and items meant spending time with those I love, and as we get older, those memories become priceless.
Know a colleague to feature in Saluki Pride? Simply fill out this form.