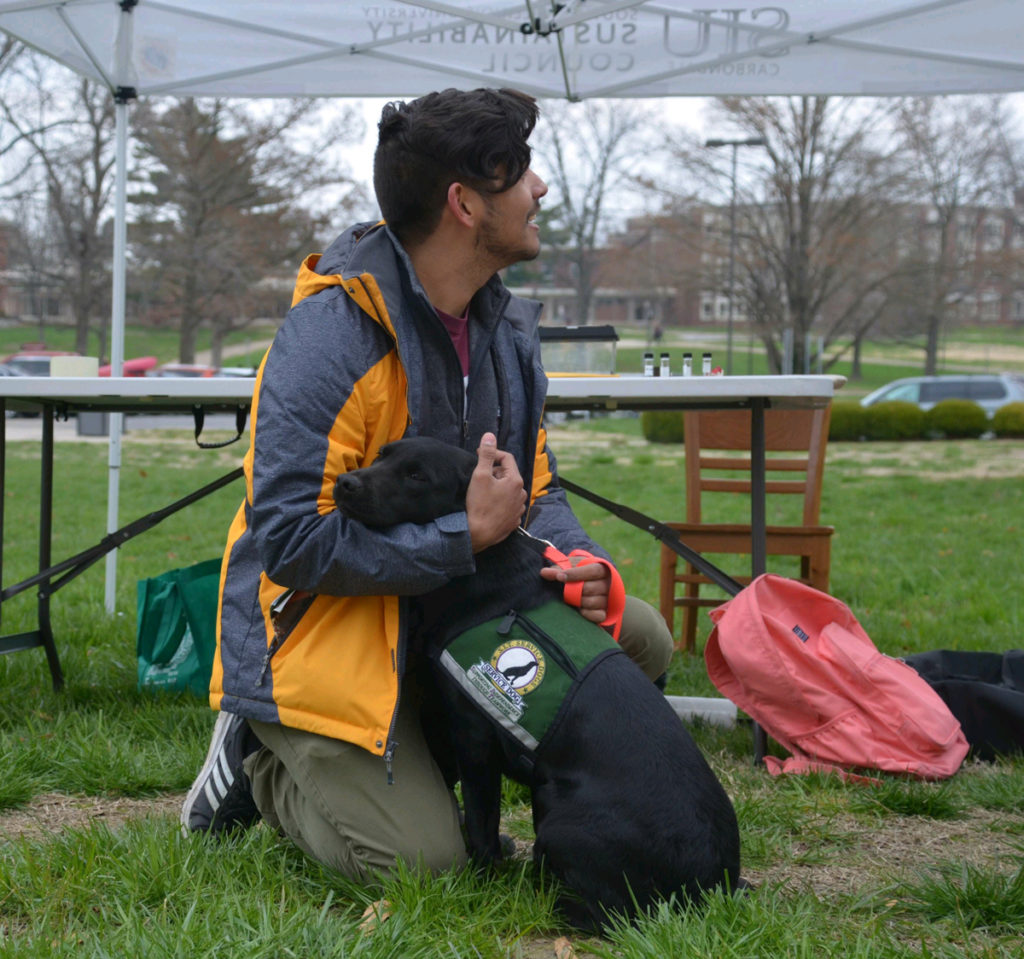 First responders face tremendous responsibility in times of disaster, with expectations to arrive on the scene in a matter of just a few minutes. Yet, response times greatly depend on accurate routes, geography and maps to keep the system running smoothly.
One Southern Illinois University Carbondale student is spending his summer updating GIS data for the Williamson County 911, with the goal of increasing the efficiency and effectiveness of local first responders.
Updating systems to make life easier for first responders
The Williamson County 911 includes the Herrin Police Department, Marion Police Department and Williamson County Sheriff. With approximately 67,466 citizens to serve over 432 square land miles, first responders must act quickly to arrive in times of disaster.
Luis Prado, a senior from Westmont, Illinois, is working as an intern at the Williamson County 911 to analyze the current routes and geography patterns of the emergency responders. A big portion of Prado's job is working with raw data sets to update the information and ensure personnel have access to the most accurate routes.
"Basically, I look through the map and fix very small details they haven't had the opportunity to fix," Prado said. "In the long run, this helps them get to places faster when they get a call."
Thanks to his background as a geography and environmental resources major, with a specialization in geographic information systems, Prado is already well versed in the ArcGIS system used by the Williamson Country 911.
Most of the data comes to him in ArcMap, which he then exports to Excel and analyzes the information. While most of his changes are small, the goal is to update the maps and routes to save precious minutes during an emergency.
Working under the supervision of William Barrett, SIU alum and 911/EMA Coordinator for the City of Marion, Prado joins other interns who have previously helped with the atlas for the county and emergency service boundaries.
"Luis will be working with Williamson County 911 to help match the address that the assessor's office has to the physical address that 911 is using," Barrett said. "This will help us when we have an emergency in the county, to find people with much more accuracy. The work that he and others have done for us has been very valuable."
Internship sets Prado up for the future
The internship includes 100 hours of work, which Prado plans to finish this summer. Set up as a class through the geography department, Prado sees the opportunity as a way to gain valuable experience working with data, data scrubbing and GIS technologies.
"This is all stuff I know I can take with me moving forward," Prado said. "I get a lot of time to refine my skills and become more experienced in GIS."
REACH and McNair Scholar
In addition to his summer internship, Prado plans to intern with the City of Carbondale, working with city planning on various projects. He also earned a REACH scholarship last spring and is launching his research project this summer, under the guidance of Ruopu Li, geography assistant professor.
The team will use drones to take pictures of three local bodies of water to monitor for harmful algal blooms.
"What we are trying to do is create a more cost effective way to monitor harmful algal blooms," Prado said. "Usually, you need a big team of volunteers to go sample the water. We are trying to simplify the process by flying drones over and analyzing the pictures."
The research is just beginning, with Prado earning one year of funding under the REACH Award. He also received a McNair Scholars award, which will allow him to collect preliminary data and start sampling the water bodies, along with helping to build an understanding of the HAB spectral information applying to the drones
An eight-week program, the award comes with additional funding which will help Prado in his long-term goal of publishing the research.
Prado is deeply involved with a variety of student organizations and events on campus, serving as president for Phi Mu Alpha, the Honor's Assembly, the GIS Club, the Spoken Word RSO and the Wall and Grand Area Council, and as the public relations officer for Saluki Service Dogs.
Following graduation next year, Prado plans to attend graduate school and continue forward in a variety of public service avenues.