Pearce Bolton was totally focused as he climbed behind the wheel of the car. The man from Mt. Pleasant, South Carolina, was determined to show that having a disability wouldn't stop him from properly navigating the streets of Carbondale.
James Wooldridge, driver rehabilitation specialist for Southern Illinois University Carbondale's Evaluation and Developmental Center (EDC), sat beside Bolton, occasionally offering a gentle navigational reminder.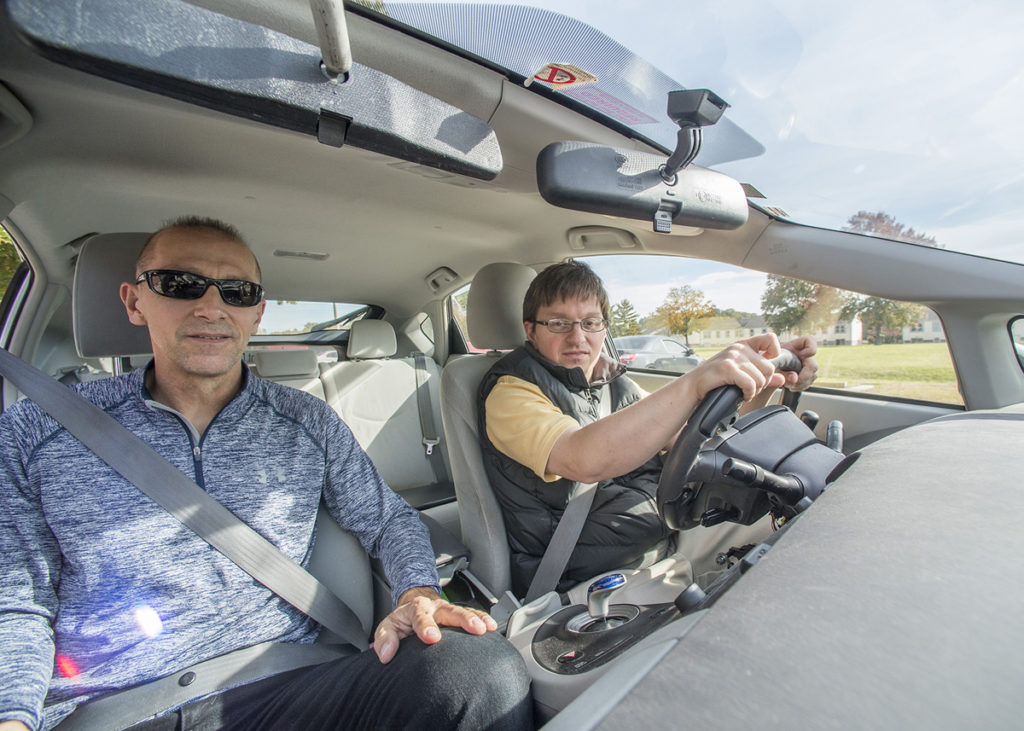 The focus this day was on helping Bolton learn to handle all different types of intersections and remember to be looking 20-30 seconds ahead on the road, addressing problems before he got to them. Wooldridge said campus serves as a great training ground for EDC clients.
Bolton was obviously learning the lessons well, as he pointed out to his instructor that a nearby driver had erred in stopping on top of a crosswalk. Bolton's goal is to get his driver's license and Wooldridge said his hard-working student is well on his way to reaching that goal.
With years of driver's education teaching experience, Wooldridge enjoys helping people with disabilities learn to drive and become independent.
"All of my clients add something to my day," he said. "Every day it's new and different here."
Just one of many services offered
The driver's evaluation and training program is just one of the many services provided at EDC. The center offers a myriad of programs, including vocational and psychological assessment, work skill development training, driver rehabilitation and community employment services. The living center also offers life skills training.
In fact, virtually anything people with disabilities might need to know in order to live and work on their own is taught there. And at EDC they get to practice what they're learning and get connected to the life they want to lead.
Interests, skills and abilities are assessed to determine what type of job is best for a person and then they learn how to complete a resume, apply and interview for a post. But it's not enough just to help clients get a job; the EDC strives to ensure that the individuals it assists can keep a job, staff members say.
Thus, the clients learn the necessary work skills as well as social skills, how to handle on-the-job conflicts and proper workplace social behavior. The EDC also works with and supports employers' efforts so the hire is successful for the long term.
Preparing for life
There's a lot that goes into being able to live independently and the center covers all of the bases. Clients need to be able to get around town, whether to get to a job or to the store or other locations. The center offers driver rehabilitation services, complete with training in the classroom and behind the wheel. Adaptive equipment is also provided as needed to assure the client can properly operate the vehicle. Practice makes perfect, so there's plenty of supervised driving time.
"What sets us apart from most programs in Illinois is we have a driver's rehabilitation program," LaDonna Henson, EDC director, said. "Transportation is a huge issue in Illinois, especially in this area and some other parts of the state. Being able to get back and forth to where you need to go is critical to being independent."
Clients also learn how to utilize public transportation.
Living done right
EDC's structured, transitional residential unit is set up as supervised, dormitory-style living. It's a 16-bed facility with two people sharing each room. The unit features a large living area, recreation room and a kitchen – where residents work together to plan, cook and clean up all meals.
There's plenty of time and opportunity for social interaction, but the goal is to help young adults ages 16-25 gain all of the skills they need in order to live more independently.
That means learning to shop, count money and budget, plan and cook meals, clean, do laundry, make and maintain schedules, awaken by an alarm, take care of personal hygiene and medication needs, utilize public transportation, perform basic home maintenance and much more.
Case managers meet with clients and assess their needs, figure out why they are having difficulties, establish goals and create plans for reaching those goals. As they progress, goals are adjusted.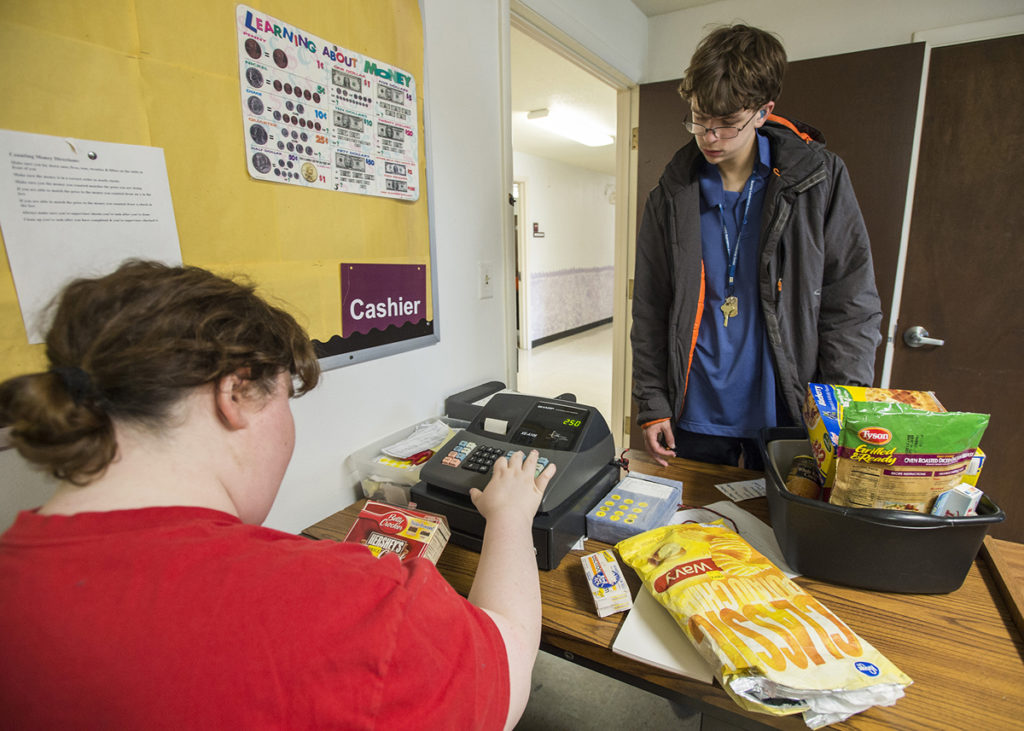 Shopping experience
Dakota Artis, of Mt. Vernon, had a shopping list and $40 in hand. With help from the EDC staff, Artis and several other clients decided what food and other supplies each needed to live for the week, and with provided money, shopped at the EDC store.
Hesper Hedge, of Sumner, was practicing her math and customer service skills as the cashier. She added the purchases and gave proper change.
After the transactions were completed, roles were reversed to give clients more experience.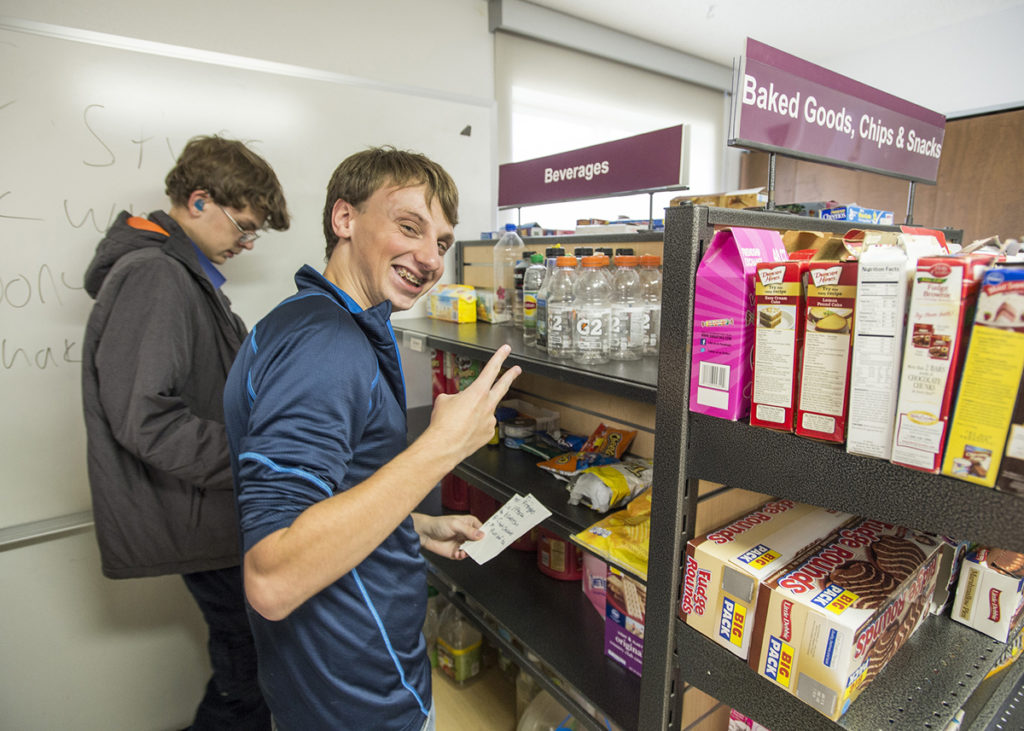 Learning other skills
Another client was working was working with James Irby, a graduate student from Joliet in SIU's rehabilitation counseling program, in another room. The young woman was measuring materials, funneling them into containers and learning how to complete a variety of tasks. Her goal, she said, is to get a job and be independent.
"It's important that people learn the hands-on skills they will need to work, so we give them a variety of simulated job tasks," Irby said.
He noted that as he helps the clients, he's learning career skills as well, since vocational rehabilitation and rehabilitation counseling are so interconnected. He also makes arrangements with various sites where clients can hone their skills on a volunteer basis, in preparation for paid careers in the future.
"The community is really receptive to the kids and they are learning lots of skills that translate into jobs," Irby said. "The clients adjust to the needs of their workplaces and the workplaces try to accommodate the clients."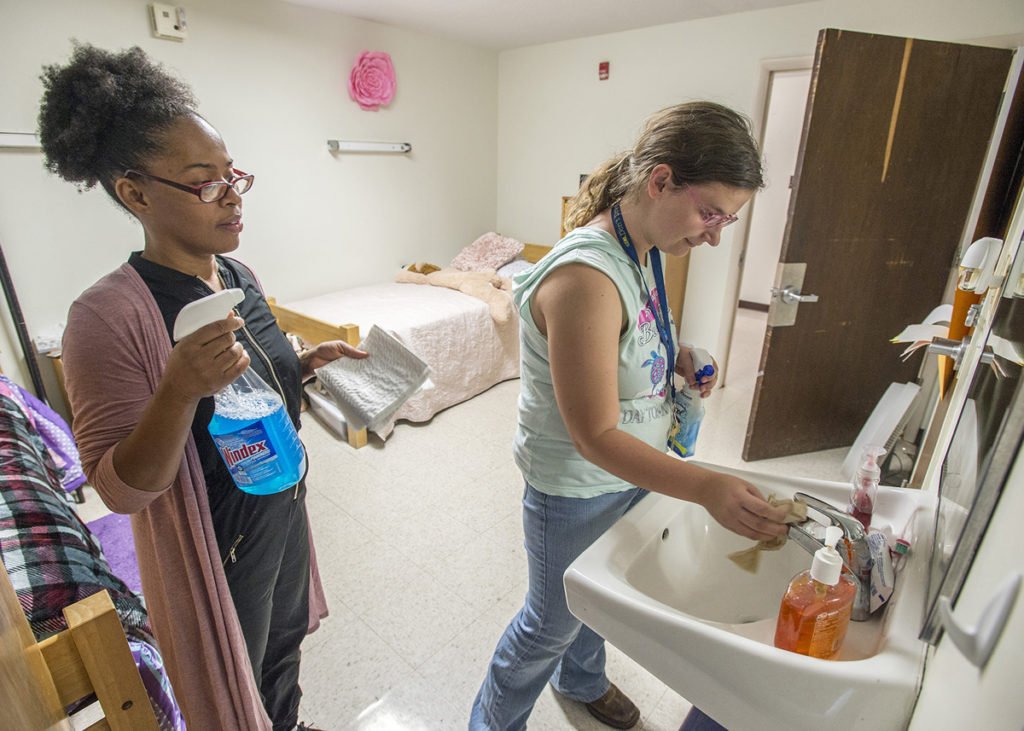 Clients practice at the center
All sorts of practical skills are taught at the center. Kalimada Hairston, of Robinson, was working on housekeeping skills as he did some sweeping, but he especially enjoys landscaping work.
Others practiced cleaning/janitorial, cooking, laundry and a wide variety of other skills or even set about decorating their rooms or the facility. They learn to write checks, keep ledgers, shop at various retail outlets, do all of the tasks involved in daily living and successfully interact with staff, the other clients and employers.
"We're all a big huge family in a way," Travis Finney of Macedonia said, as Henson praised him for his hard work and great attitude.
"I wish I had come here sooner," Finney said. "It's actually helping me a lot. I've learned any time I help people, I learn something from them and they learn something, too. We have our moments, but it's like we're brothers and sisters."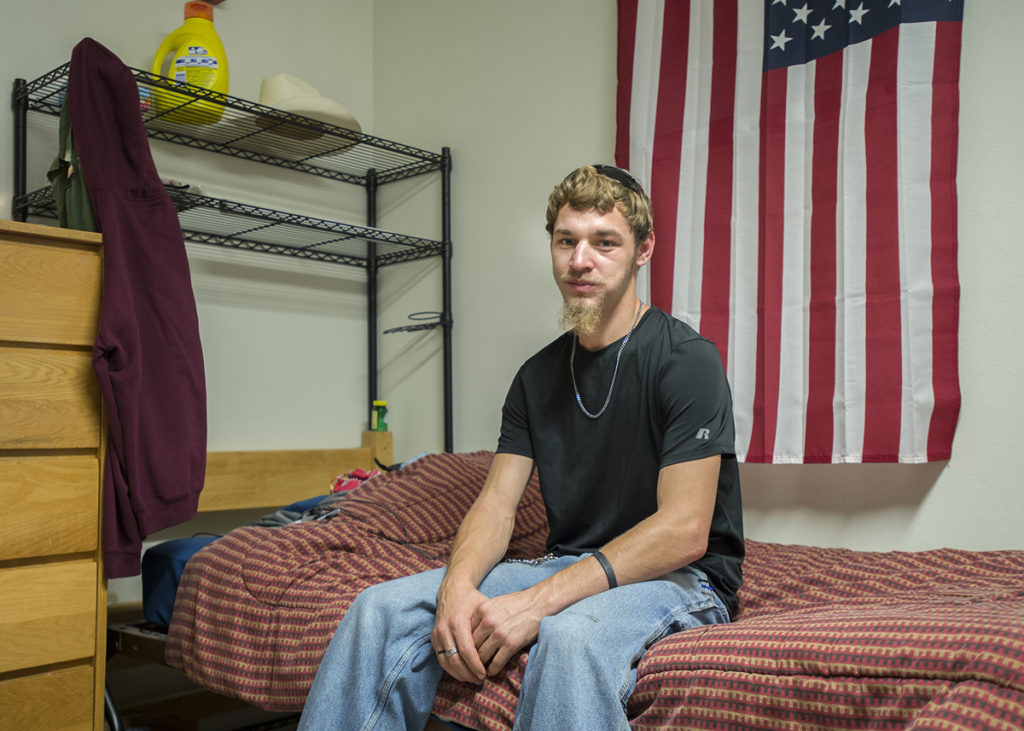 Reaching goals
Clients come from all over, each with specific goals and the center is there to help them reach those goals, Henson said.
"We believe people with disabilities can do anything anyone else can do," Henson said. "We want them to be able to blend into their communities just like everyone else. Whatever it takes to help them be successful, we try to do. Our program is very individualized. Clients in the living center stay here full-time for a few months, a year or more – whatever it takes. We also help them find jobs and places to live when they leave."
Paul Broske, of Waterloo, had already started a DJ business before coming to the center, but he's focused on learning how to better run his business and especially working on how to better relate to people and handle whatever situations may come his way.
Already learning how to drive, Anthony "A.J." Runkel, of Vandalia, hopes to someday see himself behind the wheel of a big rig.
"All I want is to do is learn how to get a job, a car and a house," Julian House, of West Frankfort, said.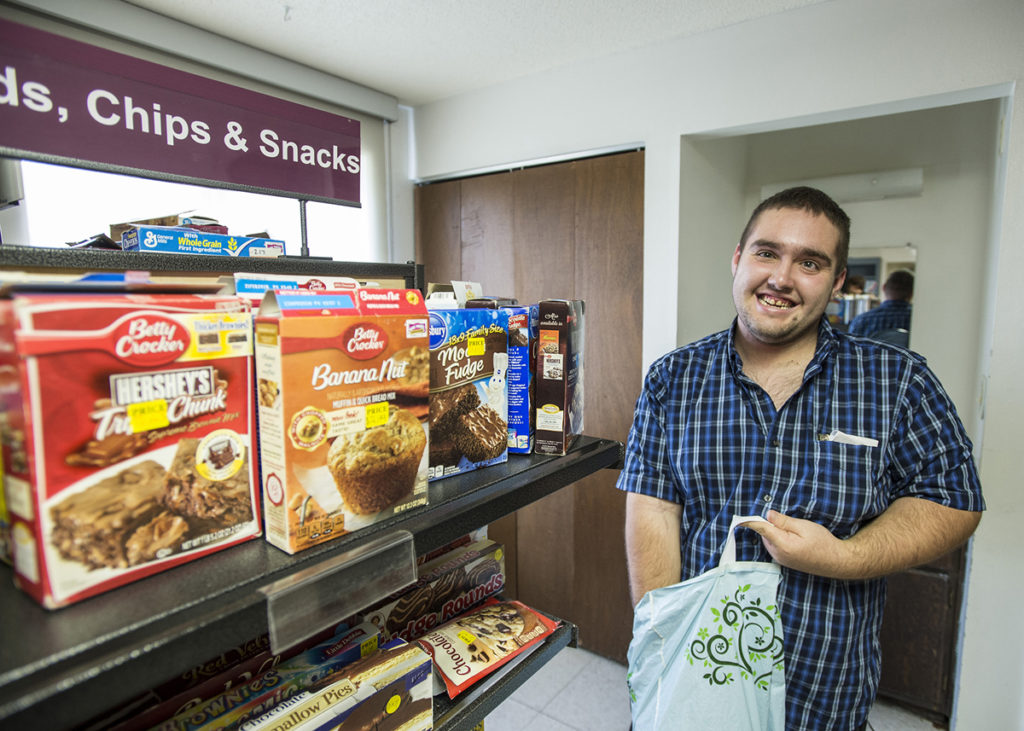 Multiple purposes
The center serves multiple purposes: helping individuals with disabilities live and work independently in their communities, helping people on parole successfully transition to life and gainful employment, giving graduate students professional training and enabling SIU students and faculty to develop innovative rehabilitation practices.
"The Evaluation and Developmental Center fulfills the mission of SIU by providing opportunities for people with disabilities and for parolees in the greater Illinois community," Ruth Anne Rehfeldt, director of the Rehabilitation Institute, said. "It also serves as a unique research and training site for Rehabilitation Institute students and faculty, thus promoting the institute's long history of scholarship."
Established tradition of service
The center, which is a component of SIU's Rehabilitation Institute, was established in 1962. Then known as the Employment Training Center, it was the only sheltered workshop in the state located south of Effingham.
By 1974, alternative services were offered, the workshop program was discontinued, and the EDC operated from a location within Carbondale City Hall. It moved to its current location on S. Lewis Lane in 1982 and now provides a wide variety of services to help people age 16 and older who have any type of disability become more independent.
Wide variety of clientele
The center is jointly funded by SIU and the Illinois Department of Human Services' Division of Rehabilitation Services (DRS) and accredited by the Commission on Accreditation of Rehabilitation Facilities (CARF). DRS refers clients to the center and covers the cost of services for these clients.
But, the center also provides services to the public at large on a fee basis. Clients come by referral from public high schools, community colleges, universities, hospitals, the Veteran's Administration and via attorneys.
Through the course of an average year, the center provides services to nearly 200 clients from 30 or more counties in Illinois.
The clients come from all adult age groups, although the largest segment, totaling about 65-70% of the people served, falls within the 16-29 age range. The types of disabilities are as diverse as is the world, and include blindness or visual impairment, hearing impairment, developmental disabilities, autism spectrum disorders, learning disabilities, mental illness, orthopedic problems and much more. Some clients have suffered strokes, head injuries or loss of body parts resulting in disability, while others have had disabilities from birth.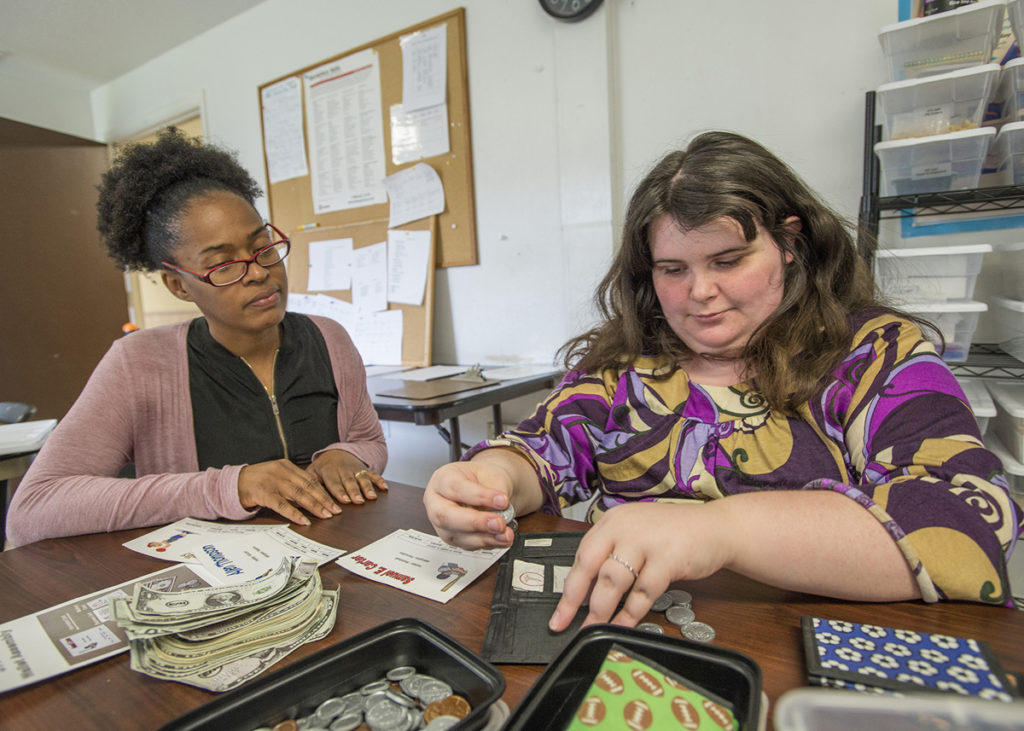 The vocational program helps people get into the workforce. Perhaps a construction worker suffers a back injury and is no longer able to work in that field. The center can assist with evaluation, testing and counseling, helping match the employee with a new, appealing line of work that correlates with their existing skills, and preparing them for the job.
The center also serves as an advocate, helping people find jobs and helping employers see the benefits, including tax credits, which are available to them if they hire.
Helping parolees
The EDC also now oversees the Rehabilitation Institute's Employability Development Program (EDP.) This grant-funded program assists male and female parolees from the Illinois Department of Corrections with their vocational and educational needs.
It's a comprehensive program, open to parolees regardless of income, and tailored to meet each client's individual needs. Corrections parole agents, counselors and other community partners provide referrals of Region 5 District parolees who are in need of employability development services.
The goal is simple: give parolees the knowledge, skills and resources they need to obtain, retain or improve their employment in order to help them reach their goals, meet their parole conditions and avoid reoffending.
Through EDP, former inmates develop vocational plans and learn to identify their opportunities. They also learn about the realities of the work world and how to make informed choices and acquire valuable academic and vocational skills.
Saluki experience
SIU prides itself on providing its students experiences for hands-on, practical learning and the center offers a variety of experiences for Salukis, particularly those in the rehabilitation, behavior analysis and therapy and psychology fields. The center typically offers 20-25 paid graduate assistantship positions, as well as opportunities for undergraduates. It's practical experience that better prepares students for their careers and boosts their resumes, Henson notes.
"The hands-on experience I've gotten has been so valuable, giving me insights I didn't expect to get so soon," Shay Frailey, a rehabilitation counseling graduate student from Carbondale, said. "I'm seeing the clients' needs and how I can best meet them. I'm learning so much."
In her first year, she was already seeing things she was learning in the classroom illustrated in a real and practical way while gaining new expertise.
Students, faculty and staff also translate their work and practical experience into research opportunities.
"EDC has supported many Rehabilitation Institute graduate students in their academic pursuits for a number of years through numerous research and training opportunities," Rehfeldt said.
Additional information
Learn more about the EDC and the many ways it helps people reach their goals and full potential, as well as the experience and research opportunities available there to SIU students, at ehs.siu.edu/rehab/service-programs, by calling 618/453-2331 or via email at edcinfo@siu.edu.